Mite .098 diesel
Brooklyn's Best - The Mite .098 Diesel
by Adrian Duncan with Maris Dislers
Here I'll collaborate once again with my good mate Maris Dislers to take a close look at the Mite .098 cuin. diesel, one of the often-overlooked and somewhat under-valued American diesels dating from the brief period during 1946-1947 when American manufacturers and modellers alike were taking a serious interest in model diesels. This phase was not destined to last – Ray Arden's introduction of the commercial miniature glow-plug in November 1947 very quickly swept all further consideration of diesels off the table as American manufacturers and modellers immediately gravitated en masse to the new form of ignition.
However, during the preceding two years the American model engine manufacturing industry produced an amazing and widely under-appreciated variety of model diesel designs, many of which possessed considerable merit. Among these may be included the Drone, Micro, Speed Demon, Vivell, Air-O and C.I.E. diesels, all of which were excellent products by any standards. Several companies also made diesel conversion heads for the famous Arden spark ignition units. In addition, there were other diesels which undoubtedly reached the prototype stage but progressed little if any further, including proposed designs from Edco, Thermite, AHC, DeLong, Kencraft, Queen Bee and Strato (the latter two in Canada).
We must also recall the notorious efforts of the Gotham Hobby company of New York who did the diesel cause in America a great disservice by taking over what had been a perfectly sound product in the form of the original 1947 Deezil and quickly trashing it down to an absurdly low price which was well reflected by abysmal quality. The original Deezils were very competently-constructed units which ran just fine, as I know from personal experience, reflecting great credit upon their unknown designer and original manufacturer. However, the Gotham Hobby versions weren't even much use as paperweights.
It's a little-known fact that Gotham didn't stop with the Deezil – they also advertised a diesel conversion kit for the Pacemaker 59 design which they seemingly took over from Bill Siedler of Brooklyn, New York in 1947. It's unclear whether or not any of these kits were actually sold - I'm not presently aware of any surviving examples of this conversion. However, please remember the name of Bill Siedler, since he will re-appear later in this story.
The above listing makes it clear that the number of North American manufacturers involved for better or worse with the development of model diesels during 1946-
1947 at least equalled and possibly exceeded the number of their contemporary counterparts in the diesel stronghold of Britain. Given this fact, it's really easy to find oneself wishing that Ray Arden had been a year or two later in perfecting and marketing the commercial miniature glow-plug – given a few more years to take root, diesels might well have gained as much acceptance in America as they did in the rest of the world, and American manufacturers might have continued to carry the diesel torch for quite a while with very positive results.
The truly outstanding McCoy "9" .099 cuin. diesel of late 1954 provided a hint of the kind of quality and performance that we might have seen from American manufacturers if the arrival of the glow-plug in late 1947 had not derailed their diesel development programs so comprehensively just as they were getting into their stride.
Another noteworthy American diesel which made its appearance during the above-mentioned pre-glowplug period was the Mite .098 cuin. model from Brooklyn, New York. It is this engine which forms the central subject of this article.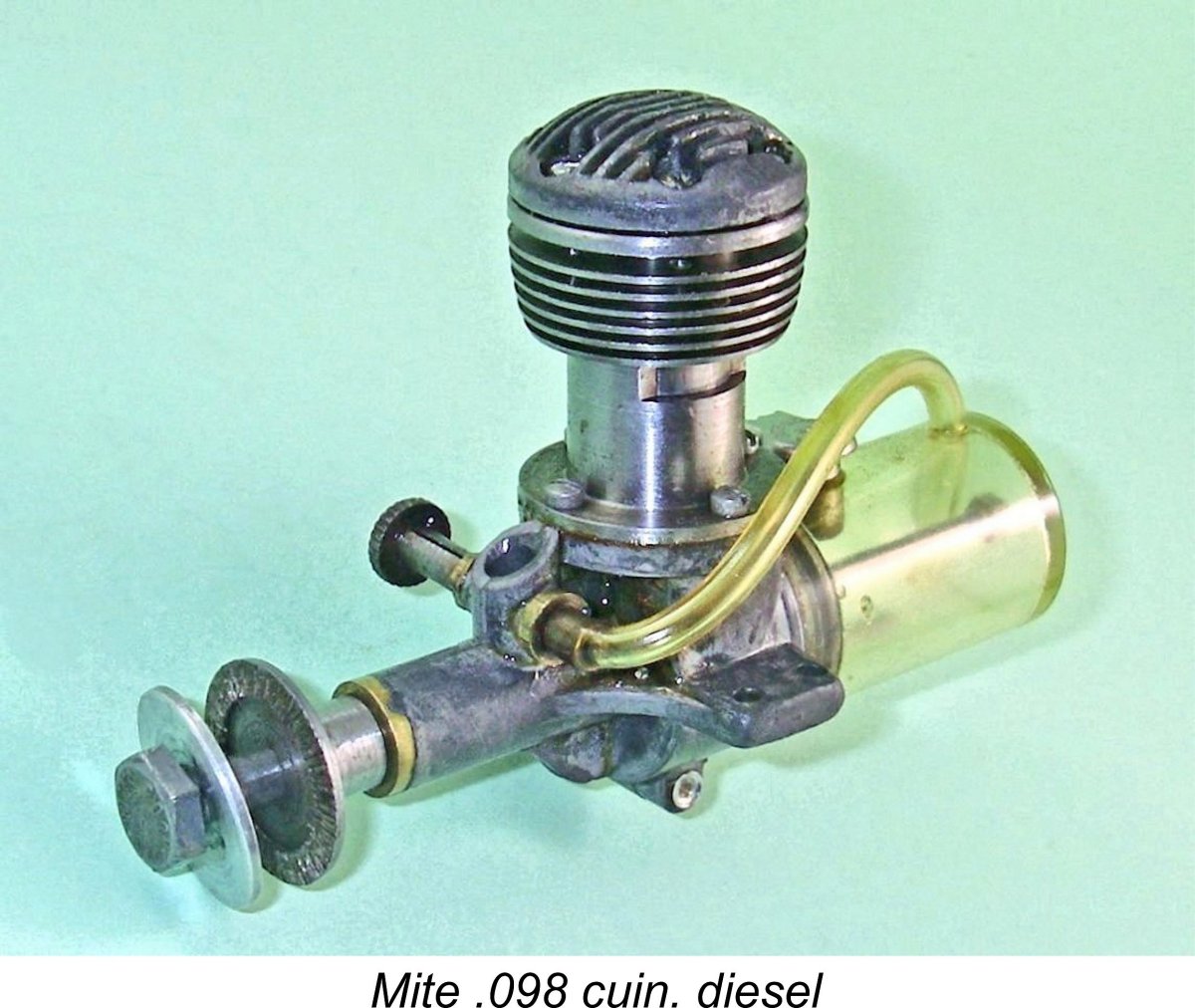 When researching the Mite story, I began as always by going to my valued friend and mentor Tim Dannels for advice regarding source material. Somewhat to my astonishment, Tim replied that this is one of the few American engines which has never been covered in any detail in the pages of Tim's invaluable "Engine Collector's Journal" (ECJ)! The only other source of information which I was able to access was the short article on the Mite by the late David R. Janson which appeared as article number 52 in a series which was compiled by David under the general title of "Model Engine Designer and Manufacturing Profiles". The text of this article remains accessible on Ron Chernich's "Model Engine News" (MEN) website. Apart from that, it looked as if I was on my own!
Fortuitously enough, the March 2017 issue of "AeroModeller" magazine included a retrospective review of the engine by Don Howie of Australia. It turned out that my good mate Maris Dislers had been involved with the bench testing aspect of that review, placing him in a position to provide some valuable comments on the engine's operating characteristics and fuel preferences. Thanks, mate!
So things turned out to be not quite as bleak as they had appeared at one point! Armed with the information gleaned from the above sources as well as my own observations, I'll now attempt to summarize what there is to say about this unexpectedly interesting little engine. I'll begin by tracing its design and production history.
The Mite .098 Diesel – Design and Production History
As of 1945, when aeromodelling activity resumed in the USA following the conclusion of WW2, spark ignition engines remained dominant in American aeromodelling. The model compression ignition technology which had been steadily evolving in Europe since 1938 was still virtually unknown in America. However, this began to change shortly after the conclusion of WW2, when returning US servicemen started bringing European diesels back home with them in increasing numbers.
One of the more prominent among these personal imports was the French Micron fixed-compression diesel of 4.99 cc displacement, examples of which had begun to appear on American flying fields by 1946. It was this very successful engine which inspired the design of the famous Drone Diesel which enjoyed a period of almost unrivalled success in America during 1947 and 1948 before being submerged by the rising glow-plug tide.
Although there is presently no firm evidence for this, it's possible that our main subject, the Mite .098 cuin. diesel, was also inspired by a similar personal importation from Europe. Reference to Adrien Maeght's outstanding book "Les Moteurs Modelés réduits Francais" (French Model Engines) turns up some information on the Jide range which had been established in 1943 by a certain M. Durand, working from a cottage in a suburban Paris neighborhood. M. Durand began with a 1.7 cc spark ignition model, of which a fixed-compression diesel version appeared in 1944 more or less coincidentally with the August 1944 liberation of Paris by Allied forces.
It's a known fact that a number of these Jide diesel models were purchased by American members of the liberating Allied armed forces, who subsequently brought them back to the USA. This makes it certain that, like its Micron contemporary, the Jide 1.7 cc fixed-compression diesel was available to be copied and further developed by a US designer. There's no doubt at all that the underlying design resemblance of the Jide 1.7 cc diesel to the subsequent Mite .098 cuin. model seems rather too close to be entirely coincidental. However, the connection cannot be viewed as authoritatively established given the present absence of any direct evidence.
The individual responsible for the design of the Mite diesel was a certain Howard Mandeville. If the advertising is to be believed, the development of the design actually began in early 1946. This fits well with the previously-noted but unproven idea that an example of the Jide 1.7 cc model bought back to the USA by a returning serviceman (possibly Mandeville himself?!?) could have influenced the design – the timing is right.
The first examples of the Mite .098 were marketed by the Eagle Manufacturing Co. of Brooklyn, New York. This company was owned by Walt Schroeder, who was later to go on to become the Editor of "Model Airplane News" during the 1950's. The core business of the Eagle company was kit manufacture – the Mite diesel appears to have been marketed as a sideline, perhaps as a favour to Mandeville.

Allowing for editorial lead time as well as the time required for testing, the fact that a test of the engine appeared in the February 1947 issue of "Air Trails" (see below) proves beyond doubt that it must have been in existence as of late 1946. This indisputably makes it one of the earliest American diesels.
Sales response was evidently sufficiently encouraging that a new company called the Mite Manufacturing Corporation was soon formed to manufacture and market the engine. The address of this company was given as 257 Water Street, Brooklyn 1, New York.
Another individual who became associated with the Mite project at around this time was the previously-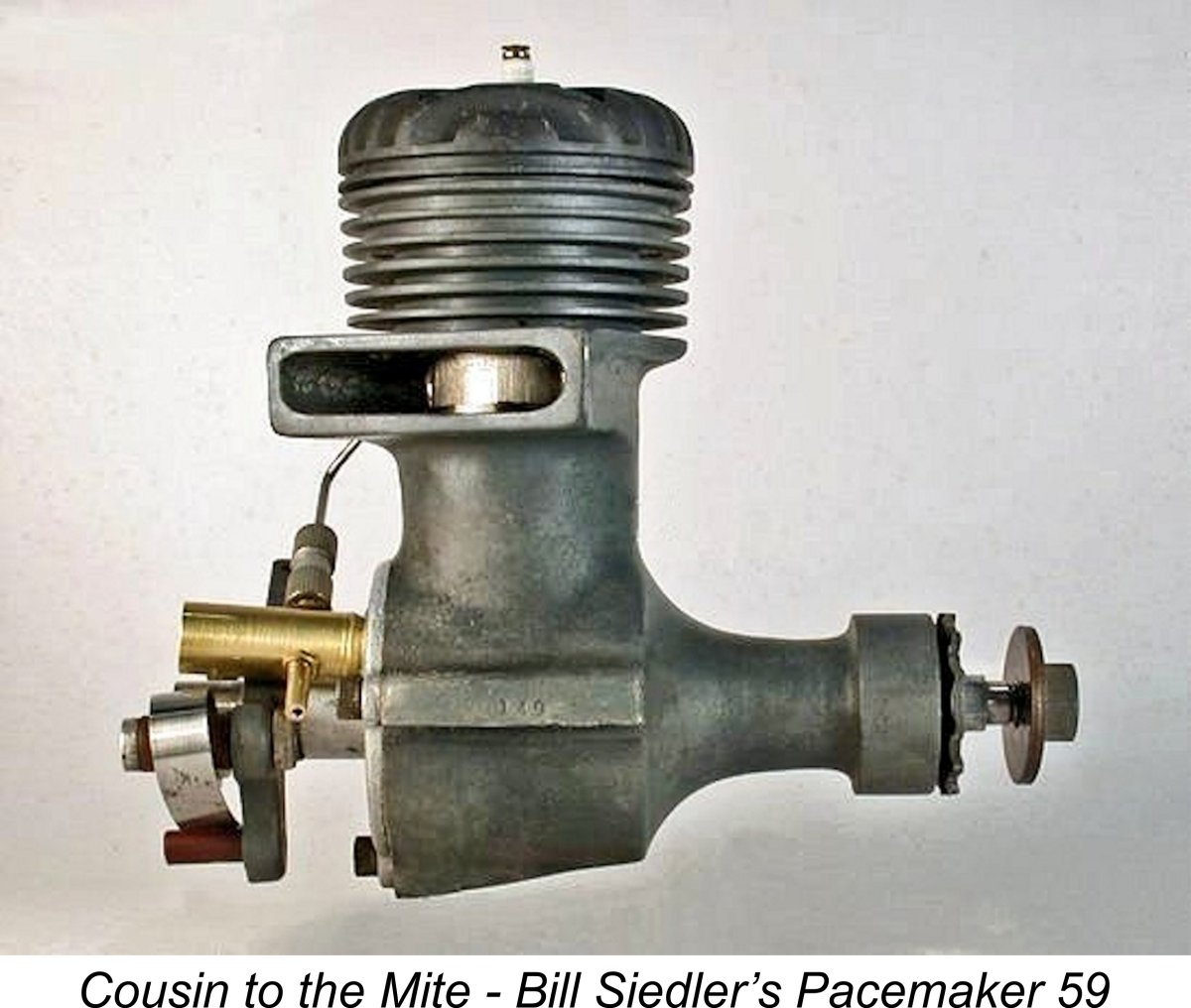 mentioned Bill Siedler of Brooklyn, New York. Bill was already an experienced model engine manufacturer, having developed and marketed the Pacemaker 59 spark ignition engine in 1946 prior to the appearance of the Mite. It's not known when Bill became involved with the Mite project, but it was probably at around the same time as Gotham Hobby took over the Pacemaker design.
Bill was undoubtedly a close associate of Mite marketing guru Walt Schroeder. This connection was confirmed in the article by Jack Bayha entitled "Diesels Grow Up" which appeared in the December 1947 issue of "Model Airplane News". That article cited Howard Mandeville as the original designer of the Mite, but credited Bill Siedler and Walt Schroeder with its further development.
An advertisement which appeared in the June 1947 issue of "Model Airplane News" confirms that the new company had been established by May 1947 at the latest, and probably earlier. The selling price of the engine at that time was $18.95 – actually a fairly high price for an engine of this displacement. The text makes reference to an AMA Class 1 control-line speed record of 67.6 MPH which had evidently been established by the Mite – pretty fair going if accurate! This feat was independently confirmed in several contemporary articles about the engine.
The fact that some 5,000 examples of the Mite were reportedly manufactured during its relatively brief market tenure suggests that the engine achieved considerable popularity during its 1947 heyday. This being the case, it's a bit odd to have to report that the associated Eagle Mfg. Co. doesn't seem to have produced a kit design for the engine.
When preparing his previously-mentioned article on the Mite diesel, David Janson was able to call upon the reminiscences of well-know old-time model flier Norman Rosenstock, who had worked for the Mite company during his early career. Norman was both a machinist and a modelling enthusiast, thus being well qualified to work in the model engine manufacturing field.
Norman recalled his struggles with securing the correct piston/cylinder fits. Apparently the components were not made in the usual way as individually-fitted sets – instead, cylinders and pistons were finished separately to specified limits. The inevitable microscopic variations were accommodated by test-fitting pistons to cylinders at random in order to find a combination that fitted correctly by trial and error. This approach was not entirely successful - a good proportion of the Mites that survive today have somewhat slack piston/cylinder fits by diesel standards.
Norman also recalled the challenge of individually test-running each engine before delivery. He recalled personally testing some 400 examples, making it clear that more than one tester was involved. It seems that this test-running was taken quite seriously – head gaskets of differing thicknesses were available to allow the compression ratio to be adjusted based on each engine's test performance. Clearly, experience must have counted for a great deal in this process.
The fuel used in this testing and recommended by the manufacturers was a rather unusual mixture of 50% ether and 50% heavy mineral oil. This blend was a direct result of the designer's decision to set the engine's fixed compression ratio at only 13.5 to 1 - very low indeed for a compression ignition engine. Anyone who has read my article on fixed compression diesel operation will understand that the very high oil content was required in this instance to raise the effective operating compression ratio to workable levels. It's a bit of a puzzle why such a low compression ratio was chosen.......... The high oil content also helped to compensate for the rather slack piston/cylinder fits with which a fair number of Mites were afflicted.

Being an eastern USA production, the Mite naturally found the majority of its purchasers in its geographic area of manufacture. Relatively little usage and related commentary is on record which might help to gauge its acceptance out west. A number of these engines undoubtedly did find their way to the west coast, and there are a handful of "testimonials" about those Mites, mostly expressing reservations about power and dependability over the engines' lives.
The Mite attracted a certain amount of attention from the US modelling media during 1947. Apart from the February 1947 test in "Air Trails" (see below), it was included in a number of subsequent articles, including "Care and Feeding of Diesels" by Jack Bayha ("Model Airplane News", June 1947), "New Power Units" by Edward G. Ingram ("Model Airplane News", August 1947), "The Development of Diesels" by Jim Noonan ("Air Trails", September 1947) and "Diesels Grow Up" by Jack Bayha ("Model Airplane News", December 1947). Bayha and Noonan were both Mite users who expressed a very high opinion of the engine's performance characteristics based upon their own direct experiences with it.
Sadly, that inclusion in Bayha's December 1947 article was the engine's final media appearance of which I can find a record. Ray Arden's introduction of the commercial miniature glow-plug in November 1947 evidently killed off the Mite in very short order, along with most other American diesels. It appears that the engine was withdrawn rather precipitately, since it was not mentioned in the article by Edward G. Ingram which appeared under the title "Model Motors for 1948" in the January 1948 issue of "Model Airplane News" despite the fact that other diesel models were included. The only American diesel to survive for some time into the glow-plug era was the ball-bearing Drone, which lingered on into 1949 before following its American diesel contemporaries into total eclipse.
The company made an effort to keep things going in 1948 by quickly developing two successive variants of a glow-plug version of the Mite. More of those in their place below. However, this was not enough to save the marque. Norman Rosenstock recalled that the Mite name, designs, residual components and goodwill were all eventually sold to an outfit called the Mercury Model Co., also of Brooklyn.
This company reportedly assembled the remaining engines and components into glow-plug models, selling them off over an extended period of time ending in the late 1950's. They never advertised these engines, relying instead upon word of mouth and direct communication with New York area model clubs to generated sales. The price of these units dipped to as low as $6 in the final days of availability.
Now that we've traced the manufacturing history of the Mite diesel, it's time to take a closer look at the engine itself.
The Mite .098 Diesel – Description
As usual, we'll start with a few vital statistics. The Mite was a plain bearing fixed compression crankshaft front rotary valve (FRV) compression ignition ("diesel") engine utilizing reverse flow scavenging. Bore and stroke were both 0.500 inches (12.70 mm) for a calculated displacement of 0.098 cuin. (1.61 cc). The engine weighed a checked 2.96 ounces (84 gm) complete with tank and fuel tubing, a figure somewhat in excess of the weight of 2.75 ounces cited by "Air Trails" tester Alan Ortof but still not out of line for an engine of its displacement. The fixed compression ratio was set at 13.5 to 1 – a very marginally low figure for a diesel.
All castings used (crankcase, backplate and cylinder head) were cleanly pressure die-cast in magnesium alloy. The steel cylinder had integrally-formed cooling fins. The finned magnesium alloy head was secured using six 2-56 screws which matched threaded holes in the upper cylinder flange. The cylinder was attached to the crankcase using four more 2-56 screws which passed through the cylinder's base flange to engage with tapped holes in the upper crankcase casting. Take great care when tightening these small screws – easily stripped!
Cylinder porting was essentially identical to that used later by Cox. Two rectangular exhaust ports were milled into opposite sides of the cylinder, while transfer was provided for by the creation of two internal transfer flutes located between the exhaust ports. Port timing was relatively conservative, with the exhaust opening at around 130 degrees after top dead centre (ATDC) and the transfers opening some 15 degrees later at 145 degrees ATDC. This gave exhaust and transfer periods of 100 degrees and 70 degrees respectively – probably ideal for the kind of speeds quoted by the various contemporary writers on the engine, especially given the generous port areas provided.
The thin-walled lightweight piston was also of steel. A steel-in-steel piston/cylinder combination can prove quite troublesome if not perfectly fitted initially – running-in wear is likely to be minimal. This probably explains the manufacturer's policy of making the components separately and then test-fitting them until a matching combination was found by trial and error. The fit of my own example is absolutely perfect, but the one tested by Don Howie and Maris Dislers (see below) was apparently fitted somewhat too loosely. I've heard from others that this is a not-uncommon issue with these engines.

With the fore-and-aft transfer flutes used in the design, it was obviously necessary to ensure that the wrist pin could not move fore or aft out of its bosses to foul the transfers. The Mite designer got around this very simply by eliminating the wrist pin altogether! The upper conrod bearing was a ball and socket combination – another feature which Cox was later to adopt.
The spherical upper end of the steel conrod was installed in a socket made of high-strength aluminium alloy. The presence of a swaged cap in the centre of the piston crown confirms that the aluminium socket was located by an integral socket pin which passed through a hole in the piston crown and was then swaged in place to retain the socket. The reciprocating weight of this assembly would logically appear to be relatively low, along with a smaller-than-usual piston interior volume which would increase crankcase compression.
Moving on downwards, the engine used a one-piece crankshaft of alloy steel having a crankdisc which was counterbalanced through the provision of crescent-shaped cutaways on each side of the crankpin. This shaft was supported by a naval bronze bushing which was pressed into the main bearing housing from the front. Measured main journal diameter was a rather skinny 0.250 in. (6.35 mm), which is rather on the small side for a diesel engine of this displacement. Having elected not to dismantle my example of the engine, I can't report on the diameter of the internal gas passage. I just hope that it's not too large!
Like the cylinder port timing, the engine's induction arrangements were also very much on the conservative side. The drilled circular induction port opens at 50 degrees after bottom dead centre (ABDC). Fair enough, but it closes at only ten degrees ATDC for a total induction period of some 140 degrees. There is also a period of sub-piston induction extending some ten degrees either side of TDC for a total sub-piston induction period of 20 degrees. It is presumably this feature which justified the rather early closure of the crankshaft induction port. While not looking as if they would allow the engine to stand the modelling world on its ear performance-wise, these figures seem appropriate enough for the relatively modest speeds (by today's standards) at which this engine might be expected to operate. But read on ...........
The intake was cast in unit with the main crankcase. A conventional spraybar-type needle valve assembly was used, with a split thimble to provide needle tension.
Right up front, we come to one feature of the Mite which deservedly comes in for a fair amount of criticism. The tiny very steep self-releasing taper provided to "lock" the steel prop driver to the shaft is a joke. Experience with running the engine shows that it is quite incapable of consistently holding the prop firm against starting loads. Both Maris and I had endless trouble with the prop coming loose, particularly during cold starting. A far longer taper at a shallower angle would have worked a great deal better.
The prop is secured using a 10-32 bolt and washer. The bolt is accommodated by an internally-threaded axial hole in the centre of the front portion of the crankshaft.
At the rear, the crankcase is sealed by a die-cast screw-in backplate of magnesium alloy. This includes a central boss which accommodates a thin stud for retention of the Lucite plastic fuel tank. The tank is equipped with a Gits cap for filling.
The final noteworthy feature is the so-called "throttle lever". In fact, this is nothing more than an air bleed which passes vertically through a boss cast onto the bottom of the crankcase. It's opened and closed by a lateral shaft which has a hole drilled transversely though it. A lever of light alloy is provided to activate this system by rotating the transverse shaft.
When the arm is pointed straight back, the transverse hole in the shaft is aligned with the air bleed hole into the crankcase, allowing the engine's crankcase compression to escape. When it is aligned straight down, the bleed aperture is closed, allowing the engine to run normally. The amount of bleed can of course be varied depending on the setting of the lever between the two extremes.
Although touted as a throttle, this actually looks more like a simple air-bleed cut-off arrangement to me. Certainly something whose claims to effectiveness warrant testing. Let's get to that aspect of the matter right away!
The Mite Diesel on Test
The Mite diesel has been the subject of two previously-published tests over the years. The first was the aforementioned report in the February 1947 issue of "Air Trails". The author of this report was Alan Ortof.
The report was mainly concerned with a detailed description of the engine's structural features, which were then quite out of the rut and hence of considerable interest to Ortof's readers. Performance information was confined to a comment on the operation of the cut-out plus a few speeds measured on specific props. There were no observations on the engine's handling or running qualities.
The cut-out was reported to be effective as a throttle in bringing the engine down to an idle speed of 1,800 RPM. It also functioned as a cut-out when fully opened. Reported prop speeds were 6,800 RPM on an 8x10 of unspecified make and 7,000 RPM on a 9x4 ditto. I must say that I'm a bit suspicious regarding these figures – the 9x4 should by rights be a lot faster than the 8x10. Perhaps the 8x10 was a speed "toothpick".
Naturally, I have no idea of the power absorption coefficients of these two props. All I can say is that if the 9x4 were a present-day APC, the reported speed of 7,000 RPM would imply an output of around 0.064 BHP.
The manufacturers published their own contemporary claim, which was reported in the article by Edward G. Ingram entitled "New Power Units" which appeared in the August 1947 issue of "Model Airplane News". The claim was made that the Mite would turn an 8x6 prop at a quite impressive 9,000 RPM. It must be said that this seems rather inconsistent with the speed of 7,000 RPM reported by Alan Ortof for the 9x4, which one would expect to turn at a speed not greatly different from that of an 8x6. It also implies a level of performance which appears at first sight to be rather hard to accept – as an example, a speed of 9000 RPM on an APC 8x6 (a relatively "fast" prop of that size) would imply an output of around 0.127 BHP at that speed, which I for one found extremely difficult to believe. But once again, read on ..........
After a lapse of over half a century, another test of the Mite diesel finally appeared in the pages of "AeroModeller" magazine. The fact that this test appeared in the March 2017 issue of the magazine just as I was beginning to plan the present article was extremely fortuitous, since it greatly informed my own proposed testing efforts to be described below. The report appeared as part of Don Howie's very interesting article entitled "For Old Time's Sake", which presented Don's commentary upon a number of facets of old-time modelling.
My good mate Maris Dislers was involved in the reported testing and was most willing to share his experiences with me. He confirmed that two examples of the Mite were tested for Don's article. One was owned by Bill Britcher. Bill's engine was tested at his home using a 3-part fuel mixture consisting of ether, kerosene and synthetic oil. Using this fuel, the engine was found to suffer from a chronic misfire when running, probably (in my own opinion) at least partially due to the use of synthetic oil at a proportion which was too low in any case. The best that it could manage was 5,600 RPM on an 8½x4 Bolly Clubman prop and 5,300 RPM on an APC 9x4 (around 0.028 BHP).
Not too impressive! Attention then switched to an example owned by Don Howie himself. Maris Dislers assisted with these latter tests, using a castor oil-based fuel. The first problem encountered was the fact that, despite being in new and unused condition, the piston/cylinder fit was rather on the slack side by diesel standards. It was found to be necessary for starting to administer a straight castor oil prime followed by a small fuel prime – the old Owat procedure! However, once it was running the engine reportedly seemed happy enough.
The initial test was run using a fuel consisting of 40% kerosene, 30% ether, 30% castor oil and 1½% ignition improver added to the overall mix. Using this fuel, the results obtained were far more impressive. The engine managed 7,800 RPM on the APC 9x4 (0.088 BHP), 8,700 RPM on a Graupner Super 8x5, 9,400 RPM on the 8½x4 Bolly Clubman and 10,000 RPM on an 8x4 APC (0.109 BHP). Quite impressive results by late 1946 .098 cuin. diesel standards, and offering strong support for the previously-cited performance of the Mite as reported by Edward Ingram in the August 1947 issue of "Model Airplane News".
As explained in my previously-referenced article on fixed-compression diesel operation, such engines often don't do well on contemporary diesel fuels containing kerosene and ignition improver in addition to ether and oil. The reason is that there's more of a heat build-up with such fuels, and one can't reduce compression to deal with any heat-related pre-ignition. However, in the case of the Mite with its very low fixed compression ratio (by diesel standards) and seemingly high design operating speed, a little extra heat is undoubtedly a good thing.
The engine was found to show signs of pre-ignition using this fuel on the larger airscrews, but settled down to run very smoothly and consistently on the smaller props. The implied power output was very good indeed for an engine of this date and displacement. Looking at these results, I resolved to try a similar fuel mixture when re-testing my own example.
In retrospect, Maris added the comment that it might well have been worth trying a fuel consisting of 50% castor oil, 25% ether and 25% kerosene. This would be a slightly "hotter" fuel than that recommended by the manufacturers while preserving their recommended oil content. Maris has used this mix successfully with other diesels having problematic piston/cylinder fits. He pointed out that with the Mite one could fine-tune the running under any given load by adjusting the proportion of ignition improver added to the mixture.
On the basis of this testing, Maris formed the overall conclusion that the Mite was a very capable engine which was primarily held back by a combination of its fixed compression ratio and a then-prevailing poor understanding of diesel fuels. He subsequently undertook some further testing of Don Howie's Mite, initially using a fuel consisting of equal parts of castor oil, kerosene and ether. He also fitted a KeilKraft universal needle valve assembly which he felt would improve the engine's carburettion somewhat.
Without any ignition improver, this fuel gave a popping undercompressed 7,100 rpm with the APC 8x6 airscrew. This was pretty much in line with the result for the 9x4 reported by Alan Ortof. Obviously the engine needed help, which Maris supplied by adding 0.8 % EHN gnition improver for the larger props and upping that to 2% for the lighter loads. The results obtained were a bit spotty because no attempt was made to optimize the fuel to the fixed compression ratio under the different loads. However, the general trend was obvious. The engine now got up to just under 12,000 RPM with an APC 7x5 prop, but with a slight under-compressed misfire. This represents an output of around .14 BHP, pretty close to the power of the Arden .099 glow model which put the Mite out of business.
| | |
| --- | --- |
| APC 7x5 | 11900 |
| APC 7x6 | 11100 |
| APC 8x4 | 10800 |
| Graupner 8x5 | 9600 |
| APC 8x6 | 9000 |
| APC 9x4 | 8400 |
Of course, this is quite revisionist stuff despite being almost entirely due to Maris's use of ignition improver, which was not contemplated by the manufacturers of the Mite. In defence of the Mite's designers, the use of ignition improvers was poorly understood in 1947, even in Europe. It's to be doubted that any of their contemporaries anywhere had a much better understanding of fuels for small model diesels.
Even so, their design was quite capable of keeping up with an Arden .099 on spark ignition, using the original fuel formula on the right day. The incorporation of variable compression would have gone a long way towards ensuring that every Mite .099 would achieve good results in all weather conditions and with a reasonable range of propellers.
Turning now to my own example, I had to look way back in the model engine log that I've kept since the 1970's to find a record of my previous experience with this engine. This example appears almost new and certainly unmounted. Unlike Don Howie's engine, it has a perfect piston/cylinder fit. I acquired it way back in May 1981 from a now-unrecalled source, probably a MECA swap meet (no eBay back then!).
Curiosity had led me to run the Mite on a number of occasions over the two months following its acquisition, during which time I put some 45 minutes of running time on it with no mechanical problems. I had no tachometer in those far-off days, using the old "match the note to the piano" approach to measuring speeds. In the field, I used a harmonica – far more portable than my Mum's concert grand!
I still use a harmonica today to estimate airborne RPM from the centre of the circle. If you have a good musical ear for matching notes and detecting the quarter-tones, this method actually gives pretty good results to within a few hundred RPM. In case anyone's interested, I've attached a table of note/speed equivalents. When you get to the octave above any given note, simply double the indicated speed. The two G's in the table at the right give an example of this principle.
I found that the lightest load on which the engine would run smoothly using the maker's recommended 50/50 fuel was an 8x8 Top Flite wood prop, which just happens to be the flight prop recommended by the manufacturer. Running on that prop was extremely smooth and consistent. On an 8x6 I found that the engine would run OK but showed unmistakable signs of under-compression using the maker's fuel mix. I'm sure that a bit of kerosene and ignition improver would have extended the engine's upper speed range by generating more heat, but I never tried it back then. Of course, there's always now ………read on!
I recorded the fact that the Mite would hit a G note exactly on the 8x8 Top Flite wood prop that I was using. Reference to the above table shows that this equates to 5,750 RPM – not actually a bad figure for a diesel of this displacement on that rather parasitic airscrew. If that prop were an APC 8x8 (which it isn't), this would represent an output of around 0.048 BHP. The old Top Flite wood prop probably drew more power, implying a somewhat higher output than this at that speed. The engine got well past 6,000 RPM on the 8x6, but had developed an under-compression misfire which of course could not be cured.
One point which I did note in relation to these long-ago tests was the issue of the prop mounting system. I commented earlier upon the inadequacy of the design, mainly due to the configuration of the taper used to locate the prop driver. My long-ago notes record the fact that I had endless trouble with the prop coming loose during starting. Maris Dislers confirmed that he and Don Howie had similar problems. Something to look forward to ………..
Recalling these problems, I decided for test purposes to make up a threaded stud which would screw into the female thread in the front of the crankshaft to full thread depth. I would then use a conventional nut and washer for prop retention. It was my feeling that this would allow the prop to be more securely fastened than was possible with the standard prop bolt. It would also be far kinder to the internal thread in the crankshaft. Once these components were created, I was all ready to go.
The first decision to be taken was of course what fuel to try. I decided to begin by making up a batch of fuel along the lines suggested by Maris, although I modified his formula slightly. I went with a mix consisting of 50% heavy mineral oil (SAE 60), 30% ether and 20% kerosene. I added 1½% ignition improver to this overall mixture. Basically the manufacturer's recipe but with some added kerosene and ignition improver.
Looking at the range of speeds reported for various props, I decided also to begin with one more or less in the middle of what appeared to be the engine's typical operating range. Since it was the recommended prop size, I elected to start the test using an APC 8x8. My earlier notes recorded the fact that the engine started and ran on needle settings in the 5 to 6½ turn range, leading me to set the needle at 5½ turns to begin with.
OK, into the test stand, and off we go! A point to remember is that the cut-out lever has to be in the vertically "down" position for the engine to run. Forget that, and you're in for a long and frustrating period of fruitless flicking................
Another problem immediately reared its ugly head - that dratted prop driver taper once again! The grip of the prop driver on the shaft is insufficient to prevent the shaft from turning inside the prop hub and prop driver when trying to really tighten the prop. Because of this, the work that I did in making the replacement stud was of relatively little use in tightening the prop, although it was undoubtedly far kinder to the internal thread of the crankshaft. The engine maintained its habit of backfiring the prop loose. Aggravating .......
However, this was compounded by an even worse problem! For the life of me, I simply couldn't get the engine to keep going on my specially-brewed fuel. It would fire easily enough and run off the prime, but it simply wouldn't keep going. I checked the needle valve assembly, finding that it was correctly fitted and free from any obstruction. Both head and base compression were fine, so that wasn't the issue. I went all over the scale with the needle, but nothing worked.

As it was, there was nothing to be done. I tried some conventional diesel fuel like that used by Maris, but the symptoms were the same. It would appear that my example has trouble maintaining a flow of fuel to the intake for some reason which I didn't have time to investigate. Perhaps it really needs its special Mite brew of equal parts ether and mineral oil to run, which it did very well all those years ago. I haven't messed with it since, so it should still run fine on that brew.
Anyone who is familiar with this website can guess how much time it takes to maintain and expand. For now, I've spent the amount of time that I had allocated to the Mite - other projects require my attention. If a more open period should arise in the future (hah!), I'll have another go using the original Mite fuel and perhaps following Maris's lead by switching needle valves. Until then, the previously-reported tests by others will have to suffice.
Rearguard Action - the Glo-Mite
I noted earlier that in an effort to keep production going, a serious effort was made in 1948 to convert the Mite into a glow-plug engine. Two variants of the resulting model were destined to appear. The first version used an Arden glow plug which was fitted into a suitably modified diesel head, with no other changes being made to the engine apart from the omission of the fuel tank. The latter step was necessary because the Lucite material used for the tank would not stand up to glow fuel.
The problem with this variant was the fact that even allowing for the extra combustion chamber volume represented by the glow plug, the resulting compression ratio was still too high for glow-plug operation. According to David Janson, the consequent pre-ignition resulted in the engines blowing their head seals with monotonous regularity. Can't have been very kind to the moving components either ......
To deal with this issue, a new variant was quickly produced. This had a revised head which had no fins and
was configured to give a more appropriate compression ratio. The new model also had a metal tank which was of course suitable for use with glow fuel. It was priced at $14.95.
It's interesting to note that the name of the company which marketed this variant was changed from the earlier Mite Manufacturing Co. to Mite Distributing Co., although the address remained the same - 257 Water Street, Brooklyn 1, New York, USA. Although by no means definitive, there is a strong suggestion here that the renamed company was no longer involved with actual manufacturing. It seems possible, and perhaps even likely, that the Go-Mites were simply conversions of already-existing unsold diesel models.
As already recorded, the introduction of the Glo-Mite fell short of allowing the company to remain in operation. The entire Mite project was taken over the Mercury Model Co., also of Brooklyn, who spent the next ten years selling off the remaining Mite physical assets. The last examples were sold off in the late 1950's at a price of only $6.00.
Conclusion
Over the years, a certain amount of folklore has attached itself to the Mite diesel. For one thing, it's generally been referred to as having appeared in 1947. In reality, the fact that a media test of the engine was completed and published by February 1947 makes it all but certain that the Mite actually made its debut in late 1946 after a development period which began in early 1946.
This undoubtedly adds credibility to the otherwise somewhat shaky contemporary media claim that the Mite was the "first" American diesel. However, we can now see that although the development of the Mite did indeed commence at a very early date (possibly preceded only by the Thermite diesel of late 1945), its late 1946 market appearance was very likely preceded by that of the C.I.E. 10 from Los Angeles, California. That said, who really cares any more which was first ……….does it matter?!? It was only a matter of a month or two either way.
The other view of the Mite which seems to have acquired some credibility in the minds of many model engine aficionados is that it was a somewhat over-rated performer. I hope that Maris Dislers has dispelled this view quite comprehensively through his test results reported in this article.
Perhaps the Mite's most important legacy was the influence which it clearly exerted over Leroy Cox when designing his iconic Cox ½A engines during the 1950's. The cylinder porting and ball-and-socket conrod configuration of the Mite were carried over wholesale to the Cox designs, as was the all-steel piston/cylinder combination. A very significant legacy indeed!
While a variable compression head plus a redesigned prop mounting system might have worked wonders for the little Mite, the fact remains that it was a very impressive performer indeed by late 1946 standards. Viewed as a direct contemporary of the highly-regarded Mills 1.3 Mk. 1 Series 2 which appeared almost simultaneously in Britain, there's no contest – the Mite was simply streets ahead in terms of both its technical design and its level of performance.
So hats off to Howard Mandeville and his associates Walt Schroeder and Bill Siedel! Together they created a genuine American classic which is well worth remembering!
______________________
Article © Adrian C. Duncan, Coquitlam, BC, Canada
First published June 2019