FROG 180 diesel test
Long-Overdue Test – the FROG 180 Diesel
Back in the far-off days when model I/C engines were the power source of choice among aeromodellers during an era when those individuals were seeking a greater challenge than merely pushing buttons, the modelling media of that era paid extremely close attention to the appearance of new designs from established model engine manufacturers. New engines were Big News, and competition between rival manufacturers was fierce. Positive test reports published in the contemporary model magazines were highly influential in sales terms.
For this reason, the model magazines of the day were plentifully supplied with test samples of new model engines from many of the established manufacturers in their respective market areas. Nowhere was this more true than in early post-war Britain, where the two major model aircraft periodicals were "Aeromodeller" and "Model Aircraft". Both magazines published long-running series of model engine tests beginning in May 1948 and June 1949 respectively.
This was an era during which new model engine designs from British manufacturers were appearing at a rate which greatly exceeded the ability of the resident model engine testers for the two magazines to
match with their test reports. As a result, it was inevitable that some seemingly high-profile models would escape the attentions of these individuals. A far cry from today, when my good mate Maris Dislers has difficulty at times finding a new release from anywhere in the world upon which to base his regular monthly "Power Trip" model engine reviews for today's "AeroModeller" magazine!
The FROG 180 diesel produced by International Model Aircraft (IMA) was an example of one of these untested models. Its smaller companion 100 diesel and 160 glowplug units were both tested (the former model twice), but the directly related 180 unit fell through the cracks despite its clear potential to exceed the performance of its two siblings in the very popular FROG "bicycle-spoke" series by a handsome margin.
To a large extent, this resulted from the timing of the engine's release to the public. As attentive readers of my separate in-depth article on the early FROG models will recall, the FROG 180 was released in its Mk. I form in early 1948, most likely in response to the December 1947 introduction of the E.D. Comp Special. The original variant of this engine, which was in effect simply an overbored version of the companion FROG 100 Mk. I diesel, was quickly replaced by the Mk. II model which featured a separate aluminium alloy cooling jacket instead of the former integrally-turned cooling fins. The further improved
Mk. III version of this engine followed in late 1948 or possibly early 1949, remaining in production until some point in early to mid 1950. It is this latter variant that is the subject of the present article.
The point here is that when the series of published engine tests conducted by Lawrence H. Sparey for "Aeromodeller" magazine got underway in May 1948, the Mk. I version of the FROG 180 had already been on the market for some four months and was actually on the point of being replaced by the Mk. II version. At that point in time there was an amazing array of engines lined up to compete for Sparey's attention from then high-profile manufacturers such as Kemp, E.D., IMA (FROG), Majesco, H-P, Mills, Allbon, Aerol (Elfin), ETA, Davies-Charlton and others. From the outset Sparey was playing catch-up, a challenge which was clearly beyond his or anyone else's capabilities given the rate at which new releases kept appearing to join the jostling throng clamouring for attention. As a result, a fair number of significant model engine designs were never tested for publication. The FROG 180 was one of these.
The series of model engine tests conducted for the rival "Model Aircraft" magazine by Peter Chinn (albeit without attribution during the early years) did not get underway until June 1949. By that time the FROG 180 was "old news", having been in production in various forms for some 18 months. This being the case, it's scarcely surprising that Chinn focused on more recent releases. Once again, the FROG 180 missed out …………….
Which doesn't mean to say that the engine didn't merit a full test! On the contrary, since it was a simple bolt-in replacement for either of the smaller FROG radial-mount models (the 100 diesel and the 160 glow), many potential customers must surely have wondered if the purchase of one of these larger units as a substitute for one of the smaller models would be worthwhile in performance terms. Unfortunately for them, neither of the major British modelling periodicals ever answered that question.
The one individual who did at least make an attempt to do something to evaluate the engine was the redoubtable Henry J. Nicholls, who published a report on the FROG 180 in the 1949 edition of "Model Planes Annual". However, Nicholl's report cannot be considered to be a true "test" of the engine, since the only performance figures noted were speeds achieved with one of IMA's notorious variable pitch propellers of unspecified diameter set at coarse, medium and fine pitches. No attempt was made to develop any kind of power curve or even to estimate the engine's peak output.
Nicholls explained the rather cursory nature of his report by stating that the test engines (three in number) were received for test only 24 hours prior to the editorial deadline for publication. He confirmed that had this not been the case he would have subjected the engines to a far more rigorous and wide-ranging evaluation.
Fortunately, we can do a little better today! My good mate Maris Dislers recently acquired a serviceable and completely original example of the FROG 180 and was very keen to give it a go on the test stand. So without further comment from me, let's turn the pen over to Maris for a long-overdue evaluation of the performance of this highly individualistic engine!
The Frog 180 Diesel on Test
by Maris Dislers
FROG "180", Ref. No. CI Mk. III, Serial No. 6,858 reporting for duty, Sir! This one came my way from a chum's dad's estate and after a clean-up proved to be in excellent running shape. Except perhaps for the contra piston, which was five microns smaller than the piston and hence a borderline fit in the cylinder. However, aside from a slight tendency for the compression setting to back off while running, performance was probably unaffected.
The big question to be answered was whether or not the 180 was a match for its somewhat lighter and considerably more compact FROG 160 glow-plug equivalent, which was quite up to expected performance standards in those early days of glowplug ignition and was described by Col. C.E. Bowden in his pioneering 1949 book "Model Glow Plug Engines" as producing a "fierce" output, reportedly giving 9,000 RPM with a FROG plastic propeller fitted. Unfortunately, the gallant Colonel didn't specify whether this was the 8x5 free flight airscrew or its 8x6 control-line companion.
Other questions seemd to require answers in addition. Could the 180 get near the 10,850 RPM peak power speed obtained by L.H. Sparey during his August 1949 test of the 160 glow-plug model? Finally, with the 100 diesel running out of puff at much lower speeds, would the 180 exhibit similar characteristics which would limit the peaking speed in its case also?
Contemporary magazines, flooded with other engines to test, didn't answer the question. However, the measured port timing figures for the FROG 180 suggest a reasonable performance potential:
| | |
| --- | --- |
| Exhaust duration | 138 degrees |
| Transfer duration | 94 degrees |
| Intake opens | 38 degrees ABDC |
| Intake closes | 7 degrees ATDC |
| Intake duration | 149 degrees |
We would expect a classic model engine having timing numbers in the above ranges to develop a quite useful power output. But are expectations matched by actual results?!? Let's find out!
On the Test Bench
Our test example of the FROG 180 preferred an un-nitrated fuel of equal parts ether, kerosene and castor oil when running at moderate speeds. This is actually quite typical for low to moderate speed model diesels of this era. The cooling fins are not a precision fit on the upper cylinder, so heat transfer is not particularly efficient. This being the case, it's best to use the coolest practical fuel formula.
As the FROG 180 might well have been a first engine for many purchasers, particular attention was paid to its general starting and running characteristics. These were found to be very positive and quite forgiving, particularly on the larger propellers. At least, this was true once we'd tightened up those little base nuts against the cylinder flange to overcome a crankcase compression leak. Although those nuts are threaded 6 B.A., their external 8 B.A. size (necessary for clearing the outer cylinder wall) makes things a bit tricky when applying the required torque for properly compressing the paper gasket. They're 3.86 mm across flats, so a 4 mm spanner is too sloppy. Correct tool absolutely required!!
(Editor's note - these nuts are actually the primary hold-down fasteners for the cylinders of these engines. The role of the additional two nuts at the top of the cooling jacket is confined to securing the jacket in place on the upper cylinder. They only need to be just tight enough to fulfil this role (i.e., little more than finger-tight), hence the manufacturer's use of fibre-insert self-locking nuts at the top of the studs. Excessive tightening of these upper nuts accomplishes nothing beyond the potential distortion of the cylinder bore - A.D.).
Once this was attended to, starting and running characteristics were found to be generally very good, at least with the cylinder oriented vertically upwards as it was during this test. In an inverted position, it might be a different story. As tested, a fairly rich initial needle setting was needed to compensate for the low suction resulting from the combination of a generous 8 sq. mm choke area with a skinny spraybar. A few choked turns and a drop of fuel onto the piston crown invariably had the engine going without much flicking. Compression and mixture controls were found to be non-critical for reasonable average performance.
Reducing compression by a quarter turn made starting with smaller propellers easier, reducing the engine's tendency to kick back. This problem would at times be sufficiently severe to kick the propeller nut loose. That suggests that the left-hand prop mounting thread is no more effective than the conventional right-hand configuration, leaving us continuing to question its use. The real culprit here is the fairly sloppy fit between the prop driver recess and the supposedly matching flats on the crankshaft nose. This fit could doubtless be improved through the use of suitably thin steel inserts to fill the gap.
As for stopping, our cut-off worked positively. That depends on a decent seal between the sprung conical plunger and lower fuel tank nipple. We've seen other FROG's of this pattern fail to cut off properly.
Performance
In performance terms, the 180 does a creditable job at low speeds, turning a 12x6 propeller at a stately 4,100 RPM. Great torque for an engine of this displacement, but clearly well below the FROG's power potential. Working down our suite of test propellers saw the 180 steadily building power output before seemingly hitting a wall at around 9,000 RPM and appearing reluctant to go much faster.
However, going down to the 8x4 size finally drop-kicked the 180 over this wall, giving another useful jump in RPM, albeit with signs that the un-nitrated fuel formula had reached its practical limit. We added 0.75% EHN ignition improver and carried on, realising peak power of 0.108 BHP at around 10,500 RPM. Running was quite smooth throughout our tests, which exceeded a maximum of 11,000 RPM.
| | |
| --- | --- |
| Propeller | RPM |
| APC 10x6 | 6,000 |
| APC10x4 | 7,200 |
| APC 9x6 | 7,500 |
| APC 9x4 | 8,800 |
| APC 8x6 | 8,900 |
| Graupner 8x5 | 9,000 |
| APC 8x4 | 10,400 |
| APC 7x6 | 10,600 |
| APC 7x5 | 11,100 |
This test confirmed beyond doubt that the FROG 180 diesel would comfortably outperform its glow-plug 160 sibling. Based upon Lawrence Sparey's August 1949 "Aeromodeller" test of the latter model, the glow's best torque value (with the low- or no-nitro test fuel of its day) was around 10 oz-in at very low revs, falling to 6 oz-in at the power peak of some 0.083 BHP @ 10,850 RPM. The 180 diesel starts at a higher 14 oz-in figure and is better able to maintain torque across the useable range, resulting in superior overall performance. Of course there's no need to push the FROG 180 to its limits - good all-round performance can be achieved with propellers ranging between 10x4 and 8x5.
On a specific power output basis, the FROG 180 doesn't quite match the contemporary 100 Mk II diesel's .072 BHP/cc measured by Lawrence Sparey in his published test of that engine ("Aeromodeller", October 1950). However, the very small weight difference between them means that the 180 achieves a real leap forward in terms of power-to-weight ratio. It would have been "in the soup" with its main contemporaries – the heavier E.D. Mk II and Comp. Special models, the improved Mk. II Mills 1.3 and the K Falcon.
Of course, all of these models were outpaced by Aerol's Elfin 1.8, which really stirred the pot and pointed the way ahead into the future of model diesel design. However, that's another story………….
A Duplicate Test
Back to your friendly Editor once more! Big thanks to Maris for sharing the above test report with us. Both Maris and I agreed that there would be value in attempting to duplicate the above test results with a different example of the same engine. Since I had a used but completely original and highly serviceable example of the FROG 180 Mk. III on hand in the form of engine number 7487, I was in the best possible position to carry out such a program.
Taking note of Maris's comment regarding the propensity of the prop to work loose during starting (despite the use of a left-hand 2BA thread, the logic behind which I have never grasped), I dug out the suitably-threaded steel sleeve nut which I had made up some time ago to use during test sessions involving one of the FROG "bicycle spoke" diesels. This accessory is ugly but effective! Apart from allowing the props to be really well tightened down (not readily possible with the standard spinner nut), it spares the original alloy spinner nut from the ravages of repeated prop changes. Engines tested using this prop fastener almost never exhibit any tendency for the prop to work loose.
In general, my impressions of the engine's starting and running qualities pretty much matched those reported by Maris. My only real departure from Maris's observations was the fact that that my engine was not all that happy running below 7,500 RPM, exhibiting uncertain response to the needle. This uncertainty is reflected in the somewhat "wobbly" power curve reproduced below. However, running qualities and response to the needle valve both improved significantly with increasing speed above that point. I suspect that poor low-speed suction arising from the relatively large-diameter intake and skinny spraybar have much to do with this. By the time that the engine's normal operating speed range of 9,000 RPM plus was reached, running was as smooth and consistent as could be desired.
Apart from that observation, I'll confine myself to sharing the performance figures obtained during my own independent testing. For the most part, the props and fuel used were the same as those employed by Maris. The resulting figures are summarized below: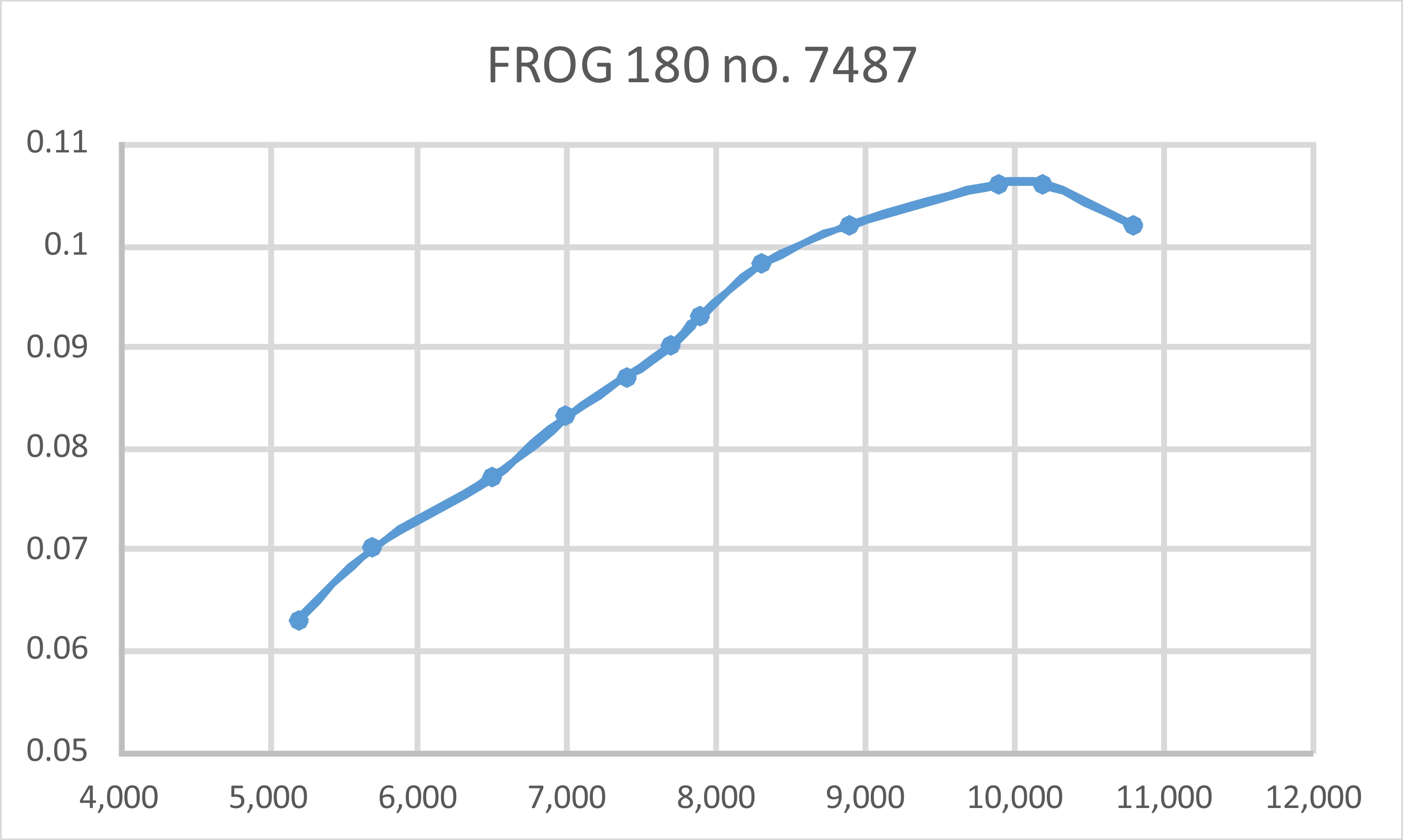 Prop

RPM

BHP

TF 10x6 wood

APC 10x6

APC 10x4

APC 9x6

APC 9x5

BY&O 9x4 wood

APC 9x4

APC 8x6

APC 8x4 WB

APC 8x4

APC 7x6

APC 7x5

5,200

5,700

6,500

7,000

7,400

7,700

7,900

8,300

8,900

9,900

10,200

10,800

0.063

0.070

0.077

0.083

0.087

0.090

0.093

0.098

0.102

0.106

0.106

0.102
The APC 8x4 WB is a trimmed APC 9x4 prop which fills the same torque absorption gap in my APC test set which is occupied by Maris's use of the Graupner 8x5. Although the calibration factors for my test set clearly differ from those applied to Maris's set, the end result is about the same. My engine seems to develop a peak output of around 0.107 BHP @ 10,100 RPM. I'd say that was pretty good confirmation of Maris's results!
My sincere thanks to Maris for his assistance in publishing this long-overdue test of a real classic!
_______________________________________
Article © Maris Dislers & Adrian C. Duncan
First published June 2016