From the Editor - January 1st , 2020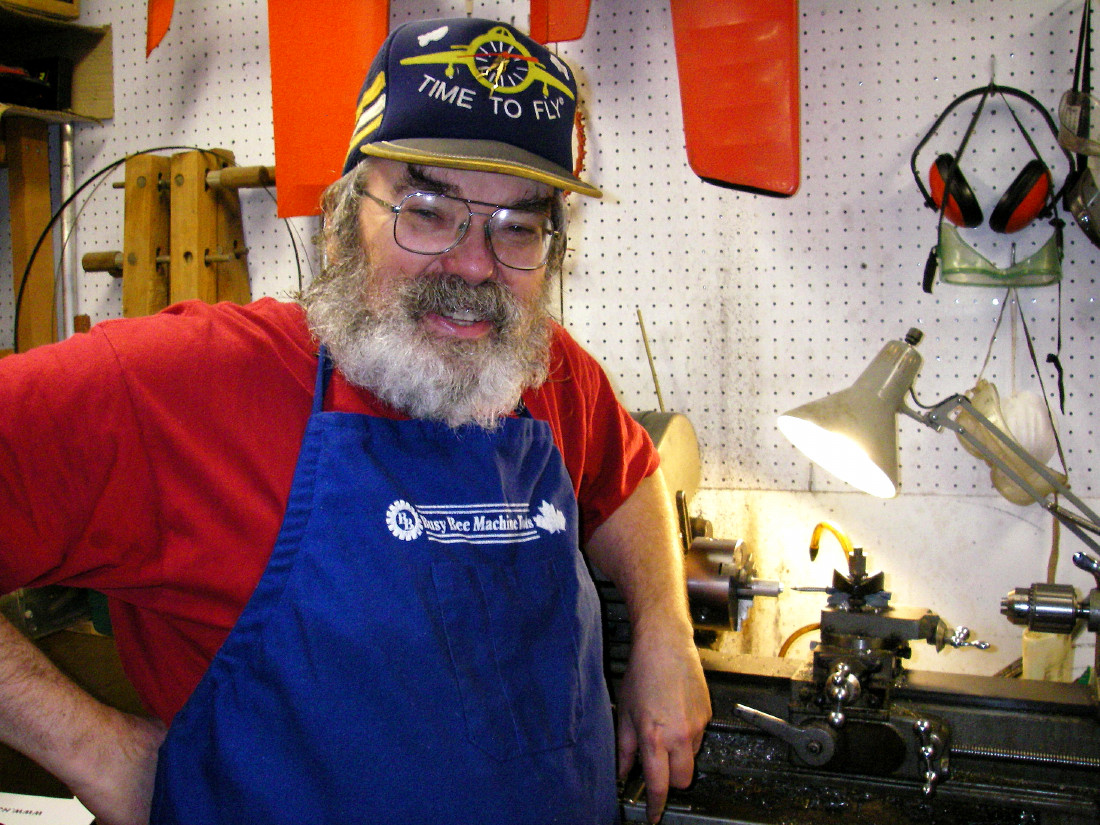 Happy New Year to one and all! Once again I've managed to survive the annual Christmas assault on my digestive system and liver function. Now it's on into 2020! What with all the political and societal uncertainties facing all of us, it promises to be an "interesting" year altogether. All that we can do is go along for the ride and try to continue to enjoy the best of what life has to offer. For me, and for most of you, model engines will continue to be a big part of that!

Looking ahead, I can certainly promise you an interesting year on this website! A number of very rare and intriguing engines have arrived for evaluation and testing. I'll be putting details of these up on the site as and when my research is completed. In addition, the "major" marques will not be overlooked - I have several articles on more familiar subjects in the works.
Last time, I reported that November saw a continuation of the modest recovery in the level of interest in this site as reflected in the various statistics of which I keep track. I'm happy to report that things remained well on track in December despite the intervention of the holiday season with all its distractions. To begin with, the 606,607 hits in December improved substantially upon the figure of 577,493 hits in November. It's clear that site visibility is being maintained at a high level.
Of course, hits are one thing - actual visits are quite another, since they reflect the level of interest aroused among those who happen to hit upon the site. The December total of 13,047 visits represented a modest but significant increase from the the November total of 11,613 visits. Things definitely kept moving in the right direction.

As we would expect from the above figures, the visit/hit ratio for December (the proportion of hits which translated into visits) was 2.2%, a slight but still welcome increase from the November figure of 2.1%. A perfectly reasonable figure - one hit in 46 continued to result in an actual visit. Clearly the site still attracts its share of direct interest from among those who stumble across it!
However, the number of visits only tells part of the story - the number of pages accessed is a more representative indicator of the level of interest in the material on this site. The number of pages accessed in December fell substantially from the astounding November figure of 210,997 pages to a somewhat more "normal" total of 158,512 pages. The average number of pages accessed per visit also declined to 12.1 pages per visit, down from the astonishing November figure of 17.3 pages per visit. Still, until that remarkable November figure (for which I still have no explanation), I would have considered this to be a very clear expression of ongoing interest among my readers. Those who did visit clearly found plenty to interest them. Good news - thanks for being a part of that!
Now a note which has unfortunately had to continue to be a regular feature of these Editorials. This one is mostly for new readers - old hands can skip to the following sections.
Despite my repeated admonitions not to do so, people are continuing to try to register on this website. The numbers have fallen, but it's still happening. As I've previously stated time and time again, this has absolutely no effect - it's simply an artefact left over from the generic platform's primary intended use as an on-line sales site. Since this is not a sales site, the registration feature is redundant and I make no use of it whatsoever.
So why is it still there?!? Well, before anyone else asks (and quite a few well-meaning souls already have!), I've thoroughly explored the possibility of removing or at least blocking this feature, but it can't be done without extensive (and very expensive) custom modification to the otherwise very useable generic platform which came as a ready-to-use over-the-counter package, thus keeping the costs and complexities manageable. So we're stuck with this feature.
The bottom line therefore remains - please don't bother trying to register! Doing so accomplishes nothing apart from creating unnecessary cyber-clutter, which I definitely don't need!
Along with the continued use of the website, the correspondence from my
valued
contacts around the world has continued to pour in unabated. During the past month I've heard (in no particular order) from
Maris Dislers, Derek Butler, Peter Burford, Dave Jones, Dennis Toth, Dave Causer, Lars Gustafsson, Hugh Blowers, Steve Webb, Luis Petersen, Jens Geschwendtner,
Peter Valicek,
Ferenc "Somi" Somogyi, Alan Strutt, Mike Conner, Bill Wells, Miles Patience, Brian Vermaaten, Dave Zwolak, Peter Rathke, Paul Venne, Geoff Peacock,
Tim
Dannels,
Ingemar Larsson, Bob Christ, Don Imrie, Jim Mace, Allan Brown, Richard Davison, Neill McRae, Andreas Ullmann, Don Sohn, Don DeMent, Nigel Tarvin, David Hill and Andrew Coholic
. Whew!!

Sincere apologies to anyone whom I may have inadvertently missed in the crowd - it can be hard to keep track! The blog site has also continued to justify its existence by generating a fair amount of relevant traffic - thanks for that.
December is always a bit of a "down" month due to the many distractions offered by the holiday season. However, there are still a number of items of potential interest. First, Ingemar Larsson of Sweden contacted me to let me know that hot on the heels of the 2019-1 issue of the wonderful control line magazine LINA which was announced here last month, the year's second issue no. 2019-2 is now available. As Editor of this fine on-line publication, Ingemar dererves enormous credit for the quality of the magazine, which is chock full of lavishly-illustrated and well-written contest reports, technical information and personal interviews.
Ingemar himself was primarily responsible for assembling this latest edition, whch is fully up to the standard of its predecessors. This issue even includes another contribution from yours truly! As usual, at least a third of the content is in English, while the balance is easily rendered into any language using readily-accessible on-line translation technology. This superb publication is essential reading for anyone retaining an interest in any form of control line flying. Anyone wishing to gain access to this and future issues is advised to contact Ingemar directly at ingemar.larsson.vis@telia.com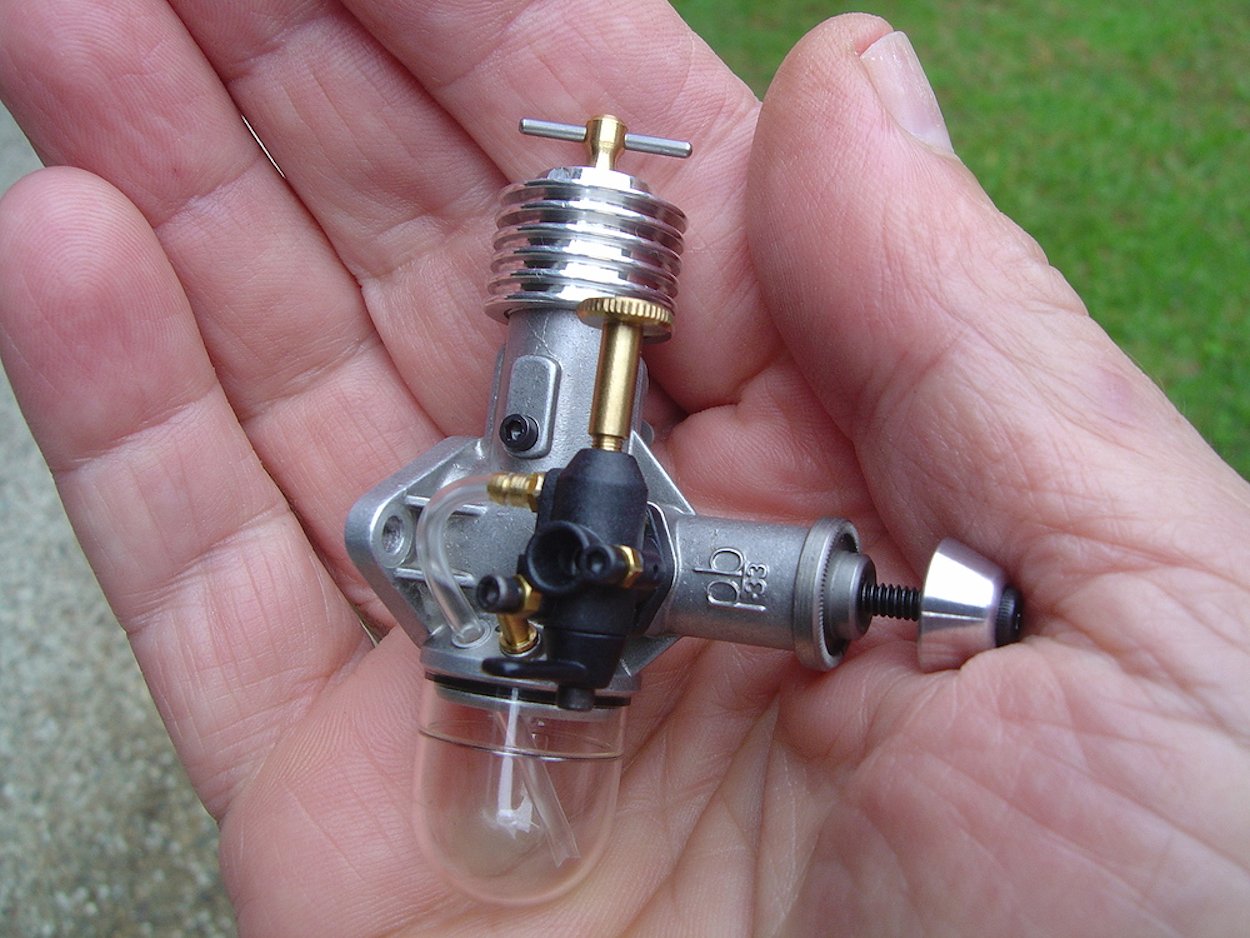 Last month, I drew attention to the small batch of Clan 0.25 cc diesels being made by Dave Jones of Hervey Bay in Queensland, Australia. Information on this lovely little motor may be accessed through this link. My own order has already gone in!
Reader Richard Davison subsequently drew my attention to another Australian jewel of an engine, the superb little 0.33 cc micro-diesel illustrated at the left. This unit has been individually constructed in Australia since 2004 by its designer Peter Burford, son of the late and much-missed Australian model engine maestro Gordon Burford. It remains available to order at a cost of AUD$450 plus postage. It's certainly expensive, but everyone who has tried an example has nothing but praise for both its quality and performance.
An article about the design and construction of this motor may still be found on Ron Chernich's wonderful "Model Engine News" (MEN) website. In addition, a test of the engine by the late Brian Winch appeared in the April 2018 issue of "AeroModeller" magazine. You can also check out full details on Peter's website. My own order will be going in as soon as my finances have recovered from the ravages of the holiday season! I'll run my own test at that time and publish the results.

Reader Allan Brown of Durham, UK, wrote in to let me know about an engine in his possession that appears to modify some information in an existing article. Alan has the illustrated Rivers Silver Streak Mk. I bearing the serial number A 71. This engine features the wrap-around prop driver which my original article stated to have been introduced after some 100 examples of the Mk. I Silver Streak had been produced. I also stated that the mounting lugs were unfinished up to that point in the series, but Allan's engine also has finished lugs.

It now appears that these modifications were actually introduced somewhat earlier than I had though - certainly before engine no. A 71 came off the line. The earlier engines with the plain prop driver and unfinished lugs must have been a very short run right at the start of production. Allan has shown his engine to my good friend Kevin Richards, who has confirmed its authenticity.
Unfortunately, my original Rivers article is mounted on the late Ron Chernich's "Model Engine News" (MEN) website. That site is heavily encrypted, and Ron left us without sharing the access codes with anyone. As a result, the original article is frozen, making it impossible to make the change implied by Allan's engine. Nevertheless, my sincere thanks go to Allan for pointing this out.

In case anyone's interested, an article about a very special Rivers Silver Streak Mk. I remains accessible right here on my own swebsite. A salutary reminder of the Silver Streak's true potential!!
Reader Dave Causer of England sent along another of his excellent technical articles on how to restore old classic diesels to fully functional condition. Dave's earlier article about the somewhat tricky business of making a replacement piston for the A-M 35 may already be found here.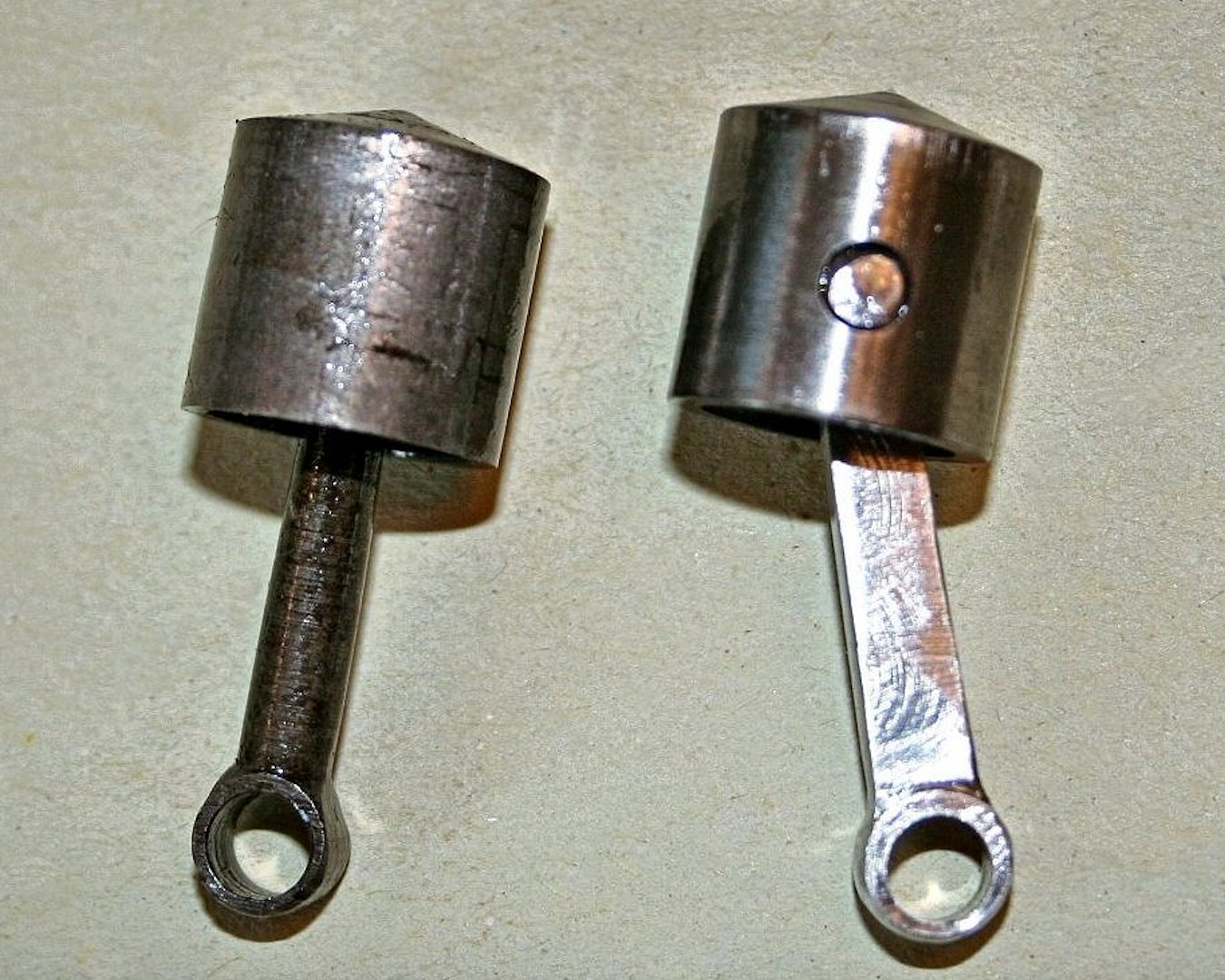 Like many an enthusiast before him, Dave has acquired a number of examples of the K engines from Gravesend in Kent. Although these are very nice engines which run well, they do have an Achilles' Heel - that dratted ball-and-socket joint which connects the piston to the hardened steel con-rod. If wear becomes an issue, the replacement of the piston and rod is a task beyond the capacity of the average home machinist.

Dave has developed a design for more conventional replacement components for both the 2 cc and 5 cc K models (the Falcon/Kestrel and Vulture series), as seen at the right. He's been kind enough to send details along for sharing with others through this website. I've created a new page in my "Technical Topics" section in which Dave's approach is fully described. Big thanks go out to Dave for sharing this information with the rest of us!
Interestingly enough, when Dave made the replacements for his Falcon a couple of years ago, he didn't look closely at the published test reports, simply making the piston to fit his motor, which had a bore of 14.64 mm. In an idle moment Dave decided to check the displacement of his engine, finding that it worked out to 2.40 cc as opposed to the 2 cc figure which has always been cited for this engine. He compared it to the Kestrel in his collection, immediately noting that the Falcon had thinner cylinder walls. This is commensurate with the larger displacement.
This is certainly a new one on me - in his published test report on the Falcon, the normally reliable Peter Chinn recorded the bore as 0.520 in. (13.21 mm) and the displacement as 1.96 cc. The serial number of Dave's engine is 7006 (possibly 7008), which is right in the middle of the confirmed serial numbering sequence. My own later example no. 7462 checks out at the figure given by Chinn.
This makes it appear quite likely that Dave's engine is a factory experiment involving a modification to an engine pulled out of the line at random to see how a larger bore might improve performance. There would be a trade-off - an increase in bore diameter would result in thinner cylinder walls (as observed by Dave) and a reduction in bypass area.
Dave had bought the engine on eBay as a restoration project and had subsequently lost touch with the seller. Consequently, he was unable to follow up on the engine's provenance.
The splines on the prop driver of the engine were worn, so Dave replaced that as well. The engine has a non-standard needle valve assembly which seems to work OK. On test, the Falcon with its oversized bore turned a Tornado 9x4 prop at 8,900 rpm as against the 8,300 rpm of the standard-bored Kestrel. It thus appears that the modification did release a bit more power, though evidently not enough to justify putting the 2.4 cc "special" into production. An interesting experiment - thanks, Dave!!
Last month I drew readers' attention to the current offering of engines from the collection of the late Paul Rossiter of England which may be found here on this website. Three of the listed engines (the D-C- Tornado, the Kemp K4 diesel and the Kemp Eagle sideport model) sold right away, but the others remain available at what I consider to be very fair prices. It's a chance for my valued readers to get in there ahead of the eBay crowd and avoid the eBay fees - take advantage of it! I've added a couple more engines to the list - take a look. If you're interested in any of these offerings, please contact me either directly or through the blog site.
Now on to the engine articles which constitute the core of the material to be found on this website. This month's feature article takes us once more to Germany, where we'll encounter another
pioneering engine from that country - the 2.65 cc RGU Universa sideport diesel of 1950. This unusual engine was actually a predecessor of the far
better-known Jaguar range from the same designer. Although at first sight it may appear to be a relatively conventional sideport diesel of its day, it actually incorporates a few highly distinctive design features, including a massive tank along with a very oddly arranged bypass/transfer system. You'll learn all about it in this month's feature article, which includes a full test of the engine.
Looking ahead to next month, I've noticed that it's been a while since we visited Italy. Time to make my Italian friends happy by reviewing another fine engine from their country! This time, I'll be evaluating the 2 cc MOVO D-2 diesel from Milan. Introduced in 1944, this excellent unit enjoyed a relatively long production
life, also achieving considerable sales success in America during the period leading up to Ray Arden's late 1947 introduction of the commercial miniature glowplug, which effectively swept the diesel off the table in that country.
In researching this article, I was helped immensely by the invaluable information on Italian engines which may be accessed on the very informative Italian Engines website. This site contains a great deal of information on Italian model engines of the pioneering and classic eras, including the MOVO. Indeed, much of this information can be found nowhere else. The site is presented in English, although an Italian version will appear eventually. Anyone having an interest in early Italian engines is strongly recommended to check out this outstanding resource.
Meanwhile, next month's article will include a full history of the development and production history of the MOVO D-2, along with a full test of a fine example which was restored to superb original condition by my good friend Peter Valicek.
I think that's it for now. I'll be back to you with another issue on or about February 1st, 2020. Meanwhile, have a safe and rewarding holiday season, with my best wishes for continued enjoyment of our shared addiction! Look after that flicking finger, and may the heady aroma of diesel fumes, sparkie smoke or burning nitro assault your nostrils frequently!
Cheers,
Adrian Duncan
Coquitlam, British Columbia, Canada
___________________________________
Note regarding material to be found on this site - unless specifically otherwise noted, all images and text which appear on this site are my own work, and I hereby assert my right to be recognized as the originator of this material. For the record, this material is made freely available to all upon two firm conditions:
No commercial use of any kind is to be made of any of the images or text posted on this site without my express written consent.
No use of

any

kind, commercial or otherwise, is to be made of any material published in any form on this site without full and open acknowledgement of the source.
Adrian C. Duncan
Coquitlam, British Columbia, Canada