From the Editor - September 1st , 2019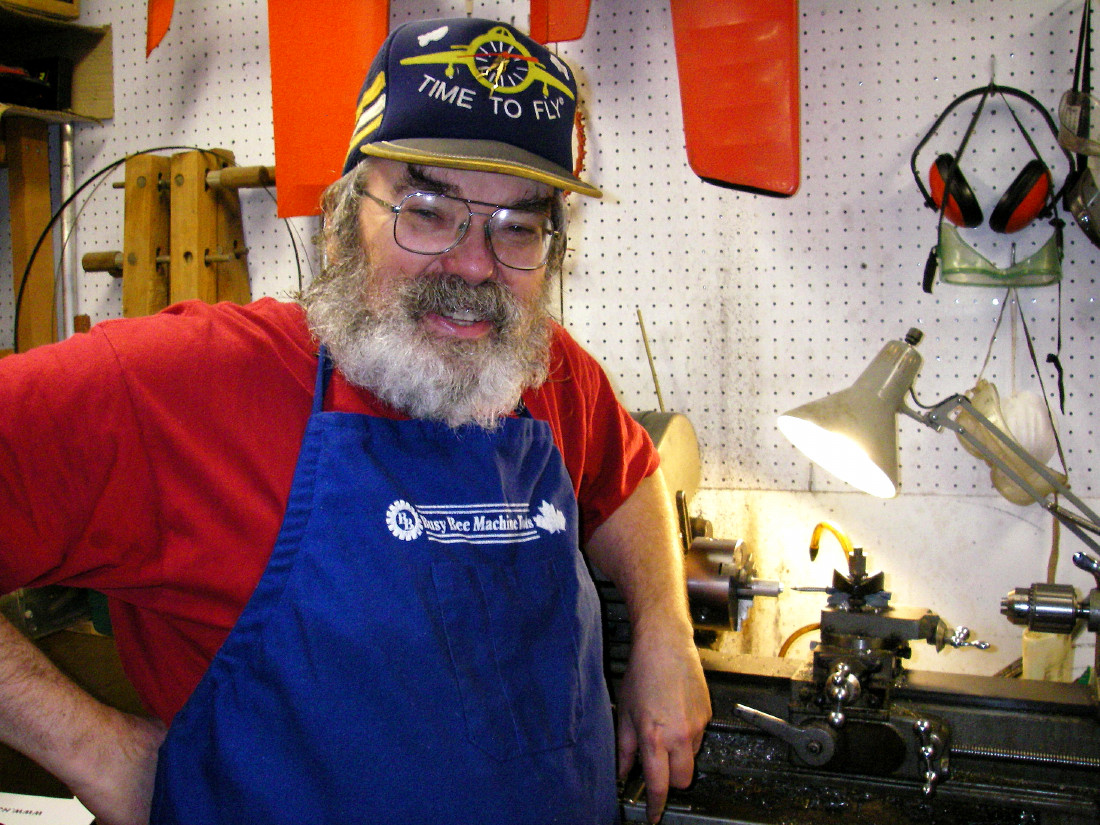 Greetings once more from Canada's West Coast! I'm well and truly back in the groove after my extended absence in June and July, although catching up with the backlog has been a bit of a challenge. Thankfully, as far as I can presently foresee there should be no further interruptions in service for quite a while now.
Because of the omission of a July issue and the consequent absence of the corresponding turn-of-the-month spike in the number of visits as people visit the site to check on new articles, it was only to be expected that site usage in June and July would be down somewhat. However, August was back to being a more or less "normal" month, with new articles at both the beginning and the end. This being the case, I have to report that the statistics for the month are rather less encouraging than usual.

August 2019 saw the elevated levels of site usage seen earler in the year continue the cooling-off trend of the past few months. The 403,796 hits in August fell a little short of figures for teh previous two months, but only marginally so. A reduction in visitation is to be expected given the competing distractions of summer in the Northern Hemisphere, where most of my readers live. Even so, it's clear that while site visibility is being maintained at a high level, fewer people seemed to be looking in August.

Of course, hits are one thing - actual visits are quite another, since they reflect the level of interest aroused among those who happen to hit upon the site. The August total of 8,405 visits was also down on figures from previous months, probably for the same reason as that cited earlier.

The visit/hit ratio for August (the proportion of hits which translated into visits) was 2.1%, once again only a little down from previous figures. Still a perfectly reasonable figure - one hit in 47 continued to result in an actual visit. Clearly the site still attracts its share of direct interest from among those who stumble across it!
However, the number of visits only tells part of the story - the number of pages accessed is a more representative indicator of the level of interest in the material on this site. This was the most worrying facet of the August 2019 figures. The number of pages accessed in August showed a really sharp decline to a figure of only 46,565 pages The average number of pages accessed per visit also fell sharply to only 5.5 pages per visit. This is a somewhat worrying indication that interest in the material offered on this site may be fading. I'll be watching these statistics carefully, because the work involved in maintaining this site can only be justified through an ongoing expression of reader engagement as reflected in these statistics.

Now a note which has unfortunately had to continue to be a regular feature of these Editorials. This one is mostly for new readers - old hands can skip to the following sections.
Despite my repeated admonitions not to do so, people are continuing to try to register on this website. As I've previously stated time and time again, this has absolutely no effect - it's simply an artefact left over from the generic platform's primary intended use as an on-line sales site. Since this is not a sales site, the registration feature is redundant and I make no use of it whatsoever.
So why is it still there?!? Well, before anyone else asks (and quite a few well-meaning souls already have!), I've thoroughly explored the possibility of removing or at least blocking this feature, but it can't be done without extensive (and very expensive) custom modification to the otherwise very useable generic platform which came as a ready-to-use over-the-counter package, thus keeping the costs and complexities manageable. So we're stuck with this feature.
The bottom line therefore remains - please don't bother trying to register! Doing so accomplishes nothing apart from creating unnecessary cyber-clutter, which I definitely don't need!

Along with the continued use of this website, the correspondence from my valued contacts around the world has continued to pour in unabated, even during my absence on vacation. During the past two months I've received communications (in no particular order) from Maris Dislers, Johnny Shannon, Dennis Toth, Bob Christ, Darrel Peugh, Alan Strutt, Ken Croft, Neil McRae, Miles Patience, Andre Rousseau, Dave Ellis, Tom Walker, Bob Allan, Pat King, Bill Mohrbacher, Luis Petersen, David Burke, Lars Gustafsson, Peter Valicek, Paul Venne, Mike Conner and Tim Dannels. Sincere apologies to anyone whom I may have inadvertently missed in the crowd - it can be hard to keep track! The blog site has also continued to justify its existence by generating a fair amount of relevant traffic - thanks for that.
In last month's isue I noted that the illustrated timelines pages which formerly graced the O.S. website had been taken down. While this is true, my friend and colleague Bob Allan drew my attention to the fact that those pages remain available here on the very useful Web Archive site. My thanks to Bob for bringing this to our attention!
Some good news came through from outgoing MECA President Bill Mohrbacher. I mentioned last month that Bill has been facing some medical challenges. He now advises that he has undergone a PET scan which showed that his lymph nodes are back to normal, meaning that no further treatment is required. He will have periodic scans, but for now the crisis appears to have been averted. Great news, Bill - all the best!!
Some far less positive news came from my valued friend and colleague Miles Patience. His father Mike Patience, who has made very significant contributions to the gathering of model engine history, has been diagnosed with primary lung cancer. Taken together with Mike's other health issues, the doctors are doubtful that they can do a lot for him. This is of course the worst possible news, and I'm sure that you'll all join with me in expressing our shared empathy and support for all the members of the Patience family as they work through this difficult period.
Maris Dislers reminded me of a technique that I have used for many years to dismantle and reassemble .049 and similar engines having screw-in cylinders. Far too many of these show up with marred cylinder or head fins due to the use of inappropriate tools to dismantle them. Pliers or vice-grips are the worst offenders, but the use of a lathe or drill chuck just is as bad becuse of the localized pressure points applied by the chuck jaws, which tend to distort the bore. A collet of exactly the right size might be OK, but how many people have access to those?!?

The best method that I've found is
to use a standard common-or-garden hose clamp to grip the cylinder. You should only tighten the clamp as much as needed to provide the required grip - no more. One then uses the protruding strap screw mounting as a purchase to rotate the cylinder, first always making sure that the piston is completely free in the bore and positioned at bottom dead centre. Forget to do this, and in many cases you'll break the conrod by twisting, or at the very least mar the bore.

I though that I had come up with this myself and assumed that many others must also have done so - it seemed pretty obvious. However, Maris drew my attention to the fact that this very approach had been the subject of a brief article by my friend Bill Schmidt in the December 2013 issue of "Engine Collectors' Journal" (ECJ, issue no. 219. The article is reproduced here. I believe that it is self-explanatory.

Maris suggests that dressing the captive end of the strap piece to avoid it acting as a localized pressure point might be a good precaution. I concur. He also recommends the use of a strip of leather (coarse side towards the job) rather than aluminium flashing for better/safer grip. I've used both leather and thick fibre gasket material over the years, with good results in both cases. My sincere thanks to Maris for drawing my attention to the need to make this technique more widely known! Thanks also to Bill Schmidt for his original article in ECJ.
One of the very best rewards for the time and effort that I put into my in-depth engine reviews comes when they trigger a reader's recollections or knowledge about the particular subject, resulting in the receipt of corrected or updated information. Another example of this very satisfactory response to an article came in connection with last month's lead piece on the Mechanair 5.9 cc sparker.

At the time when that article was originally published, I had seen no evidence to support the frequently-advanced notion that the Mechanair was ever manufactured in Leeds by its original distributor, the Astral Aero Model Company. However, immediately after the article's first appearance on August 1st, 2019, my good friend Ken Croft sent me a couple of images in his possession which forced a considered re-evaluation of this aspect of the Mechanair story.
Ken's images show what unquestionably seems to be a previously-unreported variant of the Astral/Mechanair 5.9 cc model. Although its crankcase, cylinder, timer and carburettor mounting arrangements appear to be identical to the corresponding features seen on the more familiar Mechanair 5.9 which formed the main subject of my original article, it displays a number of key differences. Chief among these are the radially-finned cast alloy head, backplate-mounted fuel tank, very different venturi and needle valve and seemingly soldered-on exhaust stack. It also features an alloy spinner nut.
Ken did not have the actual engine shown in these images, nor has he ever seen an example of this model. Neither have I, for that matter - indeed, it does not appear in any of the standard reference works on British model engines (and I have 'em all!). It was also never advertised at any time. Ken received the images some years ago during the course of a discussion about Mechanair. Beyond what is visible in the photos, he has no information, nor does he know where the engine is today.
Regardless, this information has compelled me to add a discussion of this variant and its potential implications to the Mechanair article. The new material will be found near the beginning of the article in the background discussion. If you're at all interested in the Mechanair, it's well worth a read!
I'm always delighted to hear from my vaued friend Johnny Shannon of Houston, Texas, USA. As a latter-day designer and manufacturer of high-quality speed engines along with his friend and colleague Dub Jett, Johnny has taken a close and highly supportive interest in my series of articles on classic 2.5 cc racing engines of the 1950's. He was particularly intrigued by the photograph of Ray Gibbs' 1956 World Championship winning Carter Special which I included in last month's article on the Super Tigre G.20 V.
Johnny drew my attention to several visible features which strongly suggested that the 1956 2.5 cc Carter Special was based upon a McCoy 19 crankcase. A second image of the same engine which I subsequently found (seen at the left) in the July 1956 issue of "Model Aircraft" confirmed this impression beyond any reasonable doubt.
It appears that Carter most likely use the standard McCoy piston/ring/liner combination, retainng the bore of 15.87 mm. In such a case, the displacement would have been reduced to 2.47 cc by decreasing the stroke to 12.5 mm, setting the bore/stroke ratio at a perfectly reasonable 1.27:1. Johnny and I have exchanged thoughts on this, the upshot being that Johnny is now contemplating the construction of a stand-off replica of the engine to see how it performs in practice. If anything comes of this project, it's my intention to co-operate with Johnny to publish full details in a future issue of this website.
Johnny and I share a very sincere high level of admiration for the accomplishments of 1950's speed fliers like Ray "Gadget" Gibbs of Great Britain. How can one fail to be impressed by the fact that Gibbs' 1956 2.5 cc World Speed Record of 225 km/hr (139.81 mph) was achieved using a non-Schnürle unpiped 2.5 cc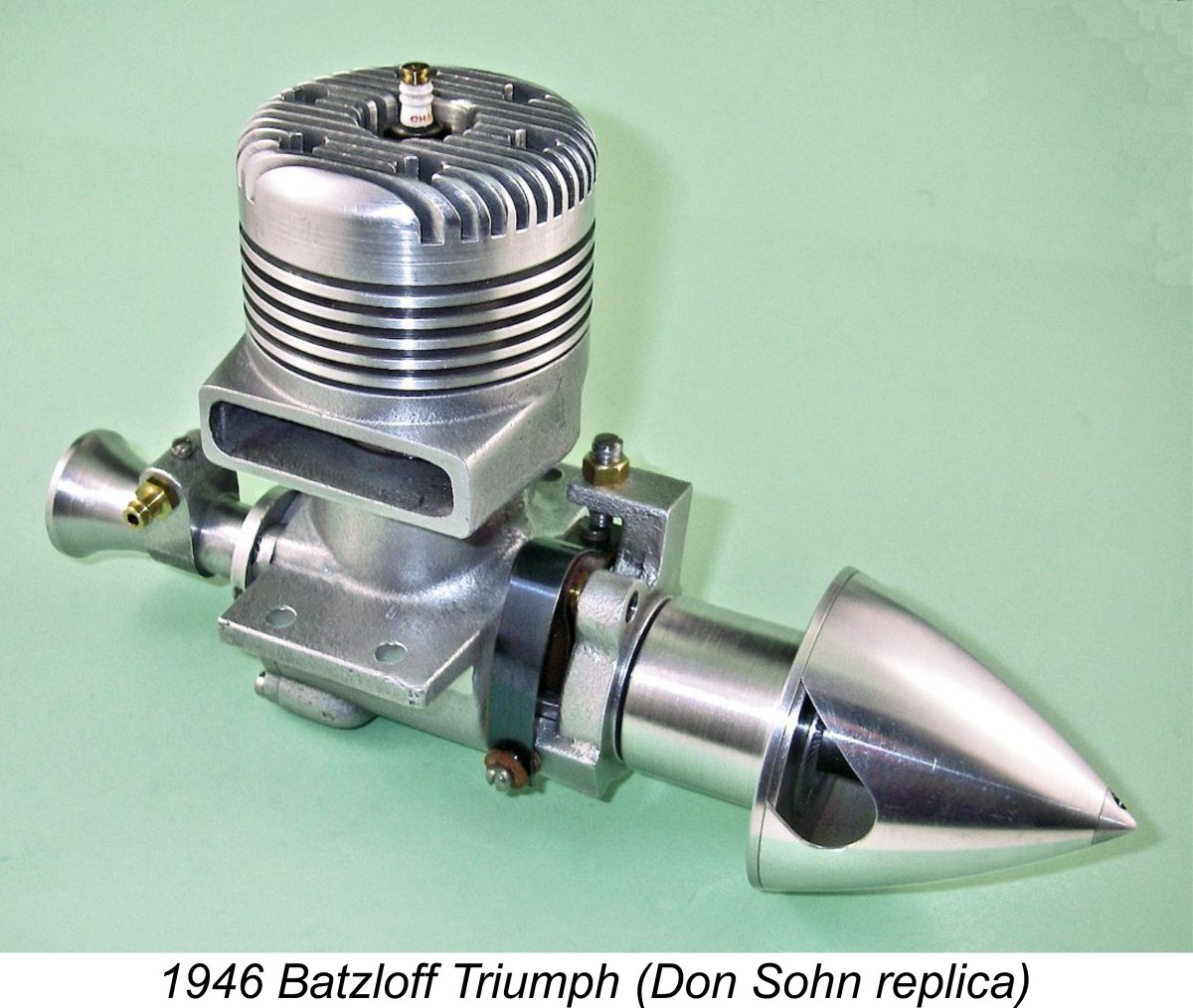 ringed piston engine flying a conventional symmetrical model on two lines? In the subsequent 63 years we've only come a further 80 km/hr., assymetrical models, Schnürle porting, AAC technology, tuned pipes and all!

Johnny also shares my long-time interest in the life and work of pioneering racing engine designer and manufacturer Bill Batzloff of San Diego, California. This brings me to the feature article for the month, which sees a return
to the West Coast of 1940's America for an in-depth look at the life and work of Bill Batzloff.
Johnny has kindly provided a number of relevant details to help me complete this review. I'm also immensely indebted to master craftsman Don Sohn of Oshkosh, Wisconsin, USA for creating the faithful replicas of the very rare Batzloff models upon which I've based my comments.

Although he was an individual of many and varied talents, Batzloff is best remembered among model racing engine enthusiasts for designing and producing a pair of successive big-bore model racing e
ngines under the Batzloff Triumph
banner. What seems to be less well-known is that Batzloff was a close friend and associate of Ira Hassad, exerting a considerable influence upon Hassad's own design work. It's a fascinating story which I'm sure you'll
enjoy reading as much as I enjoyed researching it!
Having now acquired a fair bit of very positive experience running spark ignition engines using the equipment described in my major article on spark ignition engine operation, I'm now well into catch-up mode in terms of testing a number of such units which have spent far too much time sitting on the shelf! Accordingly, for next month we'll return once again to early post-WW2 England for an in-depth review of another early post-war spark ignition engine from that country. I'll be joining forces once again with Maris Dislers to present what I believe to be the first-ever complete evaluation of the Reeves 6 cc unit from Shifnal in Shropshire, including a full bench test.

Although it was never the subject of a published test in the contemporary modelling media of its day, this well-made and user-friendly engine was very favourably remembered by Peter Chinn, writing some years later. I felt that it was high time to test my own example of the engine to discover the basis for Chinn's very positive recollections. As you'll see next month, I found nothing to suggest that Chinn's opinion of the engine was in any way overstated - this was a quality product!
I think that's it for now. I'll be back to you with another issue on or about October 1st, 2019. Meanwhile, my best wishes for continued enjoyment of our shared addiction! Look after that flicking finger, and may the heady aroma of diesel fumes, sparkie smoke or burning nitro assault your nostrils frequently!

Cheers,
Adrian Duncan
Coquitlam, British Columbia, Canada
___________________________________
Note regarding material to be found on this site - unless specifically otherwise noted, all images and text which appear on this site are my own work, and I hereby assert my right to be recognized as the originator of this material. For the record, this material is made freely available to all upon two firm conditions:
No commercial use of

any

kind is to be made of any of the images or text posted on this site without my express written consent.
No use of

any

kind, commercial or otherwise, is to be made of any material published in any form on this site without full and open acknowledgement of the source.
Adrian C. Duncan
Coquitlam, British Columbia, Canada