OK Cubs - early models
Trendsetters - the first OK Cub Engines
By Maris Dislers
All images by the author

In this article, I'll focus on the very first OK Cub glow-plug engines which were released in 1949 as pioneers in the new world of "midget" engines under 0.10 cuin. (1.66 cc) displacement. These little engines had been made practicable by Ray Arden's "ignitionless" glow-plug ignition system first launched in November 1947 (an "ignitionless" ignition system - now there's a contradiction in terms!).
For a comprehensive history of the Herkimer Tool and Model Works of Herkimer, N.Y., manufacturers of the OK Cub engines, I'll refer the reader to Ted Brebeck's very informative little book "They Should Have Kept the Bear". This book remains available from Ted Brebeck, grandson of company founder Charles Brebeck, along with a limited range of original replacement OK Cub parts. Check out what's currently on offer at www.okengines.com
There's also the very informative collection of OK historical material assembled by my mate David Burke of Adelaide Aeromotive. This is available online through a separate link which may be found elsewhere on this website.
Suffice it to say here that the Herkimer company was at one time the largest single producer of model engines worldwide. At the peak of activity, the OK Cubs, ranging from .024 all the way up to .35 cuin. displacements, were produced at a rate of over 1000 units every working day.
Of course, the smaller Cubs and their competitors were just the thing to power the dreams of air-minded youngsters of the day. K&B's Infant .020 reached the shops first, just in time for Christmas 1948, meeting with instant success far exceeding expectations. Anderson soon followed with the .045 cuin. Baby Spitfire, just beating Herkimer's .049 OK Cub, which was first advertised in the June 1949 issue of "Model Airplane News" (MAN).
The quoted price of that first Cub was two dollars less than the Infant or Baby Spitfire. Indeed, the OK Cubs were always keenly priced. The Cub .049 was the first of that "magic" .049 size (soon to be given its own ½A competition class by the AMA) to be made in commercial quantities. These midgets would all fly a small free flight model, but the Cub (and Baby Spitfire) had just about enough power to fly a basic control line model.
The original OK Cubs had plain prop drivers with no knurling for grip. They were also fitted with Arden glow-plugs, as seen in the introductory advertisement reproduced at the right. However, by late 1949 Herkimer had introduced its own OK glow-plugs, which were actually made for them under contract by Ben Shereshaw's newly-established Shereshaw & Swanson company. OK had previously taken over the manufacture of the highly-regarded Bantam .19 design from Shereshaw.
From late 1949 onwards, the Cubs were all supplied with OK plugs. The Cub .049 as illustrated below used an OK G-3 plug. By late 1949, the company had also begun to knurl the prop drivers.
Following the very positive reception of the .049 model, Herkimer moved quickly to expand the range. By the end of 1949, they had released the larger .074 and .099 Cub models, once again leading the field in those displacement categories. Others either waited to see how this new market area panned out or were still working on their own designs.
Of course, it's always so much easier when someone else has shown the way! Consequently, newer competitors soon overtook the Cubs in terms of outright performance. Yet the Cubs remained very popular in the booming beginner/high end toy market for quite some years. They were affordable, cheap to operate and easy starting/handling, also (hopefully) developing adequate power for the job.
Those first OK Cubs celebrate their 70th anniversary this year (2019) - an appropriate occasion to mark through the publication of this article. Admittedly ever so humble, they remain of some interest today, being among the very first expressions of a new class of model engine. As such, they are historically significant designs.

But how good or bad were they, both back in the day and from a modern perspective? Thanks to the good offices of David Acton, I had examples of the original 1949 Cub trio available for study. They didn't make it to Australia commercially, so you could fairly say that I began with no bias about their merits. What follows is a bit of a "three ring circus" as we went from one thing to another across three different engines.
A Completely New Design
Although the OK engines dated back to 1938, the 1949 Cubs represented a radical departure from earlier OK designs. Like Ray Arden's highly influential .099 and .19 models, designer Charles Brebeck went with reverse-flow scavenging using radial cylinder porting for the Cubs - a first for OK. The Cubs' porting arrangements may be clearly seen in the accompanying image.
The engines utilized 360-degree exhaust porting allied to steeply upward-inclined drilled transfer ports, one at each of three pillars separating the three sawn exhaust slots. At a time when "gee-whizz" advertising hyperbole was common, this arrangement was promoted as giving "high turbulence, radial fuel injection and effective scavenging". The transfers were fed from a generous annular gallery machined into the lower cylinder's outer wall above the male installation thread. This gallery was supplied in turn by two bypass channels interrupting the female crankcase/cylinder installation thread at the sides.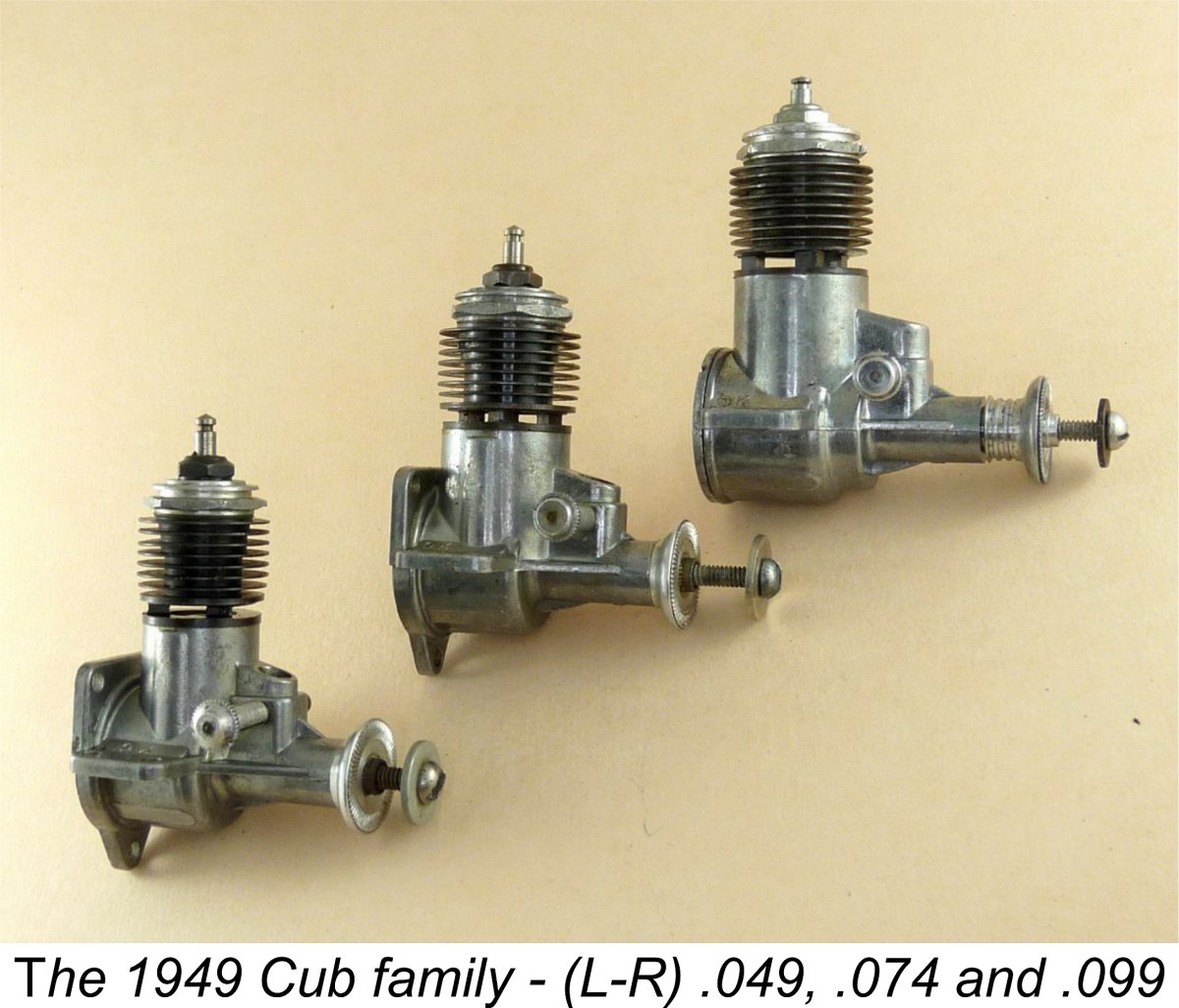 In other respects, the Cubs featured an all-threaded assembly with no bolts, along with a nicely pressure die-cast crankcase having combination radial and beam mounting lugs on the .049's and .074's. These models were almost certainly a pragmatic pairing from the outset. The fact that they had the same major dimensions and mounting holes made them interchangeable in the same model.
The strokes were identical, the larger displacement of the .074 being achieved entirely through a bore increase. Interestingly, this resulted in a long stroke .049 and a short stroke .074. The .074's larger cylinder diameter is the most obvious outer difference, but this difference is subtle enough for Herkimer to have felt the need to cast "074" in place of "CUB" on the underside of the crankcase to avoid confusion.
The engines all feature an unhardened steel cylinder with typical OK integral cooling fins, along with a hardened and ground steel piston having a shallow domed crown. A cast aluminium conrod is used.
The cylinder head is machined from hexagonal aluminium bar, being centrally tapped to accommodate a short reach ¼-32 glow plug. The engines utilize a hardened steel crankshaft with provision for crankshaft front rotary valve (FRV) induction. An aluminium prop driver is pressed onto the splined crankshaft nose, with a 5-40 machine screw being used for propeller retention.
The spraybar is pressed into the crankcase with no retaining nut. It engages with a needle having a shallow taper (.005" over the last 1/16 in.) which is pressed into a aluminium split thimble for needle tension. This configuration may be clearly seen in the accompanying close-up image. Although a bit unusual, it works surprisingly well.

The .099 closely follows the same design pattern, but features beam mounting lugs only. Accessory sheet aluminium brackets could be bought for radial mounting. Although slightly taller and longer, the 099's beam mounting hole pattern matches that of the smaller Cubs. The crankcase design envisaged a quarter by five-eighths inch rear ball race (perhaps to compete with the ball race Arden .099), but this was only added in the revised .099S version of 1958.
Now that I've presented a general description of the 1949 OK Cubs, it's time to turn our attention to the meat of the matter – how do they stack up on the test bench? Let's find out …………….
OK Cub .049
An engine's most important characteristic for a raw beginner is easy starting. The Cubs score heavily in this respect - I'd rate the Cub .049 as being among the very easiest of all model engines to start. Draw fuel up to the spraybar by choking, prime the exhaust with a few drops on top of the piston and it invariably starts within a few flips, hot or cold. The engine is very docile, with no tendency to knock or misfire abruptly, and clears a flooded crankcase very well.
If our intrepid Junior preferred, a simple accessory pulley could be attached in front of the propeller and spun over with a pull cord. Providing there's a glow with the prime and needle setting about right, an immediate start is virtually assured.
The fuel needle is located rather close to the propeller. Its short thimble means that your fingers are exposed to exhaust gasses as well as being uncomfortably close to the spinning prop. A longer prop driver was introduced on later Cubs to shift the prop forward a little, thus reducing the risk of finger contact with the prop.
With the original short needle, the lack of vibration-enhancing "overhang" allows the needle thimble to maintain the setting very dependably with a minimum of clamping pressure on the spraybar, unlike the later extended needle, which required an external compression spring. Mixture adjustment is surprisingly progressive, with quite wide latitude either side of the optimum setting. None of that click-or-two stuff, just set it about right.
Incidentally, if your Cub proves to have a very sensitive mixture control, it's probably due to a build up of castor gum in the spraybar or jets, such that adjustment has to be made using the blunt end intersecting the jet hole, rather than the fine tapered section. A good cleaning should solve any such problems.
We used OK's standard issue G-3 glow plug for initial testing. The company made some rather extravagant claims regarding the development of these plugs, claiming in their November 1949 introductory advertisement that it took 20,000 block tests to come up with the "amazing OK glow plug". It seems more likely to me that the lion's share of those 20,000 runs were simply test runs of new engines – a valid reflection of Herkimer's large production volume.
I'm unsure what fuel was then generally used in Cubs, but assume that it would contain some nitromethane, which had been popularized in 1948 by the Dooling brothers and was in quite widespread use in the USA by 1949. Indeed, using no nitro would have been almost un-American! We used a blend of 10% nitro, 20% castor oil and 70% methanol.
The Cub clearly struggled with a 7x4 propeller, but was willing enough on all other sizes down to the little Graupner 5x2 prop. Low vibration was evident at all speeds. The following performance data were obtained on test:
| | | |
| --- | --- | --- |
| Prop | 10% Nitro | 35% Nitro |
| Graupner 5x2 | 16,200 | |
| APC 4.6x3 | 15,600 | |
| APC 5x3 | 14,100 | |
| APC 5.5x2 | 14,500 | 15,000 |
| APC 5.5x2.5 | 13,500 | |
| APC 5.7x3 | 12,300 | 13,300 |
| APC 6x3 | 11,700 | |
| Cox 6x3 | 10,600 | 11,300 |
| APC 7x3 | 9,500 | |
| APC 7x4 | 7,400 | |
The performance curves reveal a well-defined mid-range slump. We see that reasonably often in our testing of other engines, so it's not unique. You get an unexpected early power rise coinciding more or less with maximum torque, then a drop off as torque begns to decline. This is followed by a gradual re-build to maximum BHP as all design elements reach their most mutually harmonized state. In this instance, we found around .037 BHP near both 9,000 RPM (if you want grunt) or 14,000 RPM (if you prefer higher revs). Spot checks on a few props with higher nitro methane content (up to 35%) gave an extra 500-1000 RPM, lifting peak power to a little over .040 BHP.
(Editor's note - these figures amply explain the reaction of my fellow late 1950's British modellers to those OK Cubs which crossed the Atlantic - they were openly derided as gutless wonders, which they clearly were not! The problem of course was that those Brits failed to appreciate the need to let the little glows rev out, instead trying to make them work with typical 0.75 cc diesel props such as 7x4 or perhaps 6x4 items. No chance ...... and to make matters worse, high-nitro fuels were prohibitively expensive in Britain at the time. So much depends on context - A.D.)

OK Cub .074
Once again, we used the recommended OK G-3 short-reach plug for initial tests of this model. In contrast to the .049, the .074 Cub could not be coaxed into a clean two-cycle run when the propeller load was reduced to allow the attainment of speeds at which it logically ought to make maximum power. To give it a better chance, tests were conducted using a 20% nitro fuel mix. The following data were measured:

| | |
| --- | --- |
| Prop | RPM |
| APC 7x3 | 11,300 |
| APC 7x4 | 9,800 |
| APC 7x5 | 9,200 |
| APC 8x4 | 8,400 |
| APC 8x4 | 8,400 |
The performance curves show torque declining from 7.2 oz-in to around 6 oz-in at the unexpectedly low peaking speed of somewhere near 10,500 RPM, at which point .065 BHP was available. Not a bad gain over the .049, for a few extra grams weight, and a better match for the simple small-engine control line kits that soon emerged, like Scientific's "hollow log and plank" series. Herkimer promoted this model's stunt and speed potential.
Still, that very low peaking speed should surely have set off a few design-related alarm bells............of which more below in its place.
OK Cub .099
From the outset, the .099 Cub seemed to be a more determined performer. Aside from a tendency to start backwards if over-primed (probably due chiefly to the very high compression ratio), it started easily and handled nicely. Initially we stayed with the 20% nitro fuel, but found that the engine ran somewhat hot with heavier propeller loads. This implies that the engine was probably pre-igniting at lower speeds. This notion was supported by the fact that spot tests with the 10% nitro brew cost a few hundred RPM near the peak power point, but actually realized a gain of up to 400 RPM when turning larger propellers. If anything, that fuel seemed to be a better match for this engine. This is probably down to the ignition timing dictated by the combination of the plug being used and the engine's high compression ratio.

The following data were measured on test:
| | | |
| --- | --- | --- |
| Prop | 20% nitro | 10% nitro |
| Cox 6x3 | 14,700 | |
| APC 7x3 | 13,800 | 13,200 |
| APC 7x4 | 12,100 | |
| APC 7x6 | 10,500 | |
| APC 8x4 | 10,000 | 9,900 |
| Graupner 8x5 | 9,000 | |
| APC 8x6 | 9,100 | |
| APC 9x4 | 7,900 | 8,300 |
As can be seen, we found nice shapes to the torque and power curves along with a quite obviously enhanced power output. We measured peak figures for the standard engine of .12 BHP at around 12,000 RPM and 11.5 oz-in torque in the 8,000-10,000 RPM bracket. These are quite respectable figures for a 1949-vintage 1.64 cc engine, even by contemporary British diesel standards. The output exceeds that of the highly regarded 1950 Mk. I Allbon Javelin diesel, for example.

As mentioned earlier, the Cub .099 crankcase casting featured an expansion at the rear of the main bearing housing to provide for the fitting of a rear ball race. However, it was to be the best part of a decade before advantage was taken of this. A rear ball race was only added to the main bearing in 1958, when the OK Cub .099S made its appearance.
By then the sun was already beginning to set on the OK range .............but that is to get ahead of our present focus on the 1949 models.

Performance Analysis
Back in 1949, the two smaller Cubs had only two competitors. We'd previously tested and reported on the K&B Infant, hence having the data for that model already on hand. We now ran a series of tests on an Anderson Spitzy (outwardly changed, but a functional equivalent to the Baby Spitfire) to give some perspective. With both of these engines, maximum torque comes quite near peak power RPM, so reasonable performance was only achieved in a relatively narrow RPM working range. By comparison, the OK Cub .049 works effectively across a fairly wide RPM span and a broader range of propellers. Both the Infant and the Cub gain from higher nitro fuel, while the Anderson ran best with only 10% nitro.
The table which appears below summarizes the comparative performance factors between the four designs tested.
| | | | |
| --- | --- | --- | --- |
| Engine | Peak BHP | BHP per cuin. | BHP per oz. |
| K&B Infant | .014 | 0.68 | .012 |
| Anderson Baby Spitfire | .033 | 0.73 | .029 |
| OK Cub .049 | .04 | 0.80 | .024 |
| OK Cub .074 | .065 | 0.87 | .036 |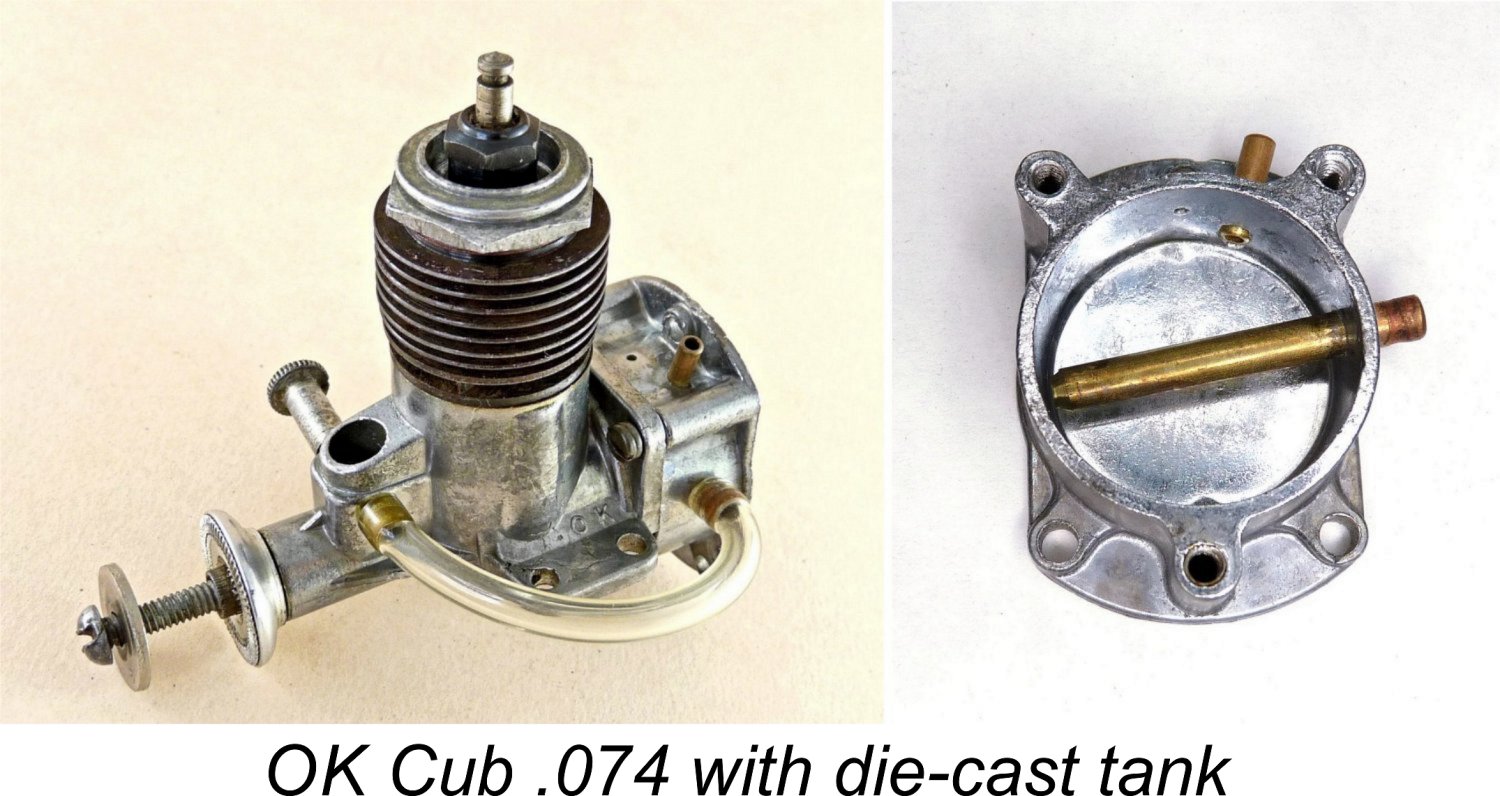 This little comparison actually shows the Cub .074 in quite a good light. It achieves both superior specific power output and a higher power to weight ratio. But keep in mind that, unlike their competitors, the Cubs did not have on-board fuel tanks at that time. These were introduced somewhat later on both .049 and .074 models. The first tanks were die-cast components as seen in the attached image showing a Cub .074 along with an interior view of its tank. The same tank fitted both .049 and .074 models.
Looking ahead, in 1953 a spun aluminium alloy tank was introduced on both the .074 and .099 units, later to be joined by the Cub .049A with a similarly-styled tank. Most of these later models also featured extended
needle valves along with their extended prop drivers. The extended needles were primarily fitted to allow them to clear the cowlings of the RTF Comet models into which so many of them were fitted. However, the extended needle control was undeniably more convenient to use in any installation, if somewhat more vulnerable to crash damage.

Returning to our performance analysis, the Cub .049 does a little better in terms of specific power output than the Baby Spitfire (a near-equivalent competitor), but has an inferior power to weight ratio. The Infant is somewhat down on specific power and significantly more so for power to weight, prompting K&B to quickly release the larger displacement Torpedo Jr. .035 and Torpedo .049 models in 1950.
At this point, it's interesting to compare our results with contemporary test reports. The test of the Cub .074 published in the February 1950 issue of "Flying Models" presented results which frankly beggar belief! The tester claimed 22,300 RPM with a 5½ x 3 Power Prop, 14,200 RPM with a Flo-Torque 7x4, 8,100 RPM with a 7x 10½ Power Prop, etc. You'd have to suspect the calibration of their Strobo-Tac!!
The Cub .049 test which appeared in the December 1952 issue of "Model Aircraft" magazine reported somewhat more rational figures, but also included performance curves which differed significantly from ours. Their curves are reproduced at the right. They reported more typical shapes to their torque and power curves, without the low-end "bumps" which we observed. The magazine also cited a somewhat higher peak power output than we were able to achieve using the standard engine with equivalent fuel. All I can say is that we tested three different examples to confirm our findings.

The Cub .099 was up against the very highly-regarded glow-plug Arden .099, the Mite .099 and Vivell Precision 10 diesels/glows and the newly released McCoy "9" .098 cuin. glow-plug model. Arden's own advertised performance curves pegged the Arden glow .099 at a little under .16 BHP at around 11,500 RPM, making it the one to beat. Contemporary tests put the Cub on par with the McCoy for peak output, but with a better low-end performance.
In 1949 there was no national "½A" competition class, although control line speed rules in some regional jurisdictions cited a class for engines under .10 cuin. (half the recognised Class A limit of .20 cuin.). When the AMA officially pronounced the establishment of the ½A class for engines under .05 cuin., the Cub .049 was in for stiff competition. Herkimer replaced it with the lighter and more powerful short-stroke .049X in both A and B models, which shared the same mechanical bits but with different mounting options.
The A and B Cub .049's went on to power oodles of Comet ready-to-fly plastic control line models and were a mainstay of the budget end of the hobby market. A test of the later radial-mount Cub .049A by Don Howie appeared in the May 2019 issue of "AeroModeller" magazine (issue no. 984). Don reported an estimated output of around 0.06 BHP @ 13,000 rpm on 15% nitro fuel for a good example of that model - a significant improvement over my previously-reported figures for the original long-stroke Cub .049 of 1949.

The Cub .074 and .099 were over the ½A limit and were obviously uncompetitive in AMA Class A Class competition, which allowed engines of up to .200 cuin. displacement. This left them as orphans sitting between competition classes. Nonetheless, they continued to fill their spots in the OK Cub range to the end.
Did the 1949 Cubs meet their initial design brief? I'd say yes. The .049 and .074 Cubs which led the way were very well received, selling so quickly that Herkimer stopped stamping them with serial numbers before the end of the year. Imagine the record keeping headache otherwise! Their market penetration is obvious when considering the frequency with which they appear on plans for sport models in contemporary magazines, kit plans etc.
Crunching the Numbers
At this point it seems worthwhile to summarize the main design dimensions applied to the various OK Cub models which we've been discussing here. Back in the workshop, I took a closer look at the particulars of each Cub engine. My findings are summarized in the table which appears below.

| | | | |
| --- | --- | --- | --- |
| Parameter | Cub .049 | Cub .074 | Cub .099 |
| Bore | .309 in (9.91mm) | .478 (12.14) | .515 (13.08mm) |
| Stroke | .415 in (10.54mm) | .415 (10.54mm) | .480 (12.19mm) |
| Swept volume | .0496 cuin. (.813cc) | .0745 cuin. (1.22cc) | .0999 cuin. (1.64 cc) |
| Bore:Stroke Ratio | 0.74:1 | 1.15:1 | 1.07:1 |
| Weight w/glow plug | 1.65 oz (47 gm) | 1.8 oz (51 gm) | 2.0 oz (57 gm) |
| Compression ratio | 5.9:1 | 4.9:1 | 9.5:1 |
| Exhaust duration | 136 degrees | 145 degrees | 150 degrees |
| Transfer duration | 120 degrees | 100 degrees | 116 degrees |
| Intake opens | 55 deg. After BDC | 60 deg. After BDC | 48 deg After BDC |
| Intake closes | 10 deg. After TDC | 10 deg. After TDC | 5 deg. After TDC |
| Intake duration | 135 degrees | 130 degrees | 137 degrees |
| Choke area | 4.4 sq mm | 7.0 sq mm | 10.4 sq mm |
To begin with, we see a generally consistent set of port durations. Quite reasonable numbers, showing the soundness of Brebeck's porting design, which provided adequate transfer duration for good power while keeping the exhaust period down for good torque levels. I've already mentioned the rationale behind the .049/.074 bore stroke ratios. The .099 is essentially "square". Weights clearly show the disconnect between linear dimensions and swept volumes, favouring the larger engines.
The significant difference is in compression ratios and to some extent, combustion chamber shape. Glowplug engines might seem simple, having only one user-adjustable control (for mixture), but a harmonious combination of fuel, combustion chamber shape, compression ratio and glow plug heat rating is needed for good performance, as summarized in the separate article on glow-plugs to be found on this website. You'd expect the manufacturer to have got those somewhere near right.
The .049's head shape is a simple conical taper matching the piston crown profile and resulting in a significantly recessed glowplug. The .074 has a dome-shaped combustion chamber and flush plug face, which ought to give better scavenging and power. However, its remarkably low compression ratio for a glowplug engine clearly limited its potential for higher RPM. The .099 also has a domed chamber, but a significantly higher compression ratio, probably a major factor in its superior performance.
Experiments
From today's perspective, it seems productive to explore what might be tweaked for improved performance in present-day service. Even back in the day, the .074's marginal running characteristics should have been investigated. The ridiculously low 4.9 to 1 compression ratio should surely have identified itself as an issue requiring correction.
The Cub's head screws into a recess at the top of the cylinder, sealing against the location flange at the top of the cylinder with three thin copper shims. Removing one or two of those would make a meaningless change. The lower edge of the head spigot in the Cub .074 clears the piston at top dead centre by over .040 in. (1 mm). This is obviously excessive.
We machined as much as possible from the head's seating flange, using the copper shims to adjust it so the spigot just cleared the piston at top dead centre. Measured compression ratio was then a little over 7:1 – a far more rational figure for glow-plug operation.
A second series of tests of this engine using its modified head showed a dramatic improvement in clean running, with no detriment to starting and flexibility. Now working effectively with smaller loads, the modified Cub .074 cleared 0.10 BHP, pushing the high-speed "brick wall" past 13,000 RPM. Greatly improved torque was the real gain - higher overall and a nicer, flatter shape after our modification. Such an easy and obvious change, and one that Herkimer could readily have introduced through minor redesign and tooling adjustments. Why they didn't do so is a complete mystery………….
Alternatively, a different glow plug can be used with the standard head. It's widely under-appreciated that in small-displacement engines the element cavity in a standard glow-plug contributes a proportionately significant additional volume to the combustion chamber at top dead centre, hence affecting the compression ratio to a potentially meaningful extent.
The use of Glo Bee flat coil plugs showed significant RPM gains with various engines when they were introduced, largely due to their far smaller contribution to combustion chamber volume. Just for fun, we tried a Glo Bee racing plug in the unmodified .074. Maximum torque hardly changed, but it allowed the engine to run smoothly at faster speeds than with the OK G-3. Maximum power of around .08 BHP was achieved in the 12,000-14,000 RPM range, and the Cub continued to run consistently at slightly reduced power all the way up to 16,000 RPM.
The results of these tests are summarized below. The data speak for themselves!
| | | |
| --- | --- | --- |
| Prop | Standard head, Glo Bee Plug | High Comp modified head, OK G-3 plug |
| APC 6x3 | 15,400 | |
| Cox 6x3 | 13,800 | 14,300 |
| APC 7x3 | 12,700 | 13,400 |
| APC 7x4 | 10,000 | 11,300 |
| APC 7x5 | 9,200 | 10,300 |
| APC 7x6 | | 9,300 |
| APC 8x4 | | 9,300 |
After these very succesful experiments, we tried the Glo Bee plug in the Cub .049. There was a general improvement, but no more than could be achieved by increasing nitromethane content to 35%.
Next came the .099. We wondered if the Glo Bee plug would push the peak BHP point up and further along the RPM scale. Initially, things looked promising - RPM jumped impressively from 14,700 to 16,100 with a Cox 6x3 propeller. The next prop in my test series is the APC 6x3, which was registering somewhere in the mid-17K range as I zeroed in on the needle. Then it stopped suddenly, with a shattered connecting rod big end. So much for Herkimer's claim that these Cubs could be run up to 20,000 RPM!
Calculations showed that the Glo Bee plug raised the speed at which the .099 developed its peak output, but did not increase the actual output itself. As for the conrod, I have to admit that we should have known better! The conrod big end's outside diameter is no different from that of the .049 and .074, but the crankpin sizes go up. In the case of the .099, this leaves a scant theoretical .024 inch (0.6 mm) wall thickness. Allowing for the slight and inevitable die mismatch and drill wander, that can be as little as .016 inch (0.4 mm) at the thinnest side. No wonder the component failed!
Most features of the general Cub design were enlarged through the different displacements, but for practical reasons some dimensions were restricted to commercially available drills/reamers, which followed a fractional inch series. To illustrate the point, the following table shows some particulars for the trio of Cub crankshafts, which all have a nominal ¼ inch (6.35 mm) main journal diameter.
| | | | | |
| --- | --- | --- | --- | --- |
| Engine | Gas passage | Passage area | Area per cc | Crankpin |
| .049 | 5/32" 3.96mm | 12.31 sq mm | 15.2 sq mm | 9/64" 3.58mm |
| .074 | 11/64" 4.37mm | 14.99 sq mm | 12.28 sq mm | 9/64" 3.58mm |
| .099 | 3/16" 4.78mm | 17.95 sq mm | 10.94 sq mm | 11/64" 4.37mm |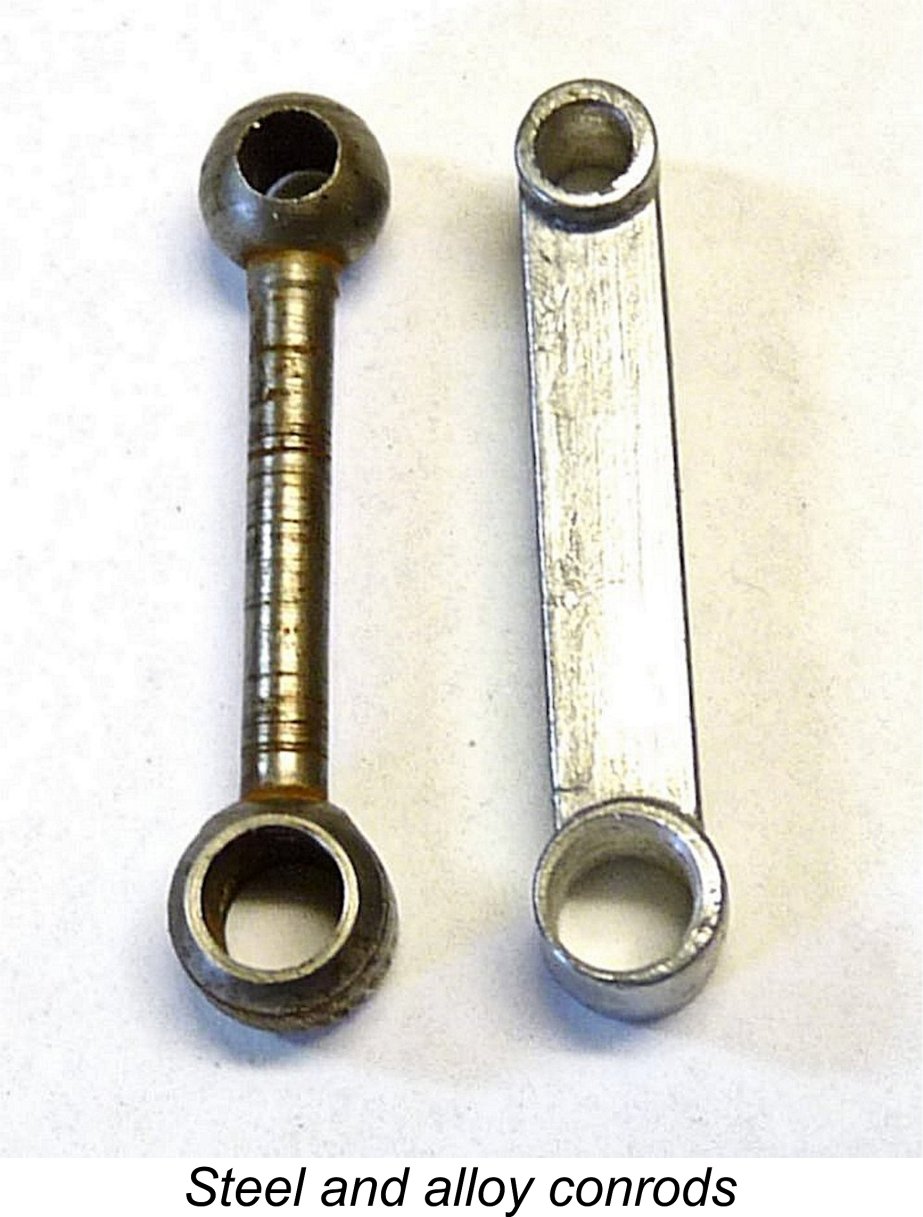 Herkimer did address the fragile cast aluminium .099 conrod in the later Cub .099S model, which featured a rear ball race and a turned steel conrod. The latter component was formed in a generously proportioned barbell style weighing 2.5 times the original. We ran our original 099 with this conrod, but were unimpressed. Vibration was very evidently up and the big end was obviously riding backwards off the crankpin while running – its narrow back face was digging alarmingly into the backplate. Considering the .099's minimal crankshaft wall thickness of only around 0.78 mm, this arrangement, if pushed, could easily lead to crankshaft failure. A turned conrod from high grade aluminium (as used on other late-model Cubs) would seem to be a far better alternative.
The image of the two .099 conrods at the left very clearly shows the point made earlier about the wall thickness of the cast alloy rod's big end. The left-hand side of the alloy rod's big end in the photograph appears to be almost non-existent - it looks like a catastrophic failure just wating to happen!
Conclusion
After these experiments, I've concluded that the .049 and .099 Cubs are best enjoyed for what they are - decent and likable
lightweight glowplug engines from the pioneering glow-plug era. They remain readily available today on the "secondary market" at low prices. As such, they are excellent engines to consider using in small classic models from their period of production, or indeed in any small sport power models. If you manage to break or lose one, you can always buy another! Moreover, a limited range of original spare parts remains available from Ted Brebeck at OK Engines.

Our quite impressive gains with the .074 at least warrant a glow plug change to flat coil, if Merlin Glo Bee style plugs ever become available again. Alternatively, and perhaps more effectively, one can carry out some simple lathe work on the head to jack up the compression ratio, as we did. Such a modification is well worth the effort, since my modified Cub .074 now flies a KeilKraft Gazelle quite competently through all of the basic control line manoeuvres.
Further reading
"They Should Have Kept the Bear" – book by Ted Brebeck.
OK Cub .074 test, "Flying Models", February 1950
OK Cub .099 test, "Flying Models", April 1950
OK Cub .099 test, "Air Trails", March 1950
OK Cub .049 test, "Model Aircraft", December 1952
"The Midget Engines" – article, "Model Airplane News", June 1950
US Patent 2179683A
______________________
Article © Maris Dislers, Glandore, South Australia
First published May 2019