August 2017
From the Editor - August 1st , 2017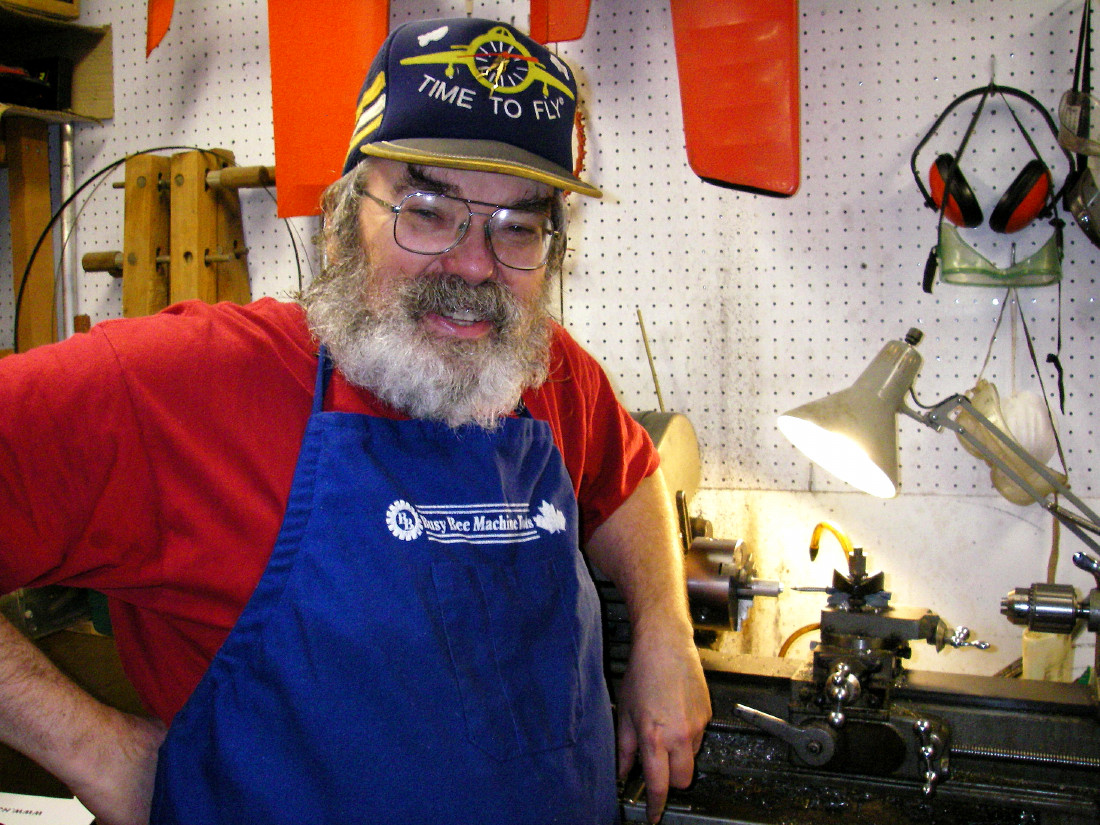 Greetings from Canada's Pacific Northwest! July has finally brought us a taste of summer as it should be! After the dismal time that we've had leading up to Junuary (as last month was officially designated by the Weather Office), we've finally turned the corner and got in some days of genuine sunshine. About time!!
Of course there's a downside to this. The extremes of weather continue to become more extreme as the climate changes, the result being that in just a couple of weeks we've gone from soggy and wet to having one of the worst forest fire seasons in our history. Many of our major highways have been closed for extended periods as a result. There's no longer a happy medium, it seems .......
That said, life must go on! I seem to be falling into a pattern of getting these monthly updates out on days other than the first of the month as intended. This isn't due to any lack of attention on my part - rather, it's just a matter of working around my impossibly overcrowded schedule. Who said that retirement was a time to kick back and relax?!? I have so many lives on the go that I should be triplets!
Once again, this month's issue is coming to you a day early due to my impending absence over the week of August 1st on a foray out to the West Coast of Vancouver Island. As in the past, I thought that it was better to be early rather than late, so here it is!!

Sadly, things don't improve in August either. I'm back for a few days from the Vancouver Island trip, then off again for a three week jaunt to visit places, friends and family in Northern BC and Alberta. As a result, I'll have only a few days in August to work on the September issue. Not enough time by a long shot! This being the case, I might as well 'fess up and admit that I've already prepared the bulk of the material for the September issue! Upon my return from Alberta in early September, I'll hit the necessary buttons and get it straight out - I'll have no opportunity to hit those buttons any earlier.

The consequence will be that the September issue will appear a few days late, likely on or around September 5th. It's also almost certain that the Editorial will be pretty thin, because I wou't be here at all for most of August, hence having little or nothing to report for the month. The good news is that after that there should be no further interruptions in service - we'll be back to the first of the month for quite a while!

OK, enough of that - down to business! I'm very happy to report that visitation to this web-site has continued at an encouraging level. The number of hits in June was back up to 454,389, well within striking distance of the record total of 497,885 set in March 2017. This certainly confirms a continuing high level of visibility in my possibly biased view.
These hits translated into a total of 12,111 actual visits - again somewhat below the record March total of 14,268 but still a modest rebound from the May figure. The total number of pages accessed in June fell off a little to 87,173 for a per-visit average of just over 7 pages - still indicative of a high level of interest despite the alternatives offered by the longer hours of daylight with which we Northern Hemisphere residents are favoured at the moment. Thanks to all of you for being a part of that!

Over the past month, I've once again had the good fortune to hear from an amazing number of valued contacts from around the world, including Paul Rossiter, Maris Dislers, Ian Russell, Miles Patience, Paul Venne, Luis Petersen, Ferenc "Somi" Somogyi, Dave Acton, Andreas Ullmann, Andrew Young, Jens Geschwendtner, Lars Gustafsson, Mike Conner, Thomas Hantschel, Derek Butler, Randall O'Brian, Peter Carroll, Jim Dunkin, Tim Dannels, Steve Thomas, Ken Sheppard, Chris Ottewell, Guy Markham, Michael Diamond and David Burke. Sincere apologies to anyone whom I may have inadvertently missed in the crowd!
Andreas Ullmann of Germany tells me that he and his colleague Andreas Schütz are regular readers of the material on this site. He operates a hobby supply business which serves Central Europe, acting as distributors of Enya and Sharma engines among other products. His company website is well worth a look! It's in German, but the use of the Google translation feature renders it fully accessible to one and all.

Andreas told me that he tried to register on my site with no success. This highlights the repeatedly-noted fact that registering on this site has absolutely no effect whatsoever - please don't bother! It's simply an artefact left over from the generic site platform's intended use as an on-line sales site. Since I don't use it for that purpose, the registration feature is redundant. I've actually tried to get rid of it, but this has not proved possible. Anyway, it's clear that I need to repeat this comment from time to time for the benefit of new readers.
The contact from Ferenc "Somi" Somogyi of Hungary was as always very welcome indeed. Regular readers will recall the series of articles on various Hungarian model engine ranges such as MOKI, Alag, VT, FOK and
Proton with which Somi helped me so much. Somi tells me that he has just passed his 88th birthday and is still plugging along, albeit at a somewhat lower energy level than before. Well done, Somi - a great run continues!
Dave Acton had an inquiry regarding a lovely little miniature Dyno-1 that he recently acquired. The engine is shown in the attached illustration. The front of the upper crankcase is stamped DYNO, MOD. 1, PAT.ANG. The underside of the left mounting lug is stamped with the letter T, while the underside of the right lug is stamped with the number 91. The engine apparently starts and runs very well on an 8x4 wood prop.
Neither Dave nor I can put a name to the maker of this little gem. I initially thought that it might be another of the fine miniature diesel reproductions to emerge from the workshop of Valentin Aljoshin of St. Petersburg, Russia, maker of the well-known VA glow-plug units. However, Dave is convinced that this is not a VA production, since all of those models (apart from the Lola .020 reproduction that Aljoshin made for PAL Model Products) featured investment castings. So we're stumped! Can any kind reader help? If so, please get in touch and I'll pass the word along to Dave, with full credit assigned to the source.
Speaking of VA engines, Dave was kind enough to send along an example of the VA .020 glow-plug engine which is the smaller brother of the better-known VA .049 model. This little gem was made in very small numbers (around 100 examples or so). Dave recently came into possession of a stock of these finely-made little screamers, subsequently selling them off on eBay. Thankfully, he saved one for me, for which I'm extremely grateful. I'm unclear regarding any additional stocks of this cute little engine which may still be out there somewhere.

Each motor comes as illustrated here complete with alternative venturis and a set of shims for varying both the timing and compression ratio. My good mate Maris Dislers has been testing an example, going so far as to make a diesel head for it, which worked out very well. Maris's full report will appear in a futiure issue of "AeroModeller" magazine. My sincere thanks to Dave for providing me with my own example.

Another head-scratcher came my way from my good mate Tim Dannels, who has been selling off the huge collection of engines amassed over many years by the late Doug Wendt (an acquaintance and trading partner of mine in days gone by). One of these engines was a nice-looking and very well-made 2.5 cc plain bearing diesel of somewhat unusual design. Thinking that this must be something quite interesting, I took a flier and bought it
from Tim. It was missing its needle valve assembly and prop mounting hardware as received. I made replacement prop mounting components and fitted an Enya needle valve asembly, which was a perfect match.

But now I have a problem - no-one so far can put a name to this enigmatic unit! I've tried all of my most knowledgeable contacts, including 2.5 cc engine guru Jim Dunkin (see below), to no effect - the engine's identity eludes them all. It has a late '50's - early '60's feel about it, but that's as far as I can go on the dating issue.
There have been various suggestions, including either a Japanese or Czech origin based upon the side-stack design layout and style of bypass/transfer porting, but nothing authoritative. The engine is clearly a commercial product or pre-production prototype - the complicated die-castings and colour anodizing speak to that. But who made it?!? If any kind reader can put me out of my misery, I'll be extremely grateful! If you don't have my direct email address (which I try to keep a bit private), use the blog site.

Speaking of which, the blog site has continued to generate a certain amount of traffic - thanks for that. One of my reasons for establishing that site was frankly a rather selfish one - I needed some means of soliciting input to articles in preparation. As I've said here many times, I can't do this alone! So from time to time I will use the blog site to post my own requests for information and assistance. Any and all responses will be gratefully received and fully acknowledged.

The past month has been a very good one in terms of adding to my model engine reference library. For starters, I've received a copy of a truly impressive work entitled "British Model Aero Engines 1946-2011" by Ted Sladden, with superb images taken by Kim Watson. This book is a genuine masterpiece, containing an illustrated alphabetical listing of almost every model engine manufactured in Britain during the
65 year period covered. The quality of the images is oustanding, and I'm left wondering how they managed to track down examples of some of the featured engines to photograph! In a very real sense, this is the British equiivalent of Tim Dannels's indespensable "American Model Engine Encyclopedia" (AMEE). No-one who likes British model engines can afford to be without a copy.

It may seem rather presumptious of me to offer any criticism at all of such a splendid effort, but I think that one point does need to be made. The book is essentially an alphabetically-ordered photographic catalogue, with very little factual information on the engines or their manufacturers, although a few very useful nuggets of information do appear here and there. The problem with this approach is best illustrated by the book's treatment of the Yulon 30 from 1949. Both Mk. I and Mk. II variants are illustrated, but the engines look identical and there's no accompanying text to explain what the differences actually are. In such a case, some explanatory notes would have been appreciated. This said, the book remains an invaluable aid to the identification of post-WW2 British model engines. Highly recommended!

In order to keep costs down to reasonable levels, the authors have elected to publish it exclusively through a British on-line book publication/distribution house called The Blurb. This was determined to result in a significant reduction in the costs and handling charges which the use of other distribution companies like Amazon would incur. The book is available in both soft-cover (£64.99) or hardcover (£69.00) versions, plus postage in both cases. In my view, these prices reflect excellent value for money considering the quality of the book. It can be ordered exclusively from the Blurb website. Payment via PayPal is accepted, as are major credit cards.

Another book which has finally found its way onto my model engine bookshelf is a copy of Jim Dunkin's masterwork entitled "Reference Book of International .15 ci / 2.5 cc Model Airplane Engines, Edition II". About time - I should have done this years ago! This high quality hardcover volume contains full colour images and basic information relating to just about every model engine of the cited displacement which has ever been made anywhere at any time. A total of 1648 different models are covered. Given the International status of this displacement as well as its enduring popularity among sports fliers, some of the most significant engines of them all are included here.

This highly-recommended book represents a stunning effort by Jim, who has gone to what must have been an endless amount of trouble to secure pictures and basic information on this incredible collection of engines, many of which are extremely obscure. At a price of US $60.00 plus postage, the book is a bargain considering the information that it contains. To order your copy, contact Jim by email. Payment can be made by PayPal.
The final new book to find a place in my reference library is the "Cox Model Engine Handbook", a publication of Tim Dannels'
"Engine Collectors' Journal" (ECJ). This is actually a compilation of a series of articles by Dan Sitter which appeared periodically in the pages of ECJ from May 1993 through to November 2009. Dan's exhaustive research uncovered just about every imaginable fact about this iconic series of model engines, which was produced by the USA's largest manufacturer of quality model engines and related items. No matter what Cox product you may have in your hand, you'll be able to identify it through reference to this remarkable book.

The book could not legitimately be described as a relaxing armchair read - rather, it is a reference work which contains a minutely detailed examination of every model engine and just about every component or accessory ever produced by Cox. Its primary use will be to identify and date a particular Cox model and to confirm the originality of the components featured on a given engine. As such, it has an immense value to anyone who has the slightest interest in Cox products. A great achievement by Dan Sitter, with the help of Tim Dannels!
I've added all three of these excellent reference books to my "Publications" pages. I believe that the authors who have put so much time and effort into these works richly deserve our support.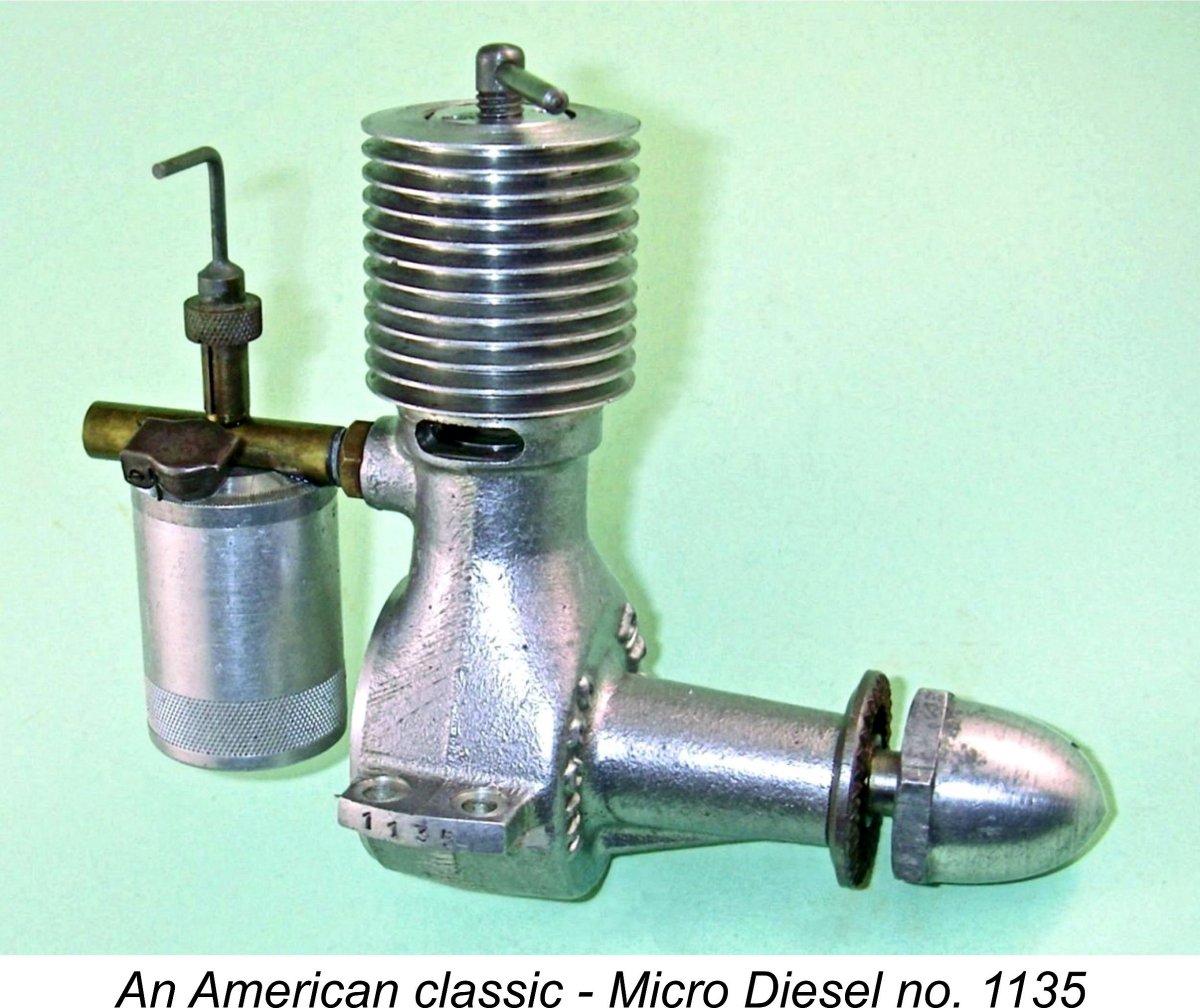 OK, time now to turn to this month's feature articles! Yes, I did say articles plural - once again, there's both a main article and a bonus piece this month! Having noted that it had been some time since I featured an American engine, I felt that I should rectify that situation without undue delay. Accordingly, the feature article for this month is a detailed examination of a true American classic - the unexpectedly excellent 1947 Micro Diesel from Detroit. My valued Aussie mate Derek Butler was kind enough to lend me his original example for test, and I was also able to try my own example of the CS replica of this engine.
The Micro Diesel turns out to be one of the better model diesels of its era, regardless of from where you take your standards. An objective review of this engine serves as a reminder of how easily America could have become a world leader in the design and development of diesels if Ray Arden's late 1947 introduction of the commercial miniature glow-plug hadn't so quickly and comprehensively diverted the attention of US manufacturers and modellers away from diesels. Prior to that event, the American industry was poised to become one of the world's leading sources of high-quality model diesels. I hope you'll enjoy my close-up look at a representative example of another of the truly excellent diesels which flew off American drawing boards during the early post-WW2 period.
The bonus article for this month also comes to you courtesy of a loan from Derek Butler. When he lent me the original Micro Diesel which formed the basis for this month's feature article, Derek Butler was kind enough to include his example of the very rare Aurora K500 "Big Mills" 5 cc diesel for my examination and test. Having recently written up the start-to-finish history of the Aurora model engine range, I was only too pleased to take full advantage of this opportunity. My very sincere thanks to Derek for making this bonus article possible!
Turning to next month's feature article, this will be a little out of the mainstream in that it will deal with an engine of which only a single example was ever made. I normally cover engines which were produced in sufficient numbers that an avid collector has a reasonable chance of acquiring one, but at times i have departed from this rule on the grounds that some one-off engines have a historical significance in the context of their times which transcends their production figures. My earlier pieces on the Delong and Thermite diesels were cases in point, and there have been others.

Next month's subject is another instance. I'll be evaluating the superb one-off TR 148 diesel designed and constructed in 1958 by Gordon Cornell, who was working with George Fletcher at International Model Aircraft (IMA) at the time and later went on to become the chief design engineer for Electronic Developments (E.D.) Ltd. as well as developing the fabled Dynamic .049 diesel, of which much more in a future article.
I mentioned Gordon's fabulous TR 148 in last month's article on the FROG 1.5 cc models. Unforeseen circumstances combined with extraordinary good fortune having placed the sole example of this engine in my possession, I felt that I had an obligation to share it as best I can. I have also taken fiull advantage of the opportunity to record something of the life and work of one of England's finest model engine designers, Gordon Cornell. The article is as much about Gordon as it is about his fabulous little 1.48 cc masterpiece. I hope that you'll enjoy it!

I think that's it for now. I'll be back to you with another issue on or about September 5th, 2017. Meanwhile, happy flicking, flying and finding, and may the heady aroma of diesel fumes or burning nitro assault your nostrils soon............... !
Cheers,
Adrian Duncan
Coquitlam, British Columbia, Canada
___________________________________
Note regarding material to be found on this site - unless specifically otherwise noted, all images and text which appear on this site are my own work, and I hereby assert my right to be recognized as the originator of this material. For the record, this material is made freely available to all upon two firm conditions:
No commercial use of any kind is to be made of any of the images or text posted on this site without my express written consent.
No use of

any

kind, commercial or otherwise, is to be made of any material published in any form on this site without full and open acknowledgement of the source.
Adrian C. Duncan
Coquitlam, BC, Canada