Leesil
The Leesil story
The story of the Leesil engines from Bradford in Yorkshire, England is a very convoluted and poorly documented one indeed! Here I'll attempt to unscramble it as best I can on the basis of the very limited information available.
The only contemporary references to these extremely obscure engines that I've been able to uncover appeared in D. J. Laidlaw-Dickson's ground-breaking late 1946 book "Model Diesels" and in Colonel C. E. Bowden's September 1947 book "Diesel Model Engines". Ron Warring's early 1949 book "Miniature Aero Motors" listed the side-port version of the Leesil but flagged it as no longer in production, thus confirming the engine's very brief market tenure.
There was also a far later piece by John Mayes which appeared some decades ago in the MECA Bulletin. We're greatly indebted to John for the preservation of the information included in his brief article. However, that was about it as far as documentation was concerned until the appearance of an article summarizing the Leesil 2.4 cc diesel on Ron Chernich's "Model Engine News" (MEN) website.

The Leesil dates back to the pioneering period of model diesel development in early post-WW2 Britain. The model "diesel" engine (more correctly termed a "compression-ignition" engine since it has no injector like a "true" diesel) had been a pre-war European development, with much of the early experimentation and manufacture taking place during WW2 in countries which were not actively involved in the fighting either by virtue of neutrality (like Switzerland and Sweden) or as a result of armed occupation (like France, Czechoslovakia, Denmark and Norway). Residents of the British Isles had matters other than model engines on their minds at this time - they remained actively involved in a desperate fight for their national survival. Nonetheless, rumors regarding this new form of model engine technology did somehow filter back to Britain during the war years, the result being that a few British model engineers conducted initial experiments during that period.
Immediately following the conclusion of the war, people in Britain were naturally anxious to return as quickly as possible to their peace-time activities and interests, very much including their hobbies. Although cash was tight in the straitened post-war British economy, hobbyists were willing to stretch their budgets to include the costs of a resumption of their pre-war recreational interests. The key role played by the Allied air forces in bringing the war to a successful conclusion had created a high level of air-mindedness among British residents. Accordingly, aeromodelling very quickly regained the momentum which it had begun to achieve in the pre-war years.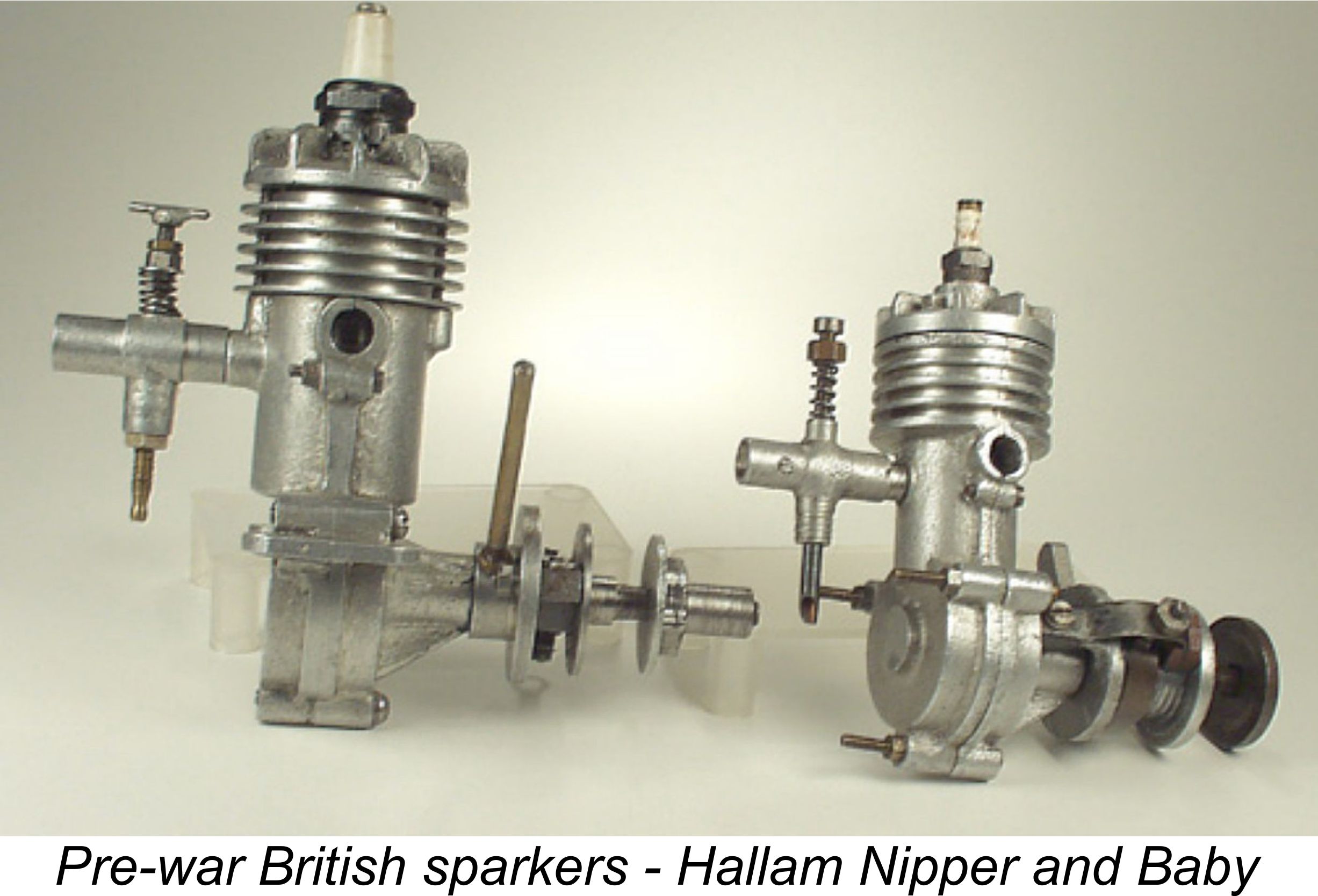 Small spark-ignition engines had been in fairly widespread use in pre-war Britain, with the result that many such engines remained in the possession of their owners after the war, all ready to be put to work once more. However, servicemen returning from the European theatre brought back confirmation of the rumored existence of a new type of model engine which ran without any of the heavy, complex and temperamental ignition support systems required for spark operation. A few of them actually brought back examples of these revolutionary compression ignition powerplants from places like Italy, France, Switzerland and even Germany.
Naturally such a concept sounded very attractive indeed, prompting a few individuals among the petrol-head community to go to the trouble of researching the topic in greater depth. One of these early British experimenters with the model diesel concept was future "Aeromodeller" engine tester Lawrence H. Sparey. He investigated the model diesel concept very thoroughly, examining a number of examples which had been brought into Britain by this time as well as conducting his own experiments.
By November 1945, Sparey was in a position to write a detailed article about model diesels - the first authoritative commentary on the subject to be published in Britain. This groundbreaking article appeared in the December 1945 issue of "Aeromodeller" magazine under the title "The Gen on Diesel Engines". Sparey's report was highly influential in stimulating interest in compression ignition technology, the result being that in the first half of 1946 an ever-increasing number of individuals and companies in Britain began making plans to enter the marketplace with model diesels of their own.
A major additional contribution by Sparey to the development of model diesels in Britain was the 1946 publication by "Aeromodeller" of plans and building instructions for Sparey's own 5 cc model diesel design. This design has subsequently been built in quite large numbers by the model engineering fraternity, even down to the present day.
Another individual who had a considerable influence on the adoption of diesel technology in Britain was the well-known competition modeller Silvio Lanfranchi, a
resident of the Yorkshire town of Bradford and a prominent member of the Bradford Model Aero Club (Bradford MAC). During the early post-war period, Bradford was something of a centre for aeromodelling in Northern England, being home to the pioneering post-war kit manufacturer Hi-Fly of Five Lane Ends as well as Modella Engines of 44 Bridge Street, makers of the 5 cc Owat fixed-compression diesel. The town's retail needs were served by Bradford Aero Model Co. Ltd. of 79 Godwin Street. All of these firms advertised nationally in "Aeromodeller". We have covered the story of the Owat in a separate article to be found elsewhere on this web-site.
Immediately following the conclusion of WW2, Silvio Lanfranchi somehow obtained an example of the pioneering Swiss Dyno 2 cc diesel, bringing it back to Bradford and subsequently demonstrating it to anyone
who expressed an interest. These demonstrations did much to confirm the potential of this new approach to model engine design in the eyes of the British model engine cognoscenti.
One very interested observer of Lanfranchi's Dyno was an engineer and modelling acquaintance of his named Colin Wilkinson, a fellow resident of Bradford. Wilkinson was sufficiently impressed that in early 1946 he built a couple of copies of the Dyno in his own workshop at 1 Arthington Street, Bradford.
The prototype model of what was to become known as the Leesil was a long-stroke sideport diesel engine which was virtually a clone of the Dyno from which it was more or less copied. Col. Bowden drew specific attention to the engine's similarity to the Dyno on page 48 of his previously-mentioned late-1947 book. Bore and stroke of the Leesil were 12.7 mm x 19.05 mm respectively for an
actual displacement of 2.41 cc, slightly larger than the 2 cc Dyno. The engine weighed a very porky 7 ounces, a factor which might well have told against it in the long run - that's a lot of weight for a relatively under-powered 2.4 cc engine! This original version of the Leesil had a sand-cast crankcase.
Despite their weight, these early prototypes were sufficiently impressive performers in the hands of their Bradford MAC testers that a plan was soon developed to put the Leesil into commercial production. To pave the way, Lanfranchi and fellow Bradford MAC member Norman Lees jointly financed the establishment of a company called Leesil Ltd., a play on the term "diesel" based on the names of the two funding partners Lees and Silvio. Fellow Bradford MAC member Trevor London served as company secretary, while Colin Wilkinson held the position of chief designer. The Leesil was thus in many ways an initiative of the Bradford MAC. The company gave its address as 1 Arthington Street in Bradford, which seems to have been the address of Colin Wilkinson's workshop.
Since model diesels were few and far between in Britain at this time as well as being very much a novelty, any commercial model diesel was pretty much guaranteed a favourable reception. The first into the field therefore stood to do very well indeed. The Leesil was announced through the placement of an advertisement in the May 1946 issue of "Aeromodeller". As far as I'm aware, this was the first-ever advertising placement for a commercial British-made diesel.
It would appear that this advertisement was placed in advance of series production commencing, being intended mainly to gauge the level of customer interest which the engine was likely to generate. Given the absence of any domestic commercial competition at the time, coupled with the interest in model diesels which Sparey's December 1945 article had stimulated, it comes as no surprise to learn that the advertisement generated a very strong response from the modelling public. A significant number of pre-paid orders were soon received – far more than Wilkinson could handle.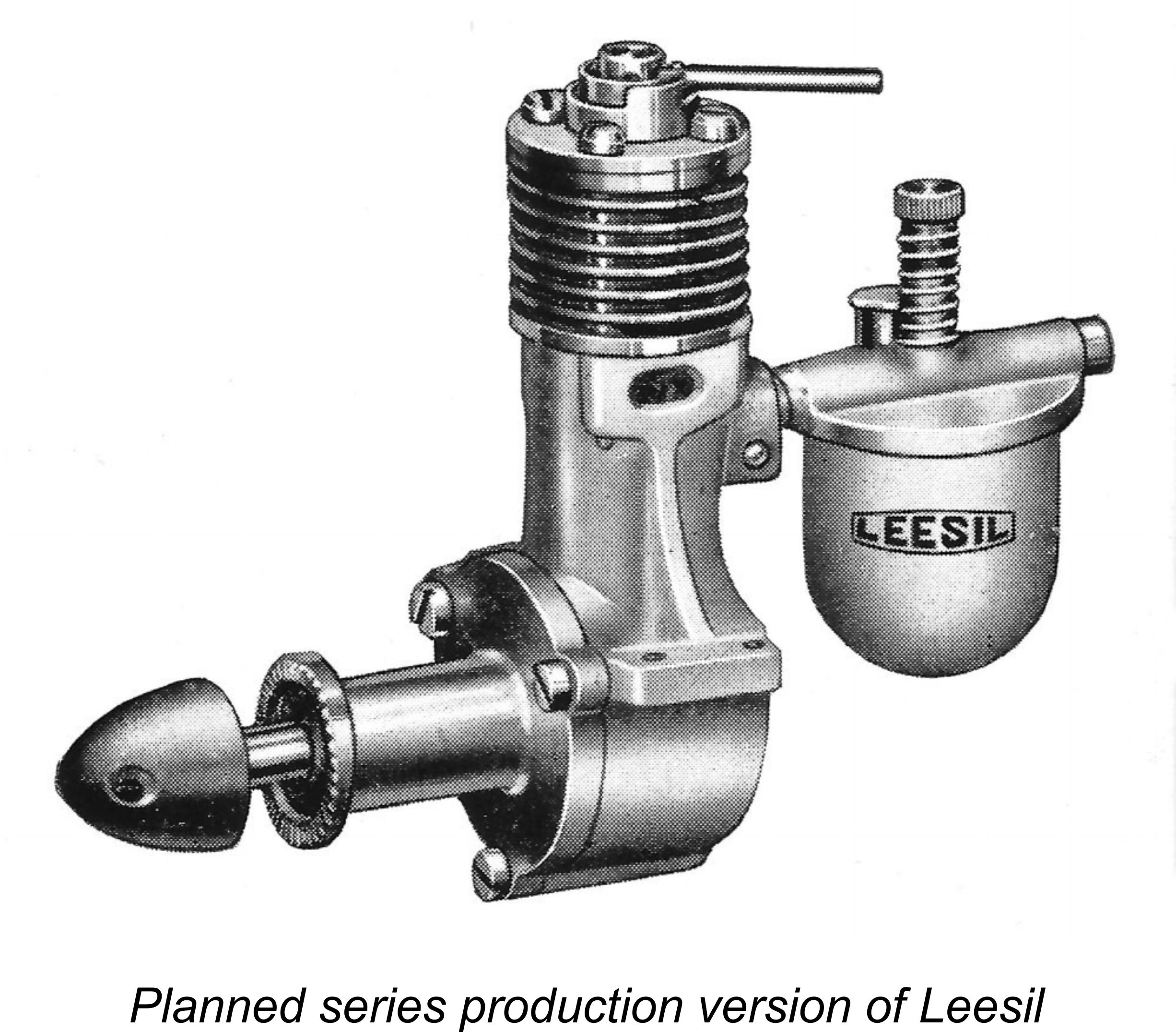 The rapid accumulation of pre-paid orders quickly led the partners in the venture to the conclusion that arrangements should be made to place the on-going production of the engine in the hands of a firm that was in a position to produce the engine in significantly larger numbers than Wilkinson was able to manage using his own limited facilities in Bradford. As a preliminary step, Wilkinson immediately began work on the design of a further-developed model of the engine having a die-cast crankcase of very different form to the original sand-cast item, along with distinctly different cylinder and fuel supply features. These changes resulted in an engine having a quite distinct appearance from that of the Dyno from which the prototype Leesils had been essentially copied. It was in fact a rather more handsome engine than the prototype Leesil.
In mid 1946, large-scale production of the revised version of the Leesil was placed in the hands of a small engineering firm (name not known) located in Baildon, Yorkshire, just a little to the north of Bradford. Unfortunately, although this firm assured the partners that it was well able to produce the engine in quantity to the required standards, it transpired that they did not have a clear grasp of what these standards actually were! In particular, they failed to appreciate the very close limits to which a model diesel engine has to be constructed. There was clearly a communication problem here!
Sadly, as a result of the new manufacturers' failure to appreciate the extremely close tolerances required for the construction of a successful model diesel, almost all of the "Baildon Leesils" (as they became colloquially and dismissively known) proved to be completely useless. It's not known how many were completed, but it's probable that production was halted quite early on once it became apparent that essentially none of the engines coming off the line were useable.
This was a tragedy for the instigators of the project, since a considerable investment had been made in promotion, dies and tooling. Moreover, because the engine had faced very little direct competition at the time of its release, several thousand pre-paid orders had apparently been received on the strength of the "Aeromodeller" advertising. The project had thus been poised to achieve great commercial success, at least initially.
In the event, few if any of the "Baildon Leesils" were actually shipped. Worse yet, all of the pre-paid cash had to be returned. The engines themselves were apparently scrapped - certainly, none are known to survive today. The Leesil company was wound up at this point, putting a premature end to a pioneering model engine manufacturing venture which had begun with a great deal of promise.
When John Mayes pursued his direct inquiries many years later regarding this episode, Colin Wilkinson had already passed away. However, Silvio Lanfranchi, Trevor London and Norman Lees were all still on deck. They were in agreement that none of the "Baildon Leesils" appeared to have survived, clearly implying that they themselves had not taken any steps to preserve an example or two. Consequently, we only know what the engine looked like from the attached promotional image which was reproduced in Laidlaw-Dickson's book. As noted previously, few if any were actually shipped, meaning that the only way that any could have survived would be if the makers preserved one or two or if the odd one did go out and was not returned. It appears that neither of these things actually happened.
Laidlaw-Dickson's previously-mentioned book "Model Diesels" (written in late 1946) included the statement on page 30 that "Leesil have now definitely scrapped their earlier design, and are replacing it with an engine that is virtually a Dyno of slightly larger capacity". This appears to refer to the fact that after the scrapping of the "Baildon Leesil" project in the second half of 1946, Colin Wilkinson continued on his own account to make very small numbers of the original version of the Leesil for sale to special order at a price of around £9 each. Most of these were the standard sideport models. It seems that many members of the Bradford MAC became Leesil users during this period.
Wilkinson continued making the Leesil engines at Arthington Street in very small numbers well into 1947. A few of the engines made by Wilkinson during mid 1947 were disc rear rotary valve (RRV) models which were unusually set up for clockwise rotation (viewed from the front). Interestingly enough, the few remaining contemporary photos of the side-port Leesil invariably show it fitted with a left hand prop. As a side-port, it would of course have run quite happily in either direction. However, the use of left-hand timing on the RRV version as well as a left-hand prop on the sideport model implies that that this may have been Wilkinson's own preferred operating direction.
Silvio Lanfranchi and Trevor London both bought examples of the RRV model, as did the well-known Bradford MAC member Ron Calvert, who won many Northern power contests using his example of the engine. One or two additional examples were apparently purchased by other Bradford club members.
The suggested chronology appear to be confirmed by a somewhat erratically-worded but nonetheless perfectly intelligible statement which appears on page 48 of the September 1947 first edition of Col. Bowden's previously-mentioned book "Diesel Model Engines". This statement reads:
"The "Leesil" is an engine of 2.5 cc, bore 1/2 in., stroke 3/4 in., with variable compression head and nickel-steel crankshaft and duralumin connecting-rod fully machined are fitted (sic). The main bearing is a phosphor-bronze bush. The engine was evolved from the Swiss "Dyno," and at the time of writing is undergoing further development work, including a disc crankcase inlet valve on one version of the engine. The standard type will have a plastic tank when manufacturing permits. The tank will be close up on the intake tube".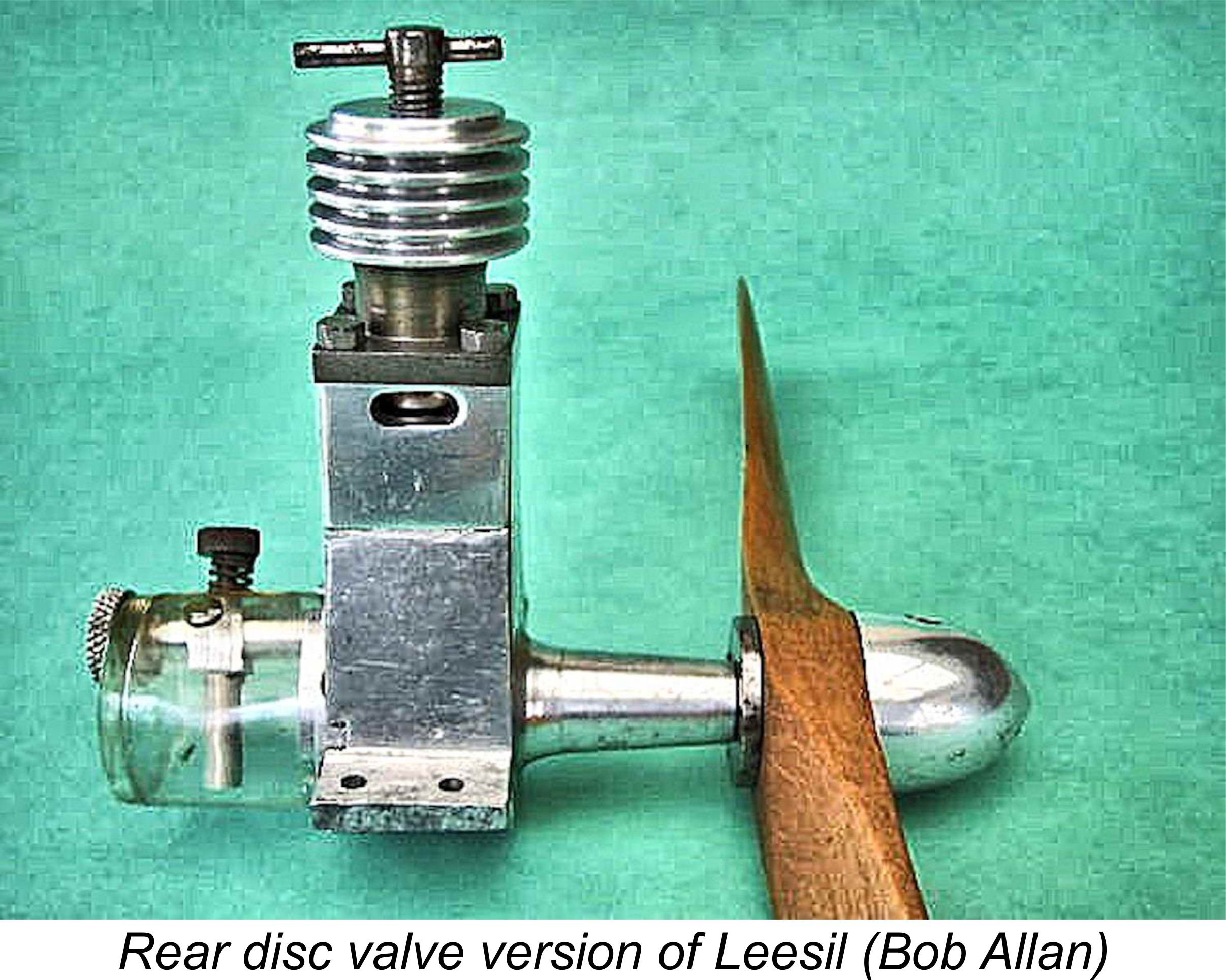 This seems to confirm that the RRV version of the Leesil was under development at the Colonel's time of writing in mid 1947, along with continued development of the existing sideport version. As noted earlier, a few examples of the RRV model were in fact manufactured soon thereafter. Until recently, Australian collector Bob Allan owned an example of this very rare model, a situation which ended when he sold it on eBay in 2013. Fortunately, prior to taking this step Bob provided a number of comments on the engine to my late friend and colleague Ron Chernich, who included these comments in the previously-mentioned article on MEN.
The RRV Leesil owned by Bob was in mint condition, being both new and un-run. It had apparently spent a very quiet and undisturbed life in a shoebox which was lined with a 1947 newspaper from its hometown of Bradford, Yorkshire.
Bob's engine bore the somewhat obscure serial number 1.107 (as written, with decimal point). It's unclear what this number may signify – certainly, it seems to offer no firm indications regarding possible production figures. The only guess that I can offer is that the number may have reflected the engine's completion on October 1st, 1947. Alternatively it could indicate that this was the first engine completed in October 1947. However, this is pure speculation.
The RRV engine weighed in at 8.125 ounces complete with matching airscrew. It was built around a sand-cast crankcase which was machined at front and rear. By contrast, the sides and lugs were apparently finished by hand using a file, implying that the workshop in which the engine was made did not have milling capability. Perhaps unsurprisingly, the hand-finished mounting lugs were way out of alignment with each other. If used in a model, the bearers would have had to have been bolted to the engine first, then the formers custom-cut to fit.
Transfer was effected through four ports which were drilled through the cylinder wall at an angle. These were grouped in pairs, two for and two aft, between the two exhaust ports. The piston had a conical crown and was very closely fitted into what seemed by feel to be a parallel un-tapered bore. In fact, the engine's internal fits in general seemed very good, as we would expect from an individually-produced unit made by a competent model engineer.
The RRV engine did not feature sub-piston induction, reliance being placed entirely upon the disc valve induction system. As previously noted, the RRV model was specifically timed for reverse rotation. The left-hand prop provided with the engine was about 10½x4, evidently having been purpose-made for the engine.


A careful comparison of the attached photos will confirm that they show two distinct variants of the RRV Leesil. The engine shown on the left has a shorter fuel tank, plus one less cylinder fin than the example formerly owned by Bob Allan. Presumably there was considerable "lathe operator's license" inherent in the very low production numbers. This might be expected from an engine which seems to have been individually constructed to order by a single individual.
Unfortunately, the development of the presumably superior RRV model was a case of too little, too late, besides which Wilkinson lacked the capacity to undertake long-term large-scale production on his own. For a while he may have entertained the idea of making alternative arrangements for larger-scale production, but if so any such plans came to nothing. Accordingly, once local demand had been satisfied, the Leesil was finally phased out altogether later in 1947 at more or less the same time as its home-town rival, the Owat. Bradford's reign as a Northern centre of model engine manufacture was thus very short!
It's unclear how many examples of the Leesil were actually produced, but the number cannot have been large. As noted earlier, most of the Bradford MAC were equipped with the original sideport models at one time, and a few former club members were still to be found selling them off in the 1970's. John Mayes owned two of these ex-Bradford engines and knew of the existence of three more. Only four examples of the RRV model were known to exist when John Mayes was writing. He estimated that between a dozen and 20 engines may have been made by Wilkinson in total.
Whatever the true number, this is undoubtedly one of the all-time rarest British diesels. Examples are very rarely encountered today – I do not own one myself, nor was I able to gain direct access to an example during the preparation of this article. I continue to live in hopes, but I'm not holding my breath …..!!
___________________________
Article © Adrian C. Duncan, Coquitlam, British Columbia, Canada
First published December 2014