June 2019
From the Editor - June 1st , 2019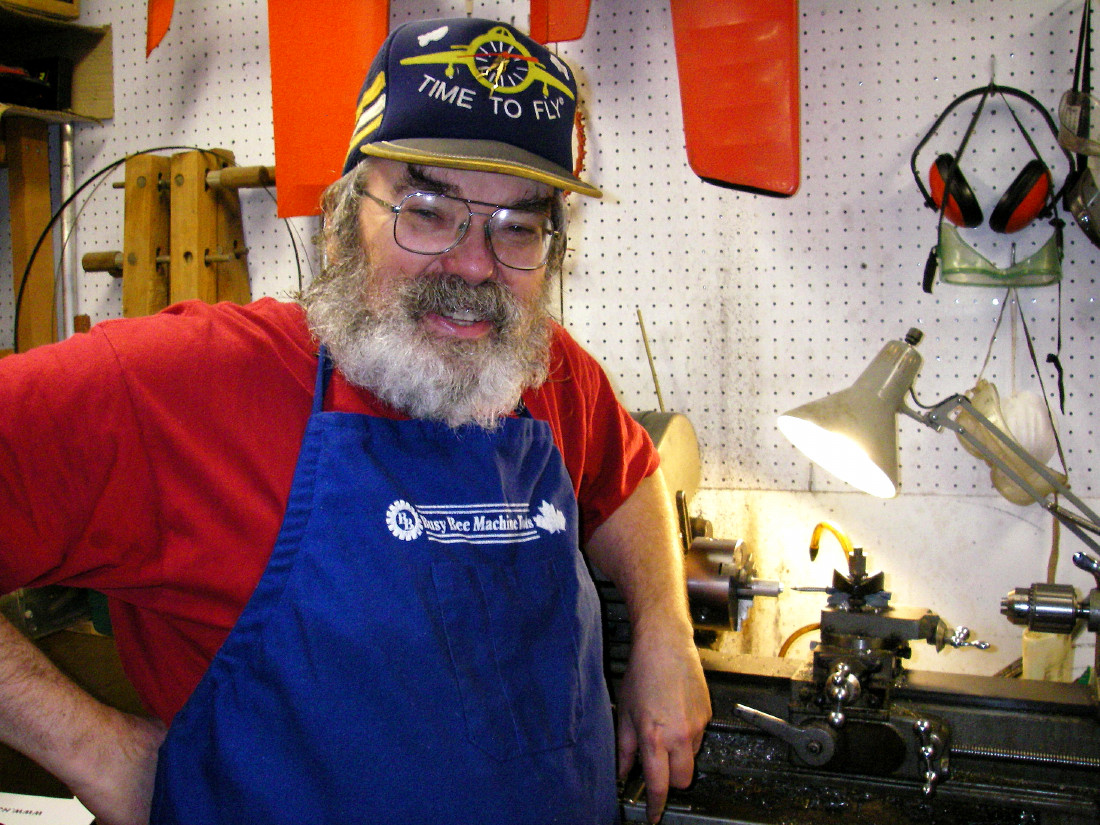 Greetings once more from Canada's West Coast! Yet another edition of my website out on schedule! However, this happy trend ends here - I'll begin by reminding y'all that there will be no July issue this year! This is due to the fact that I have a trip to Nova Scotia on Canada's east coast planned and fully booked from mid June to mid July, neatly bracketing my usual publication date. Sorry about this, but I do have other lives ...............!
To make up for this omission, yet again I've presented not one but two feature articles in this issue. So my rate of publication of new articles will be unaffected. Once again, I have to thank my good mate Maris Dislers for his assistance in developing the second article.

It's been a very busy month for me, for which reason I have to apologize for my somewhat sporadic and cursory attention to the email and blog site traffic which has come my way. A large part of that situation resulted from my participation in a
stage production of the musical "Once Upon A Mattress" in which I was cast as King Sextimus the Silent! A lot of fun, but very time-consuming - quite apart from letting the email blob slide, I didn't get a lot of testing done during the month either. Oh well, it's done with now, so it's on to the next thing .......

I'm happy to report that April 2019 (the last month for which complete data are available at the time of writing) saw a continuation of the site's recent elevated level of activity. During April 2019 the number of hits continued its recent rise, setting yet another new monthly record at 733,066, well up from the previous record of 687,090 hits set in March. It's clear that site visibility is being maintained at a high level and that people are still looking.

Of course, hits are one thing - actual visits are quite another, since they reflect the level of interest aroused among those who happen to come across the site. While the record number of hits during
April didn't translate into a record number of actual visits, the April total of 17,344 visits nontheless represented a modest rebound from the March total of 16,872 visits. The April figure represents a pretty strong showing of interest despite remaining a little down from the record January 2019 total of 20,496.
The visit/hit ratio for April (the proportion of hits which translated into visits) was little changed from the March figure of 2.5%, falling only slightly to 2.4%. Still a perfectly reasonable figure - one hit in 40 continued to result in an actual visit. Clearly the site still attracts its share of direct interest from among those who stumble across it!
Of course, the number of visits only tells part of the story - the number of pages accessed is a far more representative indicator of the level of interest in the material on this site. The really good news on that front was the fact that the number of pages accessed increased dramatically from the March 2019 total of 143,773 pages (which was a record) to an astonishing and record-shattering 220,791 pages in April!! The average number of pages accessed per visit made a massive jump from the already-impressive figure of 8.5 pages per visit in March to an impressive total of 12.7 pages per visit in April. Wow!! People who do visit this site still seem to be finding plenty of interest here, hence making their visits count - many thanks for being a part of that!

Now a note which has unfortunately had to become a regular feature of these Editorials. This one is mostly for new readers - old hands can skip to the following sections.
Despite my repeated admonitions not to do so, people are continuing to try to register on this website. As I've previously stated time and time again, this has absolutely no effect - it's simply an artefact left over from the generic platform's primary intended use as an on-line sales site. Since this is not a sales site, the registration feature is redundant and I make no use of it whatsoever.
So why is it still there?!? Well, before anyone else asks (and quite a few well-meaning souls already have!), I've thoroughly explored the possibility of removing or at least blocking this feature, but it can't be done without extensive (and very expensive) custom modification to the otherwise very useable generic platform which came as a ready-to-use over-the-counter package, thus keeping the costs and complexities manageable. So we're stuck with this feature.
The bottom line therefore remains - please don't bother trying to register! Doing so accomplishes nothing apart from creating unnecessary cyber-clutter, which I definitely don't need!

Along with the continued use of this website, the correspondence from my valued contacts around the world has continued to pour in unabated. During the past month I've heard (in no particular order) from Maris Dislers, Miles Patience, Bjørn David-Andersen, Andrew Coholic, Jesus Ortega Delgado, José Manuel Rojo, Goran Milosavljevic, Mike Johnson, Don Sohn, Hans Edwards, Yuancao, Paul Venne, Adam Bruckner, Malcolm Davis, Vijay, Alberto Parra, Dan Vincent, Luis Petersen, Peter Valicek, Mike Conner and Tim Dannels. Sincere apologies to anyone whom I may have inadvertently missed in the crowd - it can be hard to keep track! The blog site has also continued to justify its existence by generating a fair amount of relevant traffic - thanks to all who have contributed.
I was truly delighted to hear from Bjørn David-Andersen, whose father Jan David-Andersen was the designer and manufacturer of the famous David-Andersen engines from Norway which have been reviewed in detail elsewhere on this website. Bjørn tells me that both he and his father (now 97 years old!) are regular readers of the monthy updates on this website. Hilsen, Jan og Bjørn!

Bjørn also informed me that at one point in time Norwegian cinemas used to show newsreel films during the course of a cinema program - much like Pathé News in Britain. The Norwegian version was called Filmavisen (Film News) and ran for around 8-10 minutes or so. New film compilations were produced weekly.
Of particular interest to readers of this site is the fact that the film for December 16th, 1954 included a two-minute sequence showing Jan David-Andersen flying his self-designed 120 cm. span free flight model (seen above) powered by a 2.5 cc David-Andersen diesel engine. The film goes on to show Jan working in his machine shop, which was set up in the basement of his parents' house, next door to his own residence. He is seen producing a number of components, assembling a 2.5 cc diesel, testing the completed engine and installing it in the model.

Thankfully, these films have been carefully preserved and have now been made available on line as a historical resource. The relevant episode for December 16th, 1954 may be viewed here. The David-Andersen sequence begins at around 0:50 and ends at 2:50. The quality of the images is very high, and the fact that the commentary is in Norwegian in no way detracts from its interest to aficionados of classic model engines. My sincere thanks to Bjørn for bringing this to our attention!!
It's a poor month in which I don't learn anything new, and May 2019 was a good period in that regard. I heard from Adam Bruckner via the blog site. Adam tells me that as a kid growing up in the late 1940's and early 1950's he lived with his family in Argentina. During that period he recalled seeing an Argentinian-made diesel engine on sale in a local model shop. He wondered if I could help him identify what this may have been.

Having very little knowledge of engines made in Argentina beyond the Cox-influenced COM .049 of the 1970's, I was unable to help Adam. However, he persevered, eventually coming up with a page on model engines which was featured on a Spanish-language website devoted to free flight models, "Volar Libremente". The page on model engines not only included details of a 1952 0.6 cc diesel named the MAX-1, which was most likely the engine recalled by Adam, but also presented information on several later glow-plug models, including the COM .049.

I had no idea that such a diversity of engines was manufactured in Argentina. My sincere thanks to Adam for shedding light on the hitherto largely unrecognized model engine manufacturing industry in that country.
The arrival of the latest issue of "AeroModeller" magazine is always a monthly highlight. In the June 2019 issue there's a most informative article by Maris Dislers on the subject of getting the best out of the iconic Allbon/D-C Dart 0.55 cc diesel. The Dart is about to celebrate its 70

th

anniversary, so this seems an appropriate time to comment on one of the hardiest survivors of
the golden years of model diesel design and production - many examples are still around today. Maris explores the differences between the various versions of the Dart, also providing some invaluable tips on how to get the best out of one of these little classics.

A further highlight of this month was another visit from one of my valued readers and colleagues - Miles Patience of England. In addition to sharing a jar of barley brew, we got together at my club's flying field to do some engine testing. You don't have to do much persuading to get me involved in a session like that!
Miles was keen to see (and hear!) one of my Rowell 60's in action. I was all for that myself, so my Mk. II unit went into the test stand, where it certainly
impressed Miles both with its noise output and its ability to consume fuel! I also tried an example of the very first variant of the Mamiya 60, with almost equally noisy results!

However, the star of this particular show was Miles' example of the very rare original sand-cast Brown Junior spark ignition model seen running at the left. This is one of some 12 such engines made by Bill Brown in 1933 in his home workshop before becoming more seriously involved with production using die-castings in place of the original sand-castings. It bears the serial number A4. The 86 year-old engine started promptly and ran very nicely, turning a 13x4 wood prop at a steady 4,200 rpm on standard 75/25 white gas/oil fuel. What a treat to see and hear such a fine old classic actually doing what it was designed to do!!

Peter Valicek sent along a direct link to his latest model engine video. This time the subject is the Elizalde 2.5 cc diesel, a mega-rare Spanish barstock design from the mid to late 1950's. The Elizalde was never offered as an over-the-counter commercial product - rather, it was developed as a training exercise for apprentice machinists. Its functional design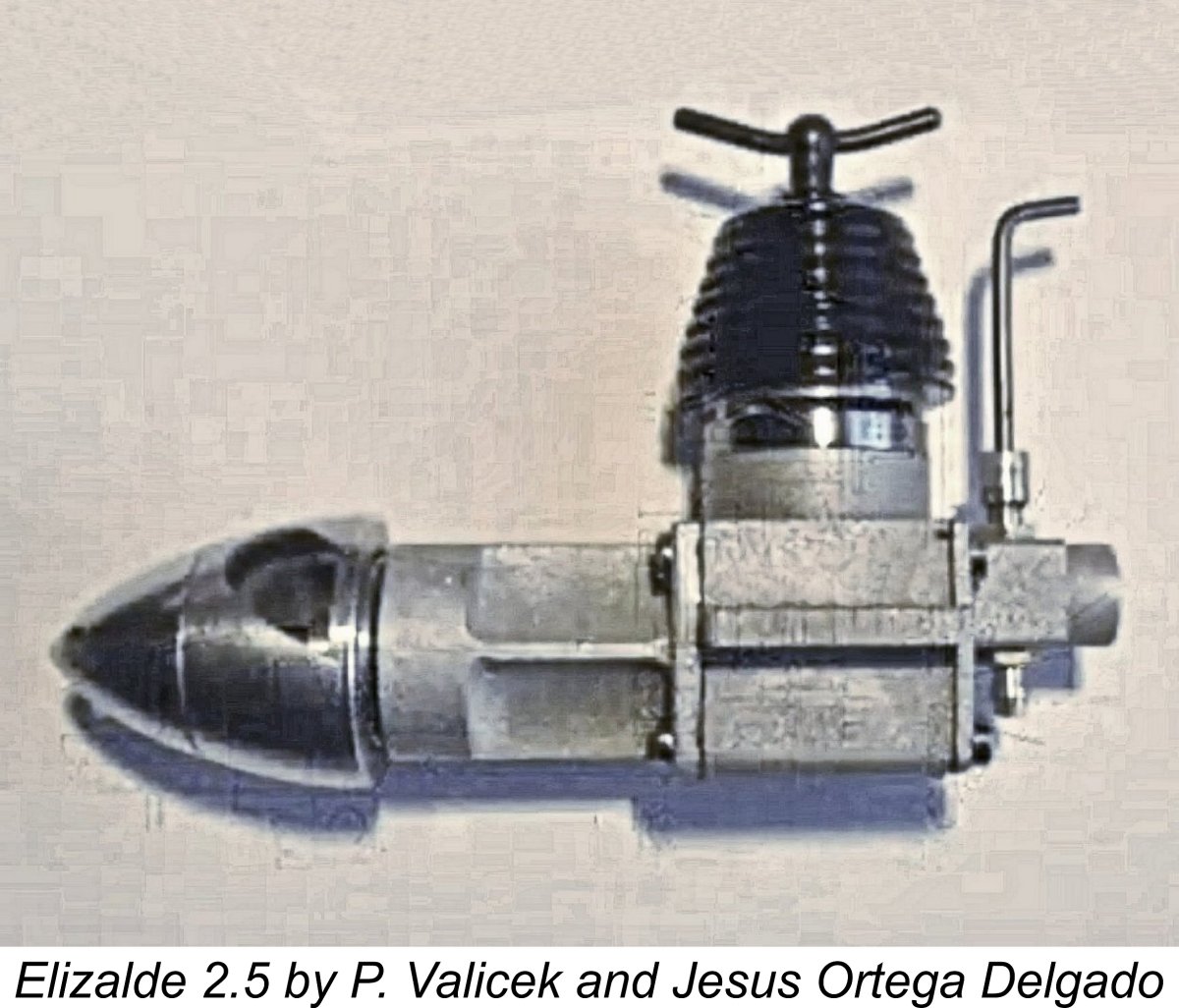 was based quite closely upon that of the very popular and successful Webra Mach I, although its styling differed considerably.

ost fortuitously, the plans for this very rare engine have survived thanks to the diligence of Jesus Ortega Delgado, who made a good start upon the construction of an actual example based on those plans. At the point where the engine's internal components had to be re-created, Peter took over and produced the necessary parts, installing them into the components already created by Jesus. The result was a superb example of what must surely be one of the rarest 2.5 cc diesels of them all. The project is fully documented in Peter's fine video.
Turning now to the subject of updates to existing articles, the contact from Maris Dislers offered something really unexpected in relation to the Deezil story, a topic which simply will not lie down! Maris noted that no-one ever seems to have tried the latter-day $1.95 Gotham Deezil on its manufacturer's originally recommended fuel mixture of 60% SAE 70 or 60 mineral oil and 40% ether. I'm guilty as charged, m'lud - never even considered it!
Having access to a typical example of this engine which had been condemned as a non-runner like all the rest, Maris decided to play fair with Gotham Hobby by giving this a try. Amazingly enough, he found that the engine started and ran quite acceptably on this somewhat extreme mixture. Even more amazingly, the engine actually survived a number of runs, including some dozen or so flights in a classic 48 in. span Heron free flight model! This is pretty revisionist stuff, which I've added as a postscript near the end of the existing Deezil article along with a few additional images and comments elsewhere in the text.
I have to say that Maris's success has not altered my very low opinion of the Gotham Deezil's abysmal quality. Pouring that much oil into a diesel is analagous to putting a Band-Aid on a bleeding wound - the wound is still there (and still bleeding!). A properly-constructed diesel should not require such extreme measures to compensate for its structural deficiencies. Moreover, the tested engine showed clear evidence of a rapid march towards ultimate failure, largely due to a seriously mis-aligned cylinder bore axis coupled with the inadequate conrod.

Still, an interesting demonstration of the fact that Gotham Hobby may have sold the odd example that briefly lived up to its billing provided one followed their fuel recommendations and set very modest expectations in the longevity and performance departments! What can
you reasonably expect for $1.95?!? Sincere thanks to Maris for his efforts!

This has been the month to run sideport diesels in general. Apart from putting some runs on both my all-original Deezil with its one-piece cylinder and a recently-acquired example of the Gordon Burford Deezil replica (both of which are written up in the Deezil article), I've also tried my example of the mega-rare Thorning Bensen II 2.5 cc sideport diesel from Denmark, a lightweight fore-runner of the far better-known Thorning III model. It proved to be a fine starter and runner, having a performance very similar to that of the Thorning III which succeeded it. I've added an image and a few details to the existing article on the Thorning III.
Finally, some further information has come to light regarding the matter of fuels for spark ignition engines. I've added this information to the fuel discussion near the end of my previously-published article on spark ignition operation.
The home constructors haven't been forgotten this month either. I've had a number of requests to make the plans of the Nalon Viper available along with the many other plans that are already published here.

For those unfamiliar with this outstanding design from England, the Viper was a 2.5 cc (.15 cuin.) barstock unit featuring a twin ball-race crankshaft and disc rear rotary valve (RRV) induction. It was intended as a rival to the then all-conquering Oliver Tiger. Designed by Norman A. Long of Yulon fame, a small number of prototypes were produced in 1956-57.
The Viper's barstock design makes it a very suitable candidate for home construction. A plan was produced by the Motor Boys International group, and a number of examples of the engine have been successfully built from these plans. Thanks to the ountstanding cooperation of my good friends Eric Offen and Peter Valicek, I have those plans on file.
In response to these requests, I've added links to the Viper plans both to the Gallery entry for the engine and to my page on plans for home construction of model engines. Hopefully this will result in a few more examples being built! I'd like to thank both Eric Offen and Peter Valicek for their help in making this plan available.

Looking ahead a little, I've begun work on an in-depth review of the Byra engines from Barcelona in Catalonia (aka Catalunya), Spain. I've been greatly assisted in this project by my valued friends and colleagues Peter Valicek of The Netherlands and Jesus Ortega Delgado of Spain. I've also been the beneficiary of some greatly-valued support from José Manuel Rojo of Barcelona, who has kindly given me permission to use images from his fascinating website.
If you haven't already done so, I strongly recommend that you take the time to visit the very well-presented website which displays the JM Rojo Model Engine Collection for all of us to enjoy. This very extensive collection includes engines from numerous countries, many of them extremely rare and seldom seen. The site is very user-friendly, making it easy to find what you may be looking for. It's an invaluable resource which I use myself on a regular basis. Highly recommended! I've added a link to the site to my "Publications" pages.

Turning at last to the feature articles for this month, I've begun by presenting a detailed summary of the excellent model diesels produced in 1950's Germany by Walter A. Frisch of Berlin-Lübars and sold under the WAF label. I've been enabled to do this through the kindness of my valued friend Peter Valicek of the Netherlands, who undertook a complete restoration of the now-superb example of the 1 cc WAF 1 engine which forms one of my test subjects.
The other test piece is an example of the extremely rare 3.5 cc WAF 3.5 diesel which was produced in a very short prototype series but never achieved ongoing production status. I think that, like the Queen Bee saga published last month, the WAF story serves as another excellent illustration of what can be achieved by a single talented and dedicated individual.

But that's not all! To make up for the fact that there will be no July issue this year, I've included a second feature article. Once again I've collaborated with my good mate Maris Dislers to present a review and test
of the Mite fixed-compression diesel from Brooklyn, New York.
The Mite is a somewhat under-rated engine which in certain respects was years ahead of its time despite being hampered by its fixed compression mode of operation as well as a very imperfect then-current understanding of model diesel fuel technology. As you'll learn, it was potentially a top performer by any standard, also being quite well made. It also exerted a significant yet often overlooked influence over certain prominent later designs. Some of you will be quite surprised at a number of the findings presented in this report!

As I stated earlier, there will be no July edition of this website - you'll just have to make do with what's already there. However, I do plan to put out a full edition for August. To continue making up for my absence in July, I intend once again to post two new feature articles with the August edition for your reading pleasure. These will cover two widely divergent topics.

The first of these articles will see a return to early post-WW2 Britain to look at the fine 5.9 cc spark ignition engine which was initially marketed in 1946 under the Astral name and later by the engine's actual manufacturers, Mechanair Ltd. of Birmingham. There has been a certain amount of confusion regarding the dates and origins of this engine, resulting in the previous publication of a certain amount of mis-information. One of my goals in preparing this article has been to set the record straight once and for all.

The article will include a full test of the engine as well as some comments regarding the fine look-alike unit manufactured by Dunham Engineering during the 1980's. During the preparation of this review and test, I myself became quite impressed with both the quality and performance of this fine product. Not a massive amount of power on tap, but a very well-made and user-friendly powerplant. I hope that my article may convince a few others!!
The second feature article for the month will relate to an entirely different field. I was recently reminded that it's been quite a while since I added another installment to my long-running series of reviews of classic racing engines from the 1950's. Time to end the drought!! I've already published an evaluation of the 2.5 cc Super Tigre G.20 S from 1956, finding it to be a surprisingy powerful unit. Time now to check out its successor in the Super Tigre range, the Super Tigre G.20 V of 1957.
The Super Tigre G.20 V was developed in response to the 1956 failure of the G.20 S to compete on level terms with the toolroom "specials" which were then beginning to dominate the results of International control line speed competitions. That domination was destined to continue in 1957 and 1958, but that wasn't for want of trying on the part of Super Tigre designer Jaures Garofali. As we'll see, the G.20 V was yet another outstanding design from Garofali's drawing board.
I think that's it for now. As noted earlier, there will be no July issue, but I'll be back to you with another issue on or about August 1st, 2019. Meanwhile, my best wishes for continued enjoyment of our shared addiction! Look after that flicking finger, and may the heady aroma of diesel fumes, sparkie smoke or burning nitro assault your nostrils frequently!

Cheers,
Adrian Duncan
Coquitlam, British Columbia, Canada
___________________________________
Note regarding material to be found on this site - unless specifically otherwise noted, all images and text which appear on this site are my own work, and I hereby assert my right to be recognized as the originator of this material. For the record, this material is made freely available to all upon two firm conditions:
No commercial use of

any

kind is to be made of any of the images or text posted on this site without my express written consent.
No use of

any

kind, commercial or otherwise, is to be made of any material published in any form on this site without full and open acknowledgement of the source.
Adrian C. Duncan
Coquitlam, British Columbia, Canada