April 2019
From the Editor - April 1st , 2019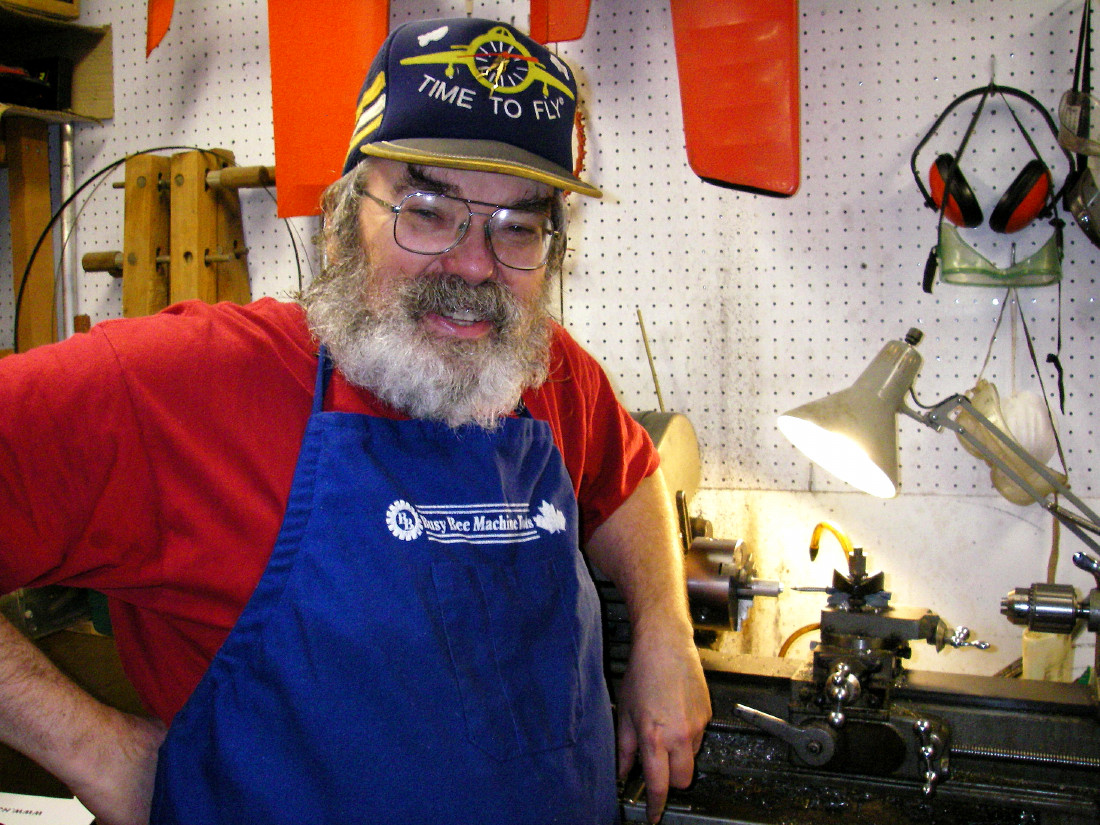 Greetings once more from Canada's West Coast! Yet another edition of my website out on schedule, and that's no April Fool's joke! I really need to be careful - people might get used to this! Won't keep happening for ever ..........
In fact, the upcoming May and June issues may well continue the trend, but I might as well tell y'all right now that there will be no July issue! This is due to the fact that I have a trip to Nova Scotia on Canada's east coast planned and booked from mid June to mid July, neatly bracketing my usual publication date.
To make up for this omission, I'm currently intending to present not one but two feature articles in the June issue. So my rate of publication of new articles will be unaffected. Sorry about this, but I do have other lives ...............!
February 2019 (the last month for which complete data are available at the time of writing) saw a continuation of the site's recent high level of activity. During February 2019, the number of hits remained extremely strong, actually setting yet another new monthly record at 683,964 hits for February. It's clear that site visibility is being maintained at a high level and that people are still looking.

Of course, hits are one thing - actual visits are quite another, since they reflect the level of interest aroused among those who happen to hit upon the site. While the record number of hits during February didn't translate into a record number of actual visits, the February total of 18,623 visits was still a pretty strong showing of interest despite being a little down from the record January total of 20,496. The visit/hit ratio for February (the proportion of hits which translated into visits) was down a little from 3.3% for the previous 3 months to only 2.7 %. Still a perfectly reasonable figure - one hit in 37 continued to result in an actual visit. Clearly the site still attracts its share of direct interest from among those who stumble across it!
Of course, the number of visits only tells part of the story - the number of pages accessed is a more representative indicator of the level of interest in the material on this site. The good news on that front was the fact that despite the lower number of vsits, the number of pages accessed remained relatively high at 110,055. The average number of pages accessed per visit actually increased significantly from the figure of 5.5 pages per visit in January to a quite impressive total of 5.9 pages per visit in February. People still seem to be finding something of interest here - thanks for being a part of that!

Now a note which has unfortunately had to become a regular feature of these Editorials. This one is mostly for new readers - old hands can skip to the following sections.
Despite my repeated admonitions not to do so, people are continuing to try to register on this website. As I've previously stated time and time again, this has absolutely no effect - it's simply an artefact left over from the generic platform's primary intended use as an on-line sales site. Since this is not a sales site, the registration feature is redundant and I make no use of it whatsoever.
So why is it still there?!? Well, before anyone else asks (and quite a few well-meaning souls already have!), I've thoroughly explored the possibility of removing or at least blocking this feature, but it can't be done without extensive (and very expensive) custom modification to the otherwise very useable generic platform which came as a ready-to-use over-the-counter package, thus keeping the costs and complexities manageable. So we're stuck with this feature.
The bottom line therefore remains - please don't bother registering! Doing so accomplishes nothing apart from creating unnecessary cyber-clutter, which I definitely don't need!

Along with the continued use of this website, the correspondence from my valued contacts around the world has continued to pour in unabated. During the past month I've heard (in no particular order) from Maris Dislers, Kevin Richards, Paul Rossiter, Ken Croft, Miles Patience, Andrew Coholic, Peter Rathke, Jon Fletcher, Jesus Ortega Delgado, Bob Watts, Bill Wells, Fernando Pazó, Javier Pazó, Marcin Sadowy, Steve
Webb, Goran Milosavljevic, Jeff Neal, Peter Clarke, Bob Christ, Don Sohn, Hans Edwards, Peng Han, Luis Petersen, Jens Geschwendtner, Peter Valicek, Mike Conner and Tim Dannels. Sincere apologies to anyone whom I may have inadvertently missed in the crowd - it can be hard to keep track! The blog site has also continued to justify its existence by generating a fair amount of relevant traffic - thanks for that.
I mentioned last month that
Alberto Parra had recently received a new batch of engines for sale. Most notably for aficionados of classic-style diesels, Alberto's
Parra T3 (2.5 cc Tiger 3) and T4 (3.2 cc Tiger 4) units are back in stock in both standard and Special versions. These units are classically styled along the lines of the iconic Oliver Tiger models, but feature a number of improvements. They are primarily designed for Vintage competition applications.
Alberto has been offering a limited number of these engines at a special discount. I took advantage of this, purchasing an example of the T3 Special model. This arrived safely and in good time, proving to be a really superb piece of work altogether. When time permits, I will conduct a test of this exremely well-made engine. Meanwhile, any others who may be interested can obtain further information by checking out the T3/T4 page on Alberto's website.
Another engine which is scheduled for a test as soon as time permits is a superb example of the beautiful Super Sokol 5 cc diesel from Poland which was so very kindly restored to perfect condition by my valued friend Peter Valicek. I've written about this fine engine in my earlier article on Polish model engines, but did not have an actual example to test until now. It's very hard for me to find the words to express my thanks to Peter.

Incidentally, Peter has also recently sent along an example of the WAF 1 diesel from 1950's Germany which he has also restored to superb condition. That one too is scheduled for a test in connection with an in-depth article which I'm currently writing about the WAF engines. l'm still very much open to contributions of serial numbers for these engines as well as any authoritative information regarding when production ceased. Any volunteers?!?
While we're on the subject of Peter Vailicek, I should mention that Peter is a very gifted creator of truly fascinating video presentations about the various engines that he has restored over the years. These videos
may be viewed on YouTube through this link. Well worth a look!! A few engines that Peter has restored for me personally are featured here. Peter's video site is clearly very popular - he has over 1000 subscribers!

There's another update to report this month. I realized that I had omitted a significant model from the survey of Canadian-made engines which was incorporated into my article about the Monarch 600 racing engine from Toronto, Ontario. The overlooked unit was the Banshee .604 racing engine from London, Ontario. I've updated the Monarch article to include a few paragraphs about the Banshee.
The maker of that intriguing twin-stack 2.5 cc glow-plug motor of which details were sent along by my good mate
Miles Patience of England didn't remain unidentified for long! We knew what it was because it told us very directly - it's clearly identified on the case as a VB 15. Thanks to Ken Croft, we now have the maker's name. The engine is an early example of the work of Eugene Verbitsky of the USSR (latterly of the Ukraine), probably dating from the late 1960's or early 1970's. Verbitsky used the VB monogram on all his engines, which were primarily built for F1C (Free Flight Power) competition, a category in which Verbitsky is a multiple World Champion, winning the title in 1997 and 2011. So this is an engine with a pedigree!! Many thanks, Ken!!
The arrival of "AeroModeller" magazine in my mailbox is always a highlight for the month. The April 2019 issue (no. 983) was no
exception! Apart from the usual wide-ranging crop of excellent articles of interest to classic and vintage modellers, there was a test by Maris Dislers of the new "ED by West" 25 diesel, which is the smallest member of the range of updated diesels now on offer from Weston UK, as reported here in my January 2019 Editorial. It proved to be a very impressive performer indeed!
There's also a retrospective look at the superb little 0.13 cc Saxby Gnat diesel, a 1/10 displacement micro-replica of the Mk. I Mills 1.3 diesel. Some 80 examples of this superb little unit were produced by the talented maker Les Saxby over the last few decades of the 20th Century. If you aren't already a subscriber to this fine magazine, you're missing out!!

Turning now to this month's lead article,
we
return to Scandinavia to examine the history of the Danish-made 2.5 cc Thorning front rotary valve
(FRV) diesels which replaced the very
successful
Thorning III sideport model which has already been reviewed on this site. I've also previously published a
review and test of the Thorning 3.5 cc model. Time now to complete my survey of the Thorning range by focusing on their 2.5 cc FRV models.

The story of the Thorning 2.5 cc FRV model is a rather sad saga of honest effort by a highly-principled manufacturer coupled with some unfortunate outcomes of a few design decisions which fell short of success. The final version of the engine was a well-made and very useable sport-flying powerplant, albeit offering nothing special by way of performance, but the earlier design-related problems doomed it before it really got off the ground. As a result, it is a fairly rare engine today. Nonetheless, its story is well worth preserving.
But wait, there's much more! For some time now I've been mulling over the fact that although many if not most model engine enthusiasts (including myself) seem to own at least one or two examples of the old spark ignition engines from the pioneering and vintage eras, amazingly few of us ever get around to using those engines or even giving them a bench run. Even when we do so, we generally duck the technical challenge by running the engines on glow-plug ignition. Guilty as charged, yer Honour!!

As far as I can gather from talking with a number of others, this is largely due to a widespread perception that running a sparkie is a significant challenge, the overcoming of which requires the possession of some
arcane and mysterious specialist skills and knowledge. This perception is fostered by the relative absence of up-to-date information on meeting the various challenges involved in running a sparkie in its intended mode of operation. I've been as guilty as anyone - being a die-hard diesel junkie, I haven't run a sparker on spark ignition in decades! Shame on me ............

Having come to this realization, I've spent much of the past year researching this topic very thoroughly indeed. Through this process, I've learned that the technology of spark ignition model engine operation has come a very long way since the original coil-and-capacitor era, with transistorized trigger circuits now taking over the electronic heavy lifting from the timer (although the points still play an essential role). The capacitor is now a thing of the past - it's no longer needed.

I capped my research by creating a couple of up-to-date spark ignition support systems of differing complexity for bench testing. These both proved to function extremely well, actually bringing spark ignition operation up to par with diesel and glow-plug operation in terms of ease, convenience and dependability. Anyone could build such a system - there's no magic involved, nor do you have to be an electronics wizard. Believe me, if an electro-klutz like me can pull this off, anyone can!! And if you can run a glow-plug motor, you can run a sparkie - the only difference is that with the sparkie the ignition support system remains connected throughout.

I've laid out both theory and practise in the new how-to article on spark ignition operation which now appears on this website. Hopefully a few others will follow my lead and enjoy the experience of actually running these old beauties as they were meant to be run instead of merely looking at them or copping out by using a glow-plug! As my good mate Maris Dislers has aptly observed, running a sparkie is almost as much fun as running a diesel (........but not quite, sez the die-hard etherhead!)!!

Turning now to next month, I'll be taking a long hard look at a subject which is quite literally very close to home in my case - the early post-WW2 Queen Bee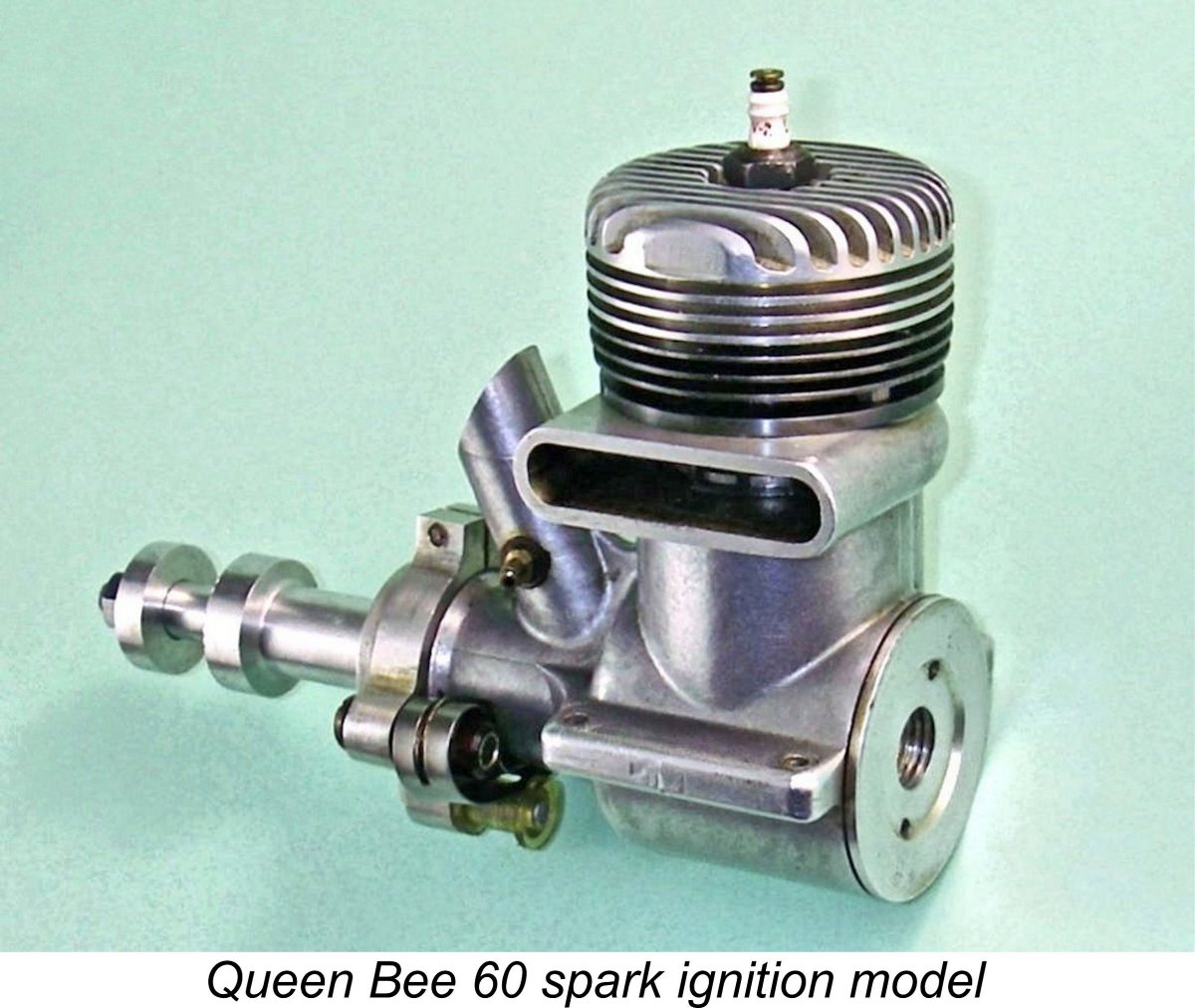 range of high-quality engines from Vancouver, British Columbia, just a few kilometres west of my home in Coquitlam. The spark ignition engine seen running in the above image is an example.
I mentioned this classic Canadian range in my earlier survey of Canadian model engines to which reference was previously made in this Editorial. However, a great deal of new information has since come to light. On top of the example of the Queen Bee 29 sparker which is seen running in the above image, I've now been fortunate enough to assemble a complete set of the spark and glow-plug ignition designs from this manufacturer, including the mega rare prototype .60 cuin. spark ignition and glow-plug models which were developed near the end of production. My sincere thanks are due to my German friend Peter Rathke for his cooperation in making this possible.
I've also had the amazing and quite unexpected good fortune to be put in direct contact with a former employee of the company, now 88 years old but still as sharp as a tack. As a result, I've been enabled to recount the full inside story of this range and its manufacturer for the first time ever. It's an interesting tale with a personal connection, and one which I think you'll enjoy!
I think that's it for now. I'll be back to you with another issue on or about May 1st, 2019. Meanwhile, my best wishes for continued enjoyment of our shared addiction! Look after that flicking finger, and may the heady aroma of diesel fumes, sparkie smoke or burning nitro assault your nostrils frequently!

Cheers,
Adrian Duncan
Coquitlam, British Columbia, Canada
___________________________________
Note regarding material to be found on this site - unless specifically otherwise noted, all images and text which appear on this site are my own work, and I hereby assert my right to be recognized as the originator of this material. For the record, this material is made freely available to all upon two firm conditions:
No commercial use of

any

kind is to be made of any of the images or text posted on this site without my express written consent.
No use of

any

kind, commercial or otherwise, is to be made of any material published in any form on this site without full and open acknowledgement of the source.
Adrian C. Duncan
Coquitlam, British Columbia, Canada