December 2018
From the Editor - December 1st , 2018
Ho! Ho! Ho! Season's Greetings to one and all from the red-clad Bearded One! It seems like only yesterday that I was writing up the Christmas 2017 Editorial, and here we are with another year in the books. Where did the last twelve months go?!? I can certainly attest to the fact that time goes by faster as one gets older. Use your time wisely - each day is unique, and you only get it once!
I had the misfortune to be saddled with one hell of a cold to usher in the onset of the forthcoming holiday season. However, a healthy dose of the wonderful tea mixture recommended by "Doctor" Peter Valicek, M.D. (Master of Diesels) worked wonders, and I'm back firing on at least 71/2 cylinders as I type this editorial (i'm an 8 cylinder model)!
I'm very glad to report that after a bit of a drop-off in September, the level of reader engagement with this site has rebounded strongly over the past little while. In October 2018, the last month for which complete data are available at the time of writing, the number of hits rebounded sharply from the September figure of 565,861 to a new record high figure of 673,468. Wow!! Over two-thirds of the way to a cool million hits in a single month!! Who would have thought it? Clearly, site visibility remains very strong.
However, hits are one thing - actual visits are quite another, since they reflect the level of interest aroused among those who happen to hit upon the site. In that regard, I was greatly encouraged to note that October's record number of hits also translated into a record number of actual visits. The number of visits rose sharply from September's previous record total of 17,773 to a new record monthly figure of 19,372 in October. Closing in on 20,000 visits .....! Clearly the site continues to attract its share of direct interest from among those who stumble across it!

But once again, the number of visits only tells part of the story. The best news of all was the fact that these two records were matched by a third! October saw a record total of 118,421 pages accessed, way up from the rather mediocre number of 74,187 in September. People must have been looking for an escape from world events or at least some engine-related entertainment to relieve the hours of boredom! The net result was that the average number of pages accessed per visit rose sharply from the lacklustre September figure of only 4.2 to a far more encouraging 6.7 in October. Those who visited clearly found something of interest. Thanks for being a part of that - it's such indications of support that keep me going!

Despite my repeated admonitions not to do so, people are continuing to try to register on this website. As I've previously stated repeatedly, this has absolutely no effect - it's simply an artefact left over from the generic platform's primary intended use as an on-line sales site. Since this is not a sales site, the registration feature is redundant and I make no use of it whatsoever. Before anyone else asks (and quite a few well-meaning souls already have!), I've thoroughly explored the possibility of removing or at least blocking this feature, but it can't be done without extensive (and very expensive) custom modification to the otherwise very useable generic platform which came as a ready-to-use over-the-counter package, thus keeping the costs and complexities manageable. So we're stuck with this feature.
The bottom line therefore remains - please don't bother registering! Doing so accomplishes nothing apart from creating unnecessary cyber-clutter, which I don't need! This message clearly needs to remain a regular feature of these Editorials...........
Along with the continued use of the website, the correspondence from my valued contacts around the world has continued to pour in unabated. During the past month I've heard (in no particular order) from Maris Dislers, David Burke, Derek Butler, Ken Smith, Chris Murphy, Peter Rathke, Jon Fletcher, Ron Miller, Rhodri Dafis, Jesus Ortega Delgado, Lars Gustafsson, Stewart McLaren, Steve Webb, Steve Hainsworth, Peng Han, Michel Rosanoff, Luis Petersen, Kjell-Erik Odelius, Neil McRae, Peter Valicek, Hans van Leeuwen, John Dixon, Michael Diamond, Mike Conner, Bill Wells, Tim Dannels, Ingemar Larsson, Leonard Poon and Peter Fox. Sincere apologies to anyone whom I may have inadvertently missed in the crowd - it can be hard to keep track! The blog site has also continued to justify its existence by generating a fair amount of relevant traffic - thanks for that.
Michael Diamond wrote in with a request for help. He'd like to build a Weaver 1 cc diesel, a really nice little engine which has been constructed by numerous home builders in the past. Trouble is, he can't track down a plan! The late Ron Chernich drew up a plan and wrote a detailed construction article, but stopped short of publishing the plan due to some residual anxieties regarding design copyright, whether well founded or not. Does anyone out there have the Weaver plan?? If so, please let me know and I'll consider how best we can co-operate to help Michael.
Ron Miller wrote in from Australia via the blog site to thank me personally for my efforts with this website. Thanks, mate - such direct expressions of support mean a lot to me!! Ron tells me that he makes a point of downloading and saving essentially all the images which appear here, the general quality of which he was kind enough to praise quite highly.
This reminded me that I've never drawn attention to the various options available for readers to view or download these images in their enhanced form, although some of you (like Ron) have doubtless found these options for yourselves. The images which show up in the articles are OK as ready-reference accompaniments to the text while you're reading it, but you can do better.
If you right-click on an image, you get a dialogue box in which you're offered the options of either opening the image in a new tab to view it or saving it as a download to your computer. Either way, you get the image at full size and resolution. Before anyone complains, I don't present the images at really high resolution because to do so would greatly increase my storage requirements and hence my costs (which I do not pass on to my readers, please note!). In addition, the loading of specific pages would be far slower. However, I believe that the images are generally quite good enough for reference purposes. Ron seems to agree.

I'm quite happy for people to save these images - indeed, they're specifically intended for the use of my valued readers for reference or just plain enjoyment. I've now added a note to the header of my Engine Articles pages to inform readers of these image options. However, I'd like to remind everyone that, unless otherwise attributed, all images are my own property. Any use of them for purposes other than personal viewing is subject to the conditions set out at the end of each and every one of these Editorials. Please read ............

Ingemar Larsson of Sweden contacted me to let me know that the 2018-1 issue of his wonderful control line magazine LINA is now available. As Editor of this fine on-line publication, Ingemar dererves enormous credit for the quality of the magazine, which is chock full of lavishly-illustrated and well-written contest reports, technical information and personal interviews. As usual, about a third of the content is in English, while the balance is easily rendered into any language using readily-accessible on-line translation technology. This superb publication is essential reading for anyone retaining an interest in control line flying. Anyone interested in gaining access to this and future issues is advised to contact Ingemar directly at ingemar.larsson.vis@telia.com
As mentioned in an earlier Editorial, I've re-sorted the Wotizit entries to make it easier to find the newest ones. The most recently-posted entries now appear at the top of the page (reading by rows from left to right), while the identified items are to be found right down at the bottom under their identified names. The continuing unidentified entries appear in between.

Another new Wotizit entry will be found at the left end of the top line this month. This one was sent in by my valued friend Peter Rathke. This nice-looking and very well-made 10 cc R/C glow-plug motor is a somewhat unusual addition in that we know its name, because it appears cast in bold relief onto the front of the main casting. It's a Manx 61 R/C model. The problem with this unit is that we have no idea when, where or by whom it was made, nor do we have a handle on production figures. All that Peter can tell us is that he acquired it some years ago on eBay Canada.
The front running guess at this point is that this engine may be somehow related to the Manx 60 spark ignition racing engine which was made in very small numbers in the late 1940's by Peter Larsen of Australia. The late David Owen made nine excellent reproductions of that engine using the original drawings. However, the mystery model is a very different design, seemingly dating from a far later era and clearly being intended for a different purpose. The sole apparent connection is the name, which could of course be a mere coincidence. Can any kind reader provide some clarity here?!?
I'm still awaiting an update from Rhodri Dafis with respect to my article on the Davies-Charlton enterprise. Rhodri has been back in touch to confirm that this is still on his "to do" list, but advises that he remains very busy with a variety of family matters and that it will therefore take him some time to read the existing article and provide any necessary updates and/or edits. However, I think it will be well worth the wait - Rhodri's insights into the Davies family (he's Hefin Davies' nephew) should add a new level of authority to the existing text. I'll advise when Rhodri's input has been received and incorporated.

Speaking of the Davies-Charlton story, I heard from reader Bill Wells, who provided a most welcome piece of hard evidence in the form of a rather deteriorated but still quite legible factory box which was clearly labelled as containing an Allbon Manxman 3.5 cc diesel manufactured in the Isle of Man by D-C Ltd. I had long been in receipt of unsubstantiated claims that the Manxman had originally been marketed under the Allbon name - indeed, there have also been allegations that the 2.5 cc Rapier was similarly marketed originally. There is now no doubt whatsoever that the Manxman was initially marketed as an Allbon design, as opposed to a D-C one. This adds further weight to the Allbon family's claim that Hefin Davies continued to use the Allbon name without payment for some time following the termination of his parternship with Alan Allbon. I've amended the article accordingly. Now I just need to hear from Rhodri.

A recent arrival courtesy of reader Robin Davison was a pair of distinct variants of the Mechanair 5.9 cc spark ignition model. These very well-built units were manufactured to extremely high standards in Birmingham, Warwickshire (now part of the West Midlands conurbation) between the first half of 1946 and early to mid 1948. It's estimated that some 700 examples were made in total, making this a relatively rare engine today. Naturally, these acquisitions prompted me to immediately commence an investigation into the history of the Mechanair engines, with a view towards writing an article for this website.
As a result of these efforts, in which I have been greatly assisted by my good mate Maris Dislers, a number of frequently-repeated statements by earlier commentators have been shown to be in error. The evidence contradicts or at least clarifies a great deal of what has been said in the past about this engine. An article setting out this evidence will appear here in due course. Meanwhile, I've created a Gallery entry for the Mechanair to summarize a little of what has been learned so far.

The correction of past misinformation must surely be one of the chief goals of any responsible historian. I've run into this misinformation issue time and time again while developing the series of articles which make up this website and also form part of the former "Engine of the Month" feature on the late Ron Chernich's now-frozen "Model Engine News" (MEN) website going back to 2007.
The problem basically arises from the tendency of many previous writers to blindly accept and regurgitate what's been said earlier by others, without checking its consistency or veracity. Far too few of them seem to have done much if any original research to check the credibility of that earlier information. The required references are mostly there in the writings of contemporaries like Peter Chinn, Lawrence Sparey and others, as well as in the advertising record and the test reports, but you have to go looking for them. Too many latter-day writers just haven't bothered to check those records, nor in many cases is the basis for the expressed statements shared with the reader.
Despite this, their comments are all too often accepted as authoritative. Some of them, notably Mike Clanford in his very engaging and much appreciated but frequently misleading A-Z book, have been found to include enough errors that they have more or less completely lost their credibility as a reference among knowledgeable enthusiasts. They remain useful, but you have to check everything that they say.

I have no desire to join them in that category! Accordingly, in preparing this long-running series of articles it has always been my policy to question everything that has been said in the past and to go back as far as possible to original sources in developing my own articles. When I make a statement of fact, I frequently present a reproduction of the document(s) on which my statement is based. At the very least, I make a practise of citing my source so that readers can check it for themselves. In this way, the reader is free to evaluate my evidence and form his own conclusions. Can't play fairer than that!

The inevitable result of this approach is that my articles tend to be very long. This has led to periodic criticism to the effect that I include too much information. I make no apologies for this – everyone is free to read as much or as little of my articles as they choose. That's what the "scroll down" control is for! My goal all along has been to present authoritative articles that capture all of the available information as accurately as possible, so that no-one ever has to go
through this exercise again. Indeed, in many cases the opportunity to do so has already passed, or is in the process of doing so as those who were "there" at the time continue to leave us.
If all the information isn't gathered and preserved now, much of it will be irretrievably lost. There will never be a better opportunity to prevent this than now! So if one is going to summarize the facts, one might as well summarize all of them and leave it to the reader to decide what he wishes to read or pass over. That's how I see it, anyway.

During the course of my investigation into the Mechanair story, I was reminded of an obscure British engine for which an article by my late mate Ron Chernish existed in his "Whatizit" pages but which I'd failed to include in the Gallery section of this website. This is the infamous and mega-rare Drome Demon 6 cc spark ignition model which was (thankfully!) Britain's only entry into the "slag engine" category which had its origins in America. This term refers to engines which lack a cylinder liner, with the piston consequently operating directly in a bore created in the untreated aluminium alloy of the cylinder casting.
Since the Drome occupies that special niche in British model engine history, I thought that it deserved recognition in these pages. Accordingly, I've added the Drome Demon to the Gallery pages on this site.
I recently noted the very welcome return of the CS company to the model engine manufacturing field with their new UNICORN marque which is primarily directed at the collector market. Company owner Peng Han (known to his International colleagues as Hans) contacted me last month to let me know that the first prototype of his fascinating valved 2-stroke glow-plug design was then complete and in the process of being tested. However, despite some prodding I've had no further updates since then. I sincerely hope that the project remains on track. All I can say for now is that I will keep you posted whenever I receive any further updates from Shanghai.

On a sombre note, I was saddened to hear somewhat belatedly of the July 31st, 2018 death at age 78 of Aldon Charles (Al) Kelley, founder of Merlin Glow Plugs. Al was one of the greatly valued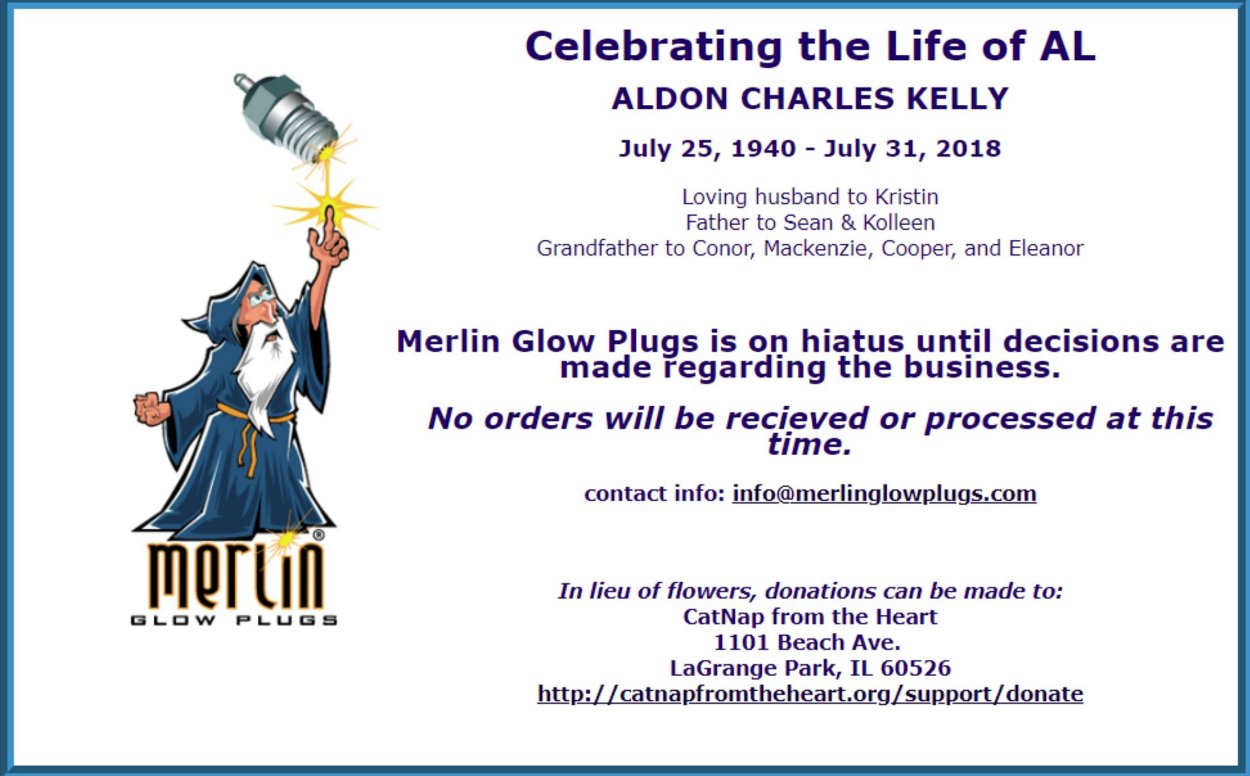 members of the modelling community who took practical steps to support those of us who remain dedicated to the use of I/C powerplants in aeromodelling and related fields. As the supply of plugs from major manufacturers continued to decline, Al's business maintained a dependable source of supply. Now Al is gone, and his company is on hiatus pending a decision regarding its future. We must all hope for a positive outcome, and meanwhile our deepest sympathies go out to Al's family.

Turning now to this month's feature article, we make a return to England to examine a recently uncovered and mega-obscure unidentified 2.75 cc sideport diesel which undoubtedly originates in that country. Although definitive proof of this very well-made engine's identity remains lacking, the general consensus is that it most likely had its origins in the workshops of the Ten-Sixty-Six company of Worcester, England. The accumulation of circumstantial and architectural evidence supporting this consensus is sufficiently
compelling that unless someone can present authoritative evidence to overturn this identification, I'm completely comfortable provisionally referring to this engine as a hitherto-unattested Ten-Sixty-Six 2.75 cc diesel prototype.

Normally a seemingly one-off sideport diesel prototype of unconfirmed provenance would be of very limited interest, scarcely warranting the preparation of a detailed review. However, this unit has a level of technical interest which fully justifies the writing of such a review. It displays a possibly unique combination of a conventional sideport induction system with a supplementary air-only crankshaft front rotary valve (FRV) arrangement. Moreover, the latter system is fully adjustable from completely closed to open all the way.
This makes it appear likely that this engine was built expressly to test the merits or otherwise of combining the two induction
systems. My good fortune in acquiring this seemingly one-off unit has allowed me to follow in the constructor's footsteps by undertaking my own test, with interesting results. All is revealed in this month's feature article!

Since the December issue is in effect the Christmas edition, I've followed my usual practise of making it a bonus issue by including an extra article to give you some additional holiday reading. For this year, I've added another article to the Technical Topics section of this website. My subject this time is the assessment and overcoming of the various challenges which may be encountered in restoring an engine that is really far gone due to improper storage, as so many of them seem to be when first discovered after years in the attic or the garden shed.
The article takes the form of a collection of case studies of my own successful restorations, which I hope that some of you may find useful or at least of passing interest. I also hope that it may inspire successful attempts at the restoration of some interesting but abused engines which might otherwise be consigned to the dumpster.

For next month, we'll be making our first-ever visit to sunny Spain to look at an early product of the rather sparsely documented (in English) Spanish model engine manufacturing industry. I'll be joining forces with my friends Jesus Ortega Delgado and Peter Valicek to sort out the rather tangled story of the 1947 Payá 2 cc sideport diesel from Galicia in Spain.
This hitherto poorly documented and relatively little-known unit actually enjoys the distinction of having been the first-ever Spanish engine to enter series production. It was manufactured by a company which specialized in the construction of compact full-sized marine diesel engines, but was marketed by one of
Spain's largest toy manufacturers, whose name it bears.
It will be immediately apparent to any knowledgeable enthusiast that this engine's design owes a great deal to that of the far better-known E.D. Mk. II of 1947. The New-In-Box test example was supplied by Jesus Ortega Delgado, who also put me on the track of some fascinating information regarding the engine's history. Both Jesus and Peter Valicek also contributed to the article by providing their own insights into a number of design shortcomings in the otherwise very well-made engine, along with suggested solutions. It's a complex tale which I'm sure you'll enjoy.
I think that's it for now. I'll be back to you with another issue on or about January 1st, 2019. Meanwhile, have a safe and rewarding holiday season, with my best wishes for continued enjoyment of our shared addiction! Look after that flicking finger, and may the heady aroma of diesel fumes or burning nitro assault your nostrils frequently in between periods of exposure to the equally fine aromas of roast turkey, stuffing, mulled wine or whatever else you fancy at this time of year .............. !

Cheers,
Adrian Duncan
Coquitlam, British Columbia, Canada
___________________________________
Note regarding material to be found on this site - unless specifically otherwise noted, all images and text which appear on this site are my own work, and I hereby assert my right to be recognized as the originator of this material. For the record, this material is made freely available to all upon two firm conditions:
No commercial use of any kind is to be made of any of the images or text posted on this site without my express written consent.
No use of

any

kind, commercial or otherwise, is to be made of any material published in any form on this site without full and open acknowledgement of the source.
Adrian C. Duncan
Coquitlam, British Columbia, Canada