March 2018
From the Editor - March 1st , 2018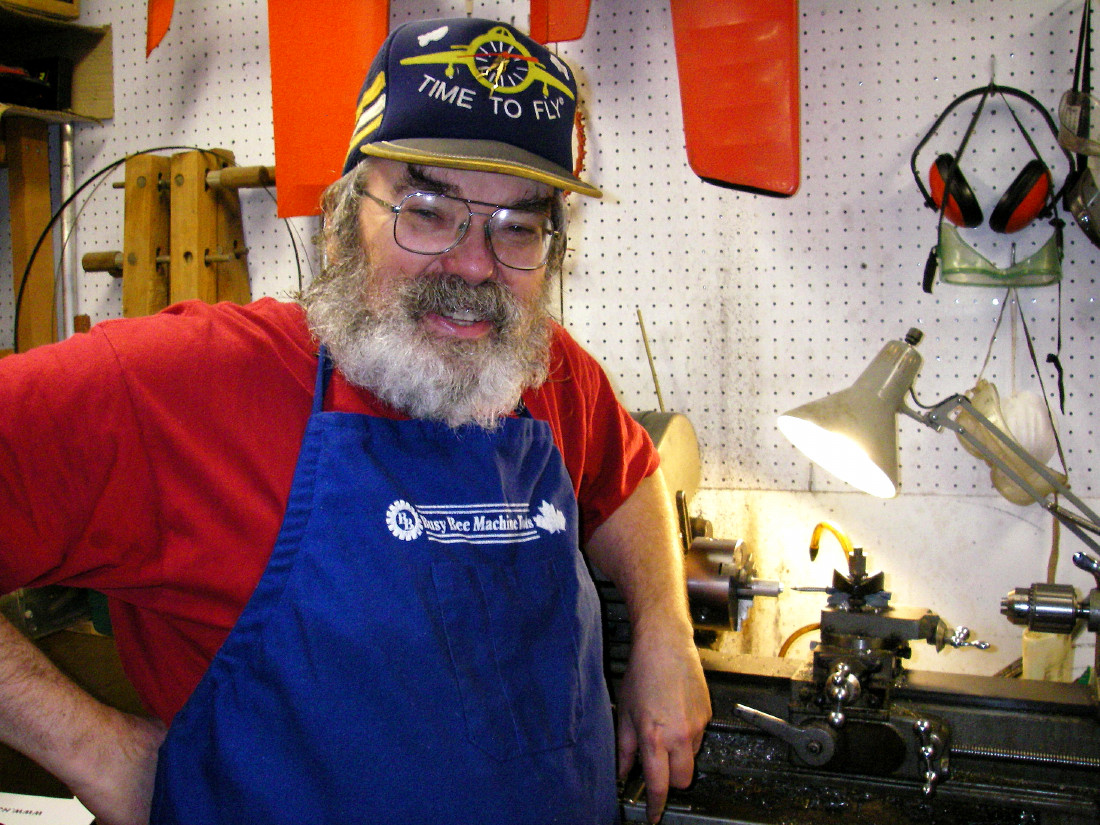 Welcome to March! The month of February is usually a rough one out here on the West Coast of Canada, and this one has been no exception! After a January and early February in which all of the regional rainfall records were smashed, we ended the month of February with a period of significant snowfall, even down here on the coast.
However, this is pretty much the first major snowfall that we've seen this year - mostly it's been rain, hence the new records. The problem that this pattern presents is that the high-elevation snow-pack accumulation upon which our returning salmon and our summer water supply both depend for melt-water is far lower than usual. I sense dry times ahead ...........
On a far happier note, I'm glad to report that the level of reader engagement with this site held encouragingly steady during January 2017, the last month for which complete data are available at the time of writing. In fact, the number of hits in January actually
rose slightly from 531,233 in December to 534,484 in January - another visibility record!

This translated into a total of 13,699 actual visits, slightly down on the record high figure of 15,144 established in December 2017 but nontheless representative of a continuing high level of interest - still around 442 visits per day from readers worldwide. As one might expect, the modest drop in the number of visits resulted in the total number of pages accessed also falling somewhat from 86,321 in December to 77,092 in January. However, the average number of pages accessed per visit held steady at around 5.6. This implies that those who did visit continued to find something of interest in these pages. Thanks for being part of that!

These figures constitute my chief motivation for continuing to expend the time and resources required to maintain this website. The level of effort involved is quite considerable - apart from dealing with correspondence relating both to this site and the blog site, there are the challenges of gaining access to new subjects for study and writing up the new Editorials and articles that appear each month. I have to do a great deal of time-consuming research to get my basic facts established for a given topic, which often involves both extensive reading and focused communication with fellow enthusiasts around the world. In addition, I have to periodically re-read all of the existing articles to confirm their ongoing accuracy and to update them as new information, new images and/or new linked articles become available. I try to keep things as up to date as possible, but it's a major effort. It's good to know that a fair number of folks evidently appreciate the results.
Despite my repeated admonitions not to do so, people are continuing to try to register on this website. As I've previously stated repeatedly, this has absolutely no effect - it's simply an artefact left over from the generic platform's intended use as an on-line sales site. Since this is not a sales site, the registration feature is redundant and I make no use of it whatsoever. Please don't bother - it simply creates unnecessary cyber-clutter! This message clearly needs to remain a regular feature of these Editorials...........
While use of the website may have fallen a little during January, the same can't be said of the correspondence which interest in the site has generated! If anything, that has grown - over the past month, I've once again had the good fortune to hear from an ever-increasing number of valued contacts from around the world, including Andrew Boddington, Maris Dislers, David Burke, Derek Butler, Steve Betts, Paul Rossiter, Alistair Bostrom, Alan Strutt, Luis Petersen, Ronald Valentine, Peter Valicek, Bill Schmidt, Larry Davidson, Ingemar Larsson, Hugh Blowers, Alan Greenfield, Vivek Sharma, Mike Conner, Andrew Coholic, Goran Milosavljevic, Don Imrie, Bob Allan, Dave Zwolak, Pat O'Donnell, Ron Miller, Tom Coletta, David Hill, Mike Grimes, Kurt Håkans, Johnny Shannon, Don Sohn, Tim Dannels, Ferenc "Somi" Somogyi, Antonio Giandrini, Ken
Croft, Peter Rathke and Jim Dunkin. Whew - time to come up for air!! Sincere apologies to anyone whom I may have inadvertently missed in the crowd!
My Italian correspondent Antonio Giandrini of TCA Racing Accessories and AA Models advised that the British Model Flying Association and the Aero Club d'Italia have joined forces to make this year's Italian Coppa D'Oro control line meeting a combined British/Italian event which will also constitute the 2018 British World Cup contest. This event will take place on September 6 - 7, 2018 at the Francesco Baracca Airport in Lugo di Romagna, the site of last year's very successful Italian Coppa D'Oro meeting. Set in a wonderful Italian landscape, the World Cup event will feature all four mainstream control line disciplines - F2A, F2B, F2C and F2D, while an Open International competition for F2F and F2G will also take place.
The venue offers outstanding facilities for both contestants and supporters, including camping opportunities. Several readers of this website attended last year's Coppa D'Oro event and reported that a great time was had by all - the Italians really know how to show visitors a good time! Wish I could be there........ The number of entries is limited, so now is the time to register. This can be done directly on line at www.aeromodellugo.org
Antonio also advised that the 2018 catalogue of his AA Models company which specializes in the supply of control-line competition components, including the excellent TCA glowplugs, is now available. Contact Antonio for a look at what this excellent source has to offer.
Speaking of matters Italian, that article of mine on the Super Tigre classics which included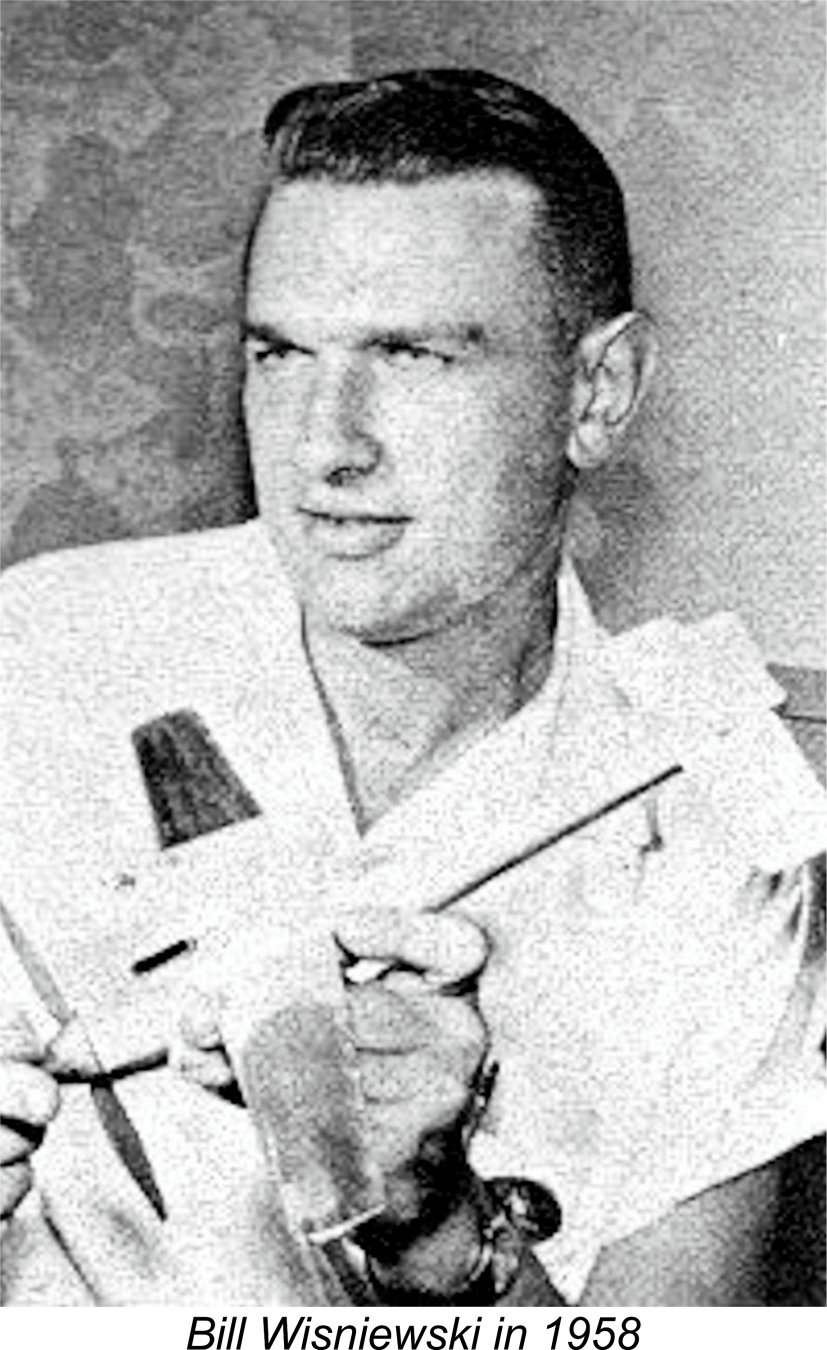 a detailed retrospective on the highly controversial 1960 World Control Line Championships in Hungary clearly struck a chord, hence simply refusing to lie down! My separate article on that event appeared in the January 2018 issue (no. 968) of "AeroModeller" magazine. Now another authoritative eyewitness has added his own comments. This is none other than my valued Hungarian friend and colleague Ferenc "Somi" Somogyi, a former Hungarian Speed Team manager who has helped me so much in the past with respect to my various articles about Hungarian engines.
Somi was in attendance throughout the 1960 World Championship in his capacity as a member of the organizing committee, which everyone agreed did a really superb job of organizing the event. However, they naturally had no influence over the decision-making by the FAI jury. After reading my article following its initial publication, Somi contacted me to state for the record that he fully agreed with my Italian eyewitness correspondent Gianni Mattea - in his opinion, Bill Wisniewski was indeed the true 1960 World Champion. I've updated the article to reflect Somi's highly valued comments. Endorsement from one of the event organizers! Now if only the FAI would finally take steps to retroactively correct this glaring betrayal of the sporting ethics of our hobby ..............

Maris Dislers contacted me to draw my attention to the seemingly little-known fact that a number of the famous E.D. model diesels remain available from Weston UK. The popularity of the excellent E.D. marine diesels among boat modellers has never faded
over the years, and the Super Hunter and Super Otter 3.46 cc water-cooled models are among the units on offer. In addition, an air-cooled aero version of the Super Hunter 3.46 cc model is also available. All three engines are equipped with R/C exhaust throttles.
Inquiries directed to Weston confirmed that these engines are not present-day replicas - rather, they are assembled from original components produced in the 1970's, of which Weston still holds considerable stocks. Maris has an example of the aero Super Hunter in his hands for testing at present, and his report will appear in due course in "AeroModeller" magazine. I've gone ahead and ordered my own example of this engine as well. Meanwhile, I've amended my E.D. page to reflect the ongoing availability of these units - the E.D. saga continues, 71 years on!!

And now for something completely different, as John Cleese said a number of times - a Wotizit that is not one Wotizit but a series of them, all apparently from the same source.

In February 2018, a seller on eBay offered examples of both glow-plug and spark ignition versions of a sandcast .09 cuin. engine, citing them as "Taipan" engines made in Australia c. 1958. Although not explicitly stated, to most engine aficionados this description conveyed a clear impression that these were being claimed as products of Gordon Burford's famous Taipan manufacturing operation.

Upon inquiry, it transpired that the sole basis for the seller listing the engines in this manner was the appearance of the letter "T" on the bypass side of the
cases plus a tag attached to one of the engines – never an authoritative indication of origin. Apart from the fact that they look far newer than that and appear to incorporate a number of O.S. parts, there's no question at all that they are not members of Gordon Burford's Taipan range, or even prototypes from that source. When this was pointed out to the seller, the listings were very properly withdrawn and subsequently re-listed with a more appropriate description.

My Aussie mate Bob Allan tells me that as far as he's aware these non-Taipan "T" engines first appeared on eBay back in 2011, and the seller at that time was a Canadian who lived in Surrey, British Columbia, just across the Fraser River from my home! Subsequent inquiry revealed that this was Chris Polson, who was selling off the very large collection of his late father Arthur Polson (a personal acquaintance of mine) at the time.
As matters stand, I'm aware of both glow and spark ignition versions of the smaller .09 cuin. model plus a larger .40 cuin. glow. These models are illustrated in the relevant Wotizit article which I've now put up. If anyone can identify the maker plus his location and year(s) of manufacture, please get in touch!! Meanwhile, I'll carry on digging myself .......

The story of this withdrawn listing highlights a vitally important point – when listing any collectible on eBay or elsewhere, it's essential to take pains to ensure that the description is completely unambiguous. If you're buying rather than selling, don't necessarily take the seller's word for an unfamiliar engine's identification and/or originality - he may or may not have all the relevant information at hand. Check it out for yourself before bidding! That's what the articles on this website and the MEN site as well as publications such as AMEE, among many other available resources, are all about! A well-informed buyer is a well-protected buyer!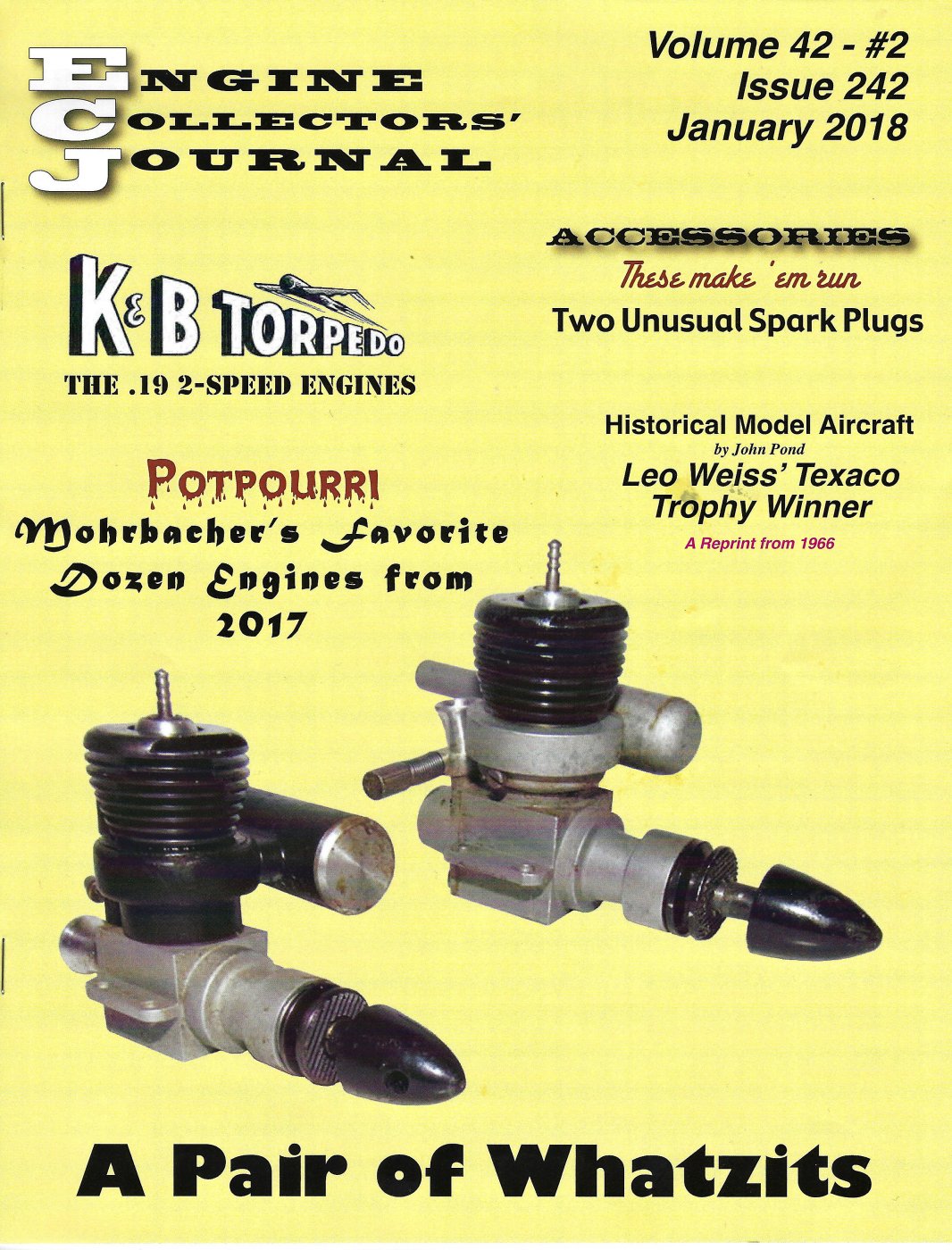 Also, if you see a listing that is definitely not what it claims to be, please contact the seller to inform him, even if you don't plan to bid. He may or may not respond appropriately, but at least he has to reveal his true colors. We all benefit from a more open and descriptive eBay!!
Staying with the topic of Wotizits, my aforementioned mate Maris Dislers has been taking a look at those pages. He has come up with some valuable suggestions in relation to both the "Romanian Jaguar" and the pair of black-headed glow-plug engines which are featured in that section following their submission by Tim Dannels. I've incorporated his comments into the descriptions of both items - have a look! I note that the glow-plug twins are also featured in the January 2018 issue of Tim's indespensable "Engine Collector's Journal" (ECJ) - as always, a great read!

I mentioned last month that I was then making a start on a detailed article about the present-day operation of spark ignition engines. That project is coming along nicely. As part of the project, I formed the goal of creating my own fully functional spark ignition test stand with its own built-in ignition support system - no more testing old sparkers on glow-plug ignition for me! My ongoing contacts with Bill Schmidt and Larry Davidson have been immensely helpful in facilitating my pursuit of this project.

As mentioned last month, Bill is the inventor of the "Schmidt trigger" which uses solid state circuitry to relieve the stress on the always-problematic contact breaker, while Larry sells a refined version of Bill's system along with spark plugs, coils and wiring. With Larry's help, I'm now well along on my project of assembling the components necessary to create and test a reliable and fully up-to-date system. Complete details will appear in the forthcoming article, which I hope will encourage more folks to give spark ignition operation a try. Meanwhile, have a look at Larry's catalogue by checking out this location.
The blog site has continued to justify its existence by generating a fair amount of traffic - thanks for that. I've added a new category to the list of posts - "Parts Wanted". This may be useful for some of you. I've made a start by advertising my own need for a timer for the Lucas & Smith Contestor D-60-R.

This month's feature article sees a return to the USA for a close-up look at the very short-lived and near-legendary Atwood Crown Champion series of model engines produced during 1940 by the noted model engine designer Bill Atwood. Bill's range of interests extended far beyond model aircraft of all types to encompass model engineering, tethered hydroplane and car racing and full-sized gliding. He served for many of his later working years as the chief design engineer for the L. M. Cox company.
While drawing upon a number of previously-published biographies of Bill Atwood, I've taken this opportunity
to correct a number of inconsistencies which have worked their way into Bill Atwood's "legend" over the years, also adding some new information which I've managed to dig up. I hope and believe that you'll find a great deal of interest in my recounting of Bill's story!
For next month, we'll return to Eastern Europe for a look at the work of the noted Polish model engine designer Stanislaw Górski (1923-1978). The best-known engines from this talented individual are the Jaskółka (Swallow) series which were manufactured from the mid 1950's to the early 1960's, but Górski's activities extended well beyond that particular range. His story is one which richly deserves to be more widely appreciated than it has been in the past. I'm sure that you'll enjoy learning more about model engine development behind what was then the almost impenetrable Iron Curtain!
I think that's it for now. I'll be back to you with another issue on or about April 1st, 2018. Meanwhile, best wishes for the year now underway, and may the heady aroma of diesel fumes or burning nitro assault your nostrils frequently............... !

Cheers,
Adrian Duncan
Coquitlam, British Columbia, Canada
___________________________________
Note regarding material to be found on this site - unless specifically otherwise noted, all images and text which appear on this site are my own work, and I hereby assert my right to be recognized as the originator of this material. For the record, this material is made freely available to all upon two firm conditions:
No commercial use of any kind is to be made of any of the images or text posted on this site without my express written consent.
No use of

any

kind, commercial or otherwise, is to be made of any material published in any form on this site without full and open acknowledgement of the source.
Adrian C. Duncan
Coquitlam, British Columbia, Canada