June 2017
From the Editor - June 1st , 2017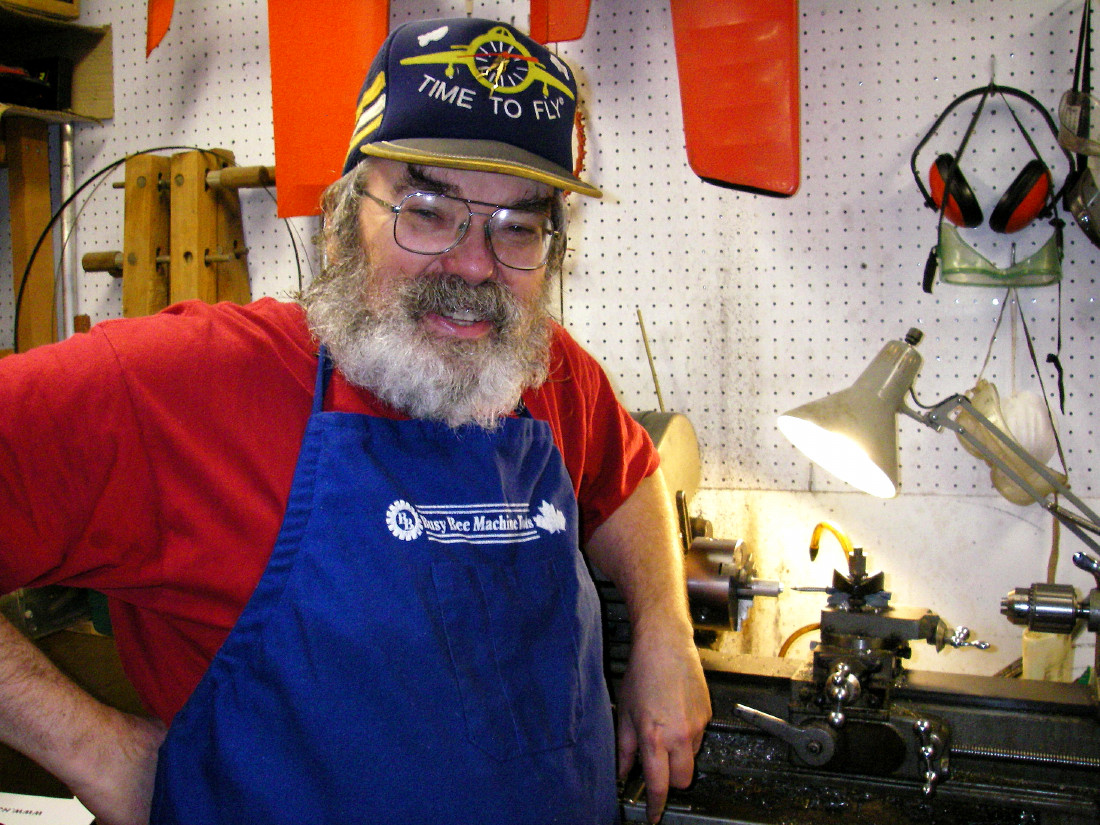 Well, we've finally seen some sunshine here in Western Canada, in between continuing periods of rain! Of course, there's been no transition - we seem to have missed Spring altogether! We went right up to mid May with unseasonably cold and wet weather, and then made the jump from unusually cold to unusually hot in a single 20 + degree leap! With the odd period of rain still in the mix, that's how the rest of May has gone. As the global climate continues to be modified, the swings are predictably becoming greater and the extremes are becoming more extreme. We're headed for interesting times ..........
The model flying lives of myself and my fellow members of the Vancouver Gas Model Club are already becoming more interesting for other reasons. BC Hydro (our Province's major electric power utility) has a project to replace the pylons which pass the north side of our field at Rice Mill Road in Richmond. They've fenced off half of of our parking lot and plan a temporary road along the north edge of the flying site. Things could become a little difficult for a while.......several planned major contests will have to be cancelled.

To begin this month on a sombre note, I was deeply saddened to hear from "AeroModeller" Editor Andrew Boddington that his much-loved wife Helen died on May 4th from the combined effects of a chest infection and breast cancer. Having also recently lost his mother, Andrew is understandably in no state to continue to edit the magazine and meet deadlines, so he has temporarily handed the editorial duties over to Ken Sheppard.
Ken is no rookie at the editorial game, having edited "AeroModeller" during the 1990's and having also edited "Model Flyer" until his retirement. Ken and his wife Sheila are well-known to participants at the Old Warden model events in England, which they organize as "ModelAir".

I'm sure that I speak for all of us in expressing our deepest sympathy to Andrew and in wishing him all the best in working through this very difficult period in his life. We also wish Ken all the best in taking on the editorial duties at "AeroModeller" during Andrew's absence, along with our sincere thanks to him for stepping up to the plate.
As I would have expected, visitation to my own web-site dropped off a little in April as the lengthening hours of daylight opened up more alternative ways for people to spend their time. The number of hits dropped from the record of 497,885 to only 422,337 - still indicative of an ongoing high level of visibility in my possibly biased view. These hits translated into a total of 10,712 actual visits - again somewhat below the March total. However, the good news was the fact that the total number of pages accessed in April was 96,405 for a per-visit average of 9 pages - pretty much unchanged from the record March average. It's clear that visitors to the site are continuing to find plenty to engage their interest! Thanks to all of you for being a part of that.

Still on the subject of web-sites, I've had a few anxious inquiries regarding the long-term future of the late Ron Chernich's wonderful "Model Engine News" (MEN) site. Although frozen since Ron's untimely demise in early 2014, this site remains perhaps the single most important resource for model engine aficionados worldwide. Its continued availability is thus a matter of common concern.
Following Ron's death, custodianship of MEN passed to David Owen. However, David's own untimely departure in 2016 created a vacancy yet again. My good mate Maris Dislers stepped into the breach and has been serving as the site's administrator ever since. I checked with Maris, who assures me that the hosting of the site remains under control, as do the costs of its maintenance. There are a few new administrative issues looming, but Maris is working on those. If anything significant arises, he'll let me know so that I can keep all of you informed.
Over the past month, I've once again had the good fortune to hear from an amazing number of valued contacts from around the world, including Paul Rossiter, Maris Dislers, Miles Patience, Luis Petersen, Jens Geschwendtner, Lars Gustafsson, Mike Conner, Derek Butler, Don Sohn, Tim Dannels, Rishi Kumar, Jim West, Min Liu, Andrew Boddington, David Burke, Steve Thomas, Michel Rosanoff and Bjorn Baal. Sincere apologies to anyone whom I may have inadvertently missed in the crowd!
Last month, I mentioned that Frank Bowman had sold his model engine piston ring-making operation to his near-neighbour Bjorn Baal of Farmington, New Mexico, USA. I noted that Bjorn runs a business called RMJ Machine Worx. I have added him to my Sources page.
No sooner had I done this than an opportunity arose to test Bjorn's sevices for myself. This came in the form of a rare Danish Mikro 5 cc racing engine which arrived new and un-run with rings which were well and truly stuck fast in their grooves. Unfortunately, in trying to fix this problem I managed to break one of the rings ......AAAARRRRGGHHH!@?!
Over to Bjorn! Armed with a set of meaurements that I took directly from the engine, Bjorn proceeded to make me some new rings. These arrived very promptly and proved to be of excellent quality. Not only that, but they were a perfect fit with absolutely no requirement for adjustment at my end. One of them went into the engine immediately, making it all ready for testing after some running to bed the rings down properly. A full review and test of this most interesting engine will appear on this website in due course.

On the basis of this very positive experience, I feel completely comfortable in recommending Bjorn's services to any fellow engine aficionado who needs rings. Thanks, Bjorn, for a job well done - it's great to have that Mikro back up and running!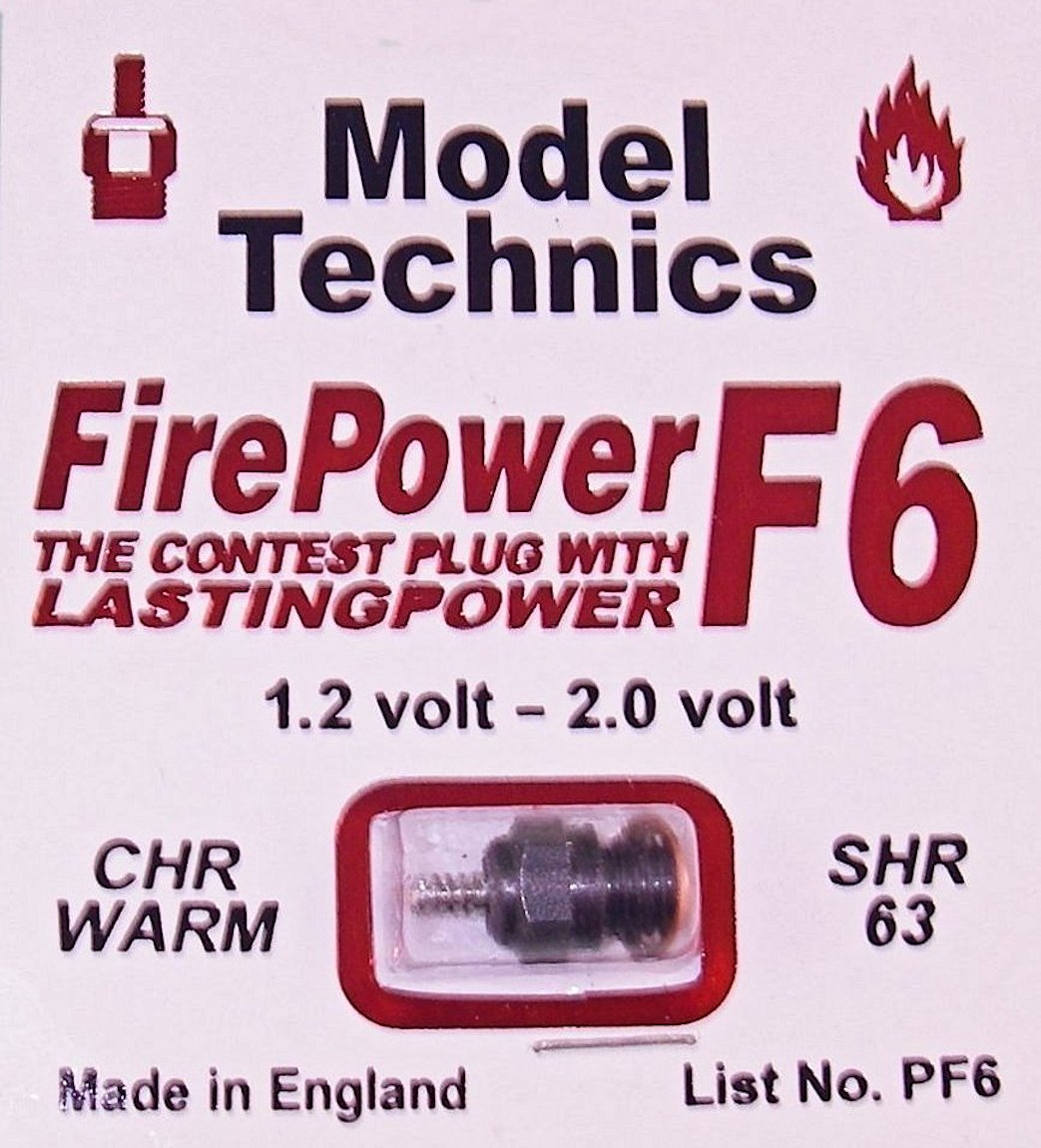 I was also very pleased to receive some samples of the FirePower glow-plugs made in England by Model Technics. These and the plugs supplied earlier by TCA Racing Accessories of Italy will be featured in an article which is in preparation on the subject of glow-plug heat ratings. My very sincere thanks to Phil Olson of Model Technics for his kindness in providing me with these samples.

I've recently put in a fair bit of work bringing the Gallery up to date. That page contains photos and some very basic information about every model engine or model engine range about which I or others have ever written on-line articles, or have definite plans to do so. After my latest additions, the page now includes no fewer than 135 entries....... and still growing with no end in sight! I honestly had no idea that I'd covered that much ground - with one's nose constantly to the grindstone, one tends to lose track!

Some well-intended readers have interpreted the Gallery as a photographic collection of model engines in general (an on-line version of Mike Clanford's well-knwn "A-Z" book) and have kindly offered images of engines in their own collections. While such gestures are very sincerely appreciated, an engine only gets added to the Gallery when I (and/or some other writer) have published detailed information about it on line or have an on-line article in preparation. In a very real sense, it's intended to be a photographic index to the entire body of on-line model engine historical documentation which I've generated (or of which I've become aware) since I started doing this over a decade ago now. Detailed and authoritative information on every featured engine is freely available on line. I hope that newcomers to the model engine field in particular will find it useful.
Although there has been some traffic on various other threads, the new thread on the blog site entitled "Home Construction of Model Diesels" continues to be a bit quiet. I remain hopeful that one of the participants on that thread may eventually get around to developing a construction article with photos that can be published in the "Technical Topics" section of the main website. Come on, guys - here's your chance to really promote your favourite activity and show us all what you can do!
The "Wotizit" page on this site has continued to generate quite a bit of interest and activity. The previously-unidentified 2.5 cc diesel which I added last month didn't remain unidentified for long! My good mate Maris Dislers suspected right away that it was in fact a previously-unreported early variant of the Yin Yan 2.47 cc diesel from Shanghai, China. He speculated that it might have been a member of a small "proof of tooling" batch made to test the tooling, jigs and fixtures as well as identify any residual workforce training requirements in advance of series production commencing.
Following up on Maris's suggestion, further research has now confirmed that this engine is indeed a very early Yin Yan 2.47 cc diesel from Shangai, China, probably one of the first batch made in 1962. Most importantly, we've confirmed the previously-unreported fact that the very first examples of this well-known engine did not feature either cast-on model identification or a serial number. It seems that those identification markings were only added after the initial unidentified batch of which this is an example had proved itself "anonymously" and the manufacturers were getting set to hit the international market.

Quite apart from the absence of any identifying markings, the needle valve assembly as received was a red herring which further obscured the engine's identity. As Maris suggested, it was indeed a Taifun component which had clearly been retro-fitted by a previous owner. As seen in the above image, I've now fitted a genuine original Yin Yan assembly along with an original Yin Yan prop washer, so the engine is now completely original and in excellent mechanical condition. It must surely be the rarest Yin Yan/Silver Swallow variant of them all! I've updated the Yin Yan/Silver Swallow article to include this example in the section on the Type 1 variant. In the same article, I've also amended the dating of the Silver Swallow 1.49 cc model in light of some new information received from reader Steve Thomas, to whom my very sincere thanks are due.
There have been no other identifications made over the past month. However, there have been no fewer than three new aditions. Two of these were submitted by Tim Dannels, who delights in tantalizing (or perhaps tormenting) us! Tim's first submission was a pair of twin ball-race rear-induction glow-plug motors of around 1 cc displacement or possibly a little smaller. They are bar-stock all the way and are identical apart from the induction. One uses a reed valve while the other goes with a rear drum valve.

The second of Tim's submissions is a plain bearing diesel engine which came to Tim with a card attached which described it as a "Romanian Jaguar". However, Tim was unable to find a match in his Romanian files. The engine has a very definite look of being a clone of the well-known Jaguar diesel from Germany, but there are a few differences which unquestionably define it as a distinct production. More details in the relevant Wotizit entry.
Finally, a blog site reader who goes by the enigmatic name of Supercuber submitted an image of an unidentified twin ball-race diesel (seen at right) which he believes to be of Yugoslavian origin (although he could be wrong). He has confirmed that it is not an AERO model, but it could be an OSKAR product. It's certainly a new one on me!

If anyone can recognize these new teasers, please let us know! Indeed, if you haven't already done so, I hope that you'll have a look through all of the problematic engines which continue to populate those Wotizit pages. It would be truly great if some kind reader can put us out of our misery on a few of these!

This brings me at long last to this month's feature articles. I have both an engine review and a new technical topic for you this month. The technical topic is a discussion of the approach to measuring the compression ratio of a glow-plug or spark ignition engine. Given the infliuence that compression ratio has on a number of engine operating parameters such as fuel and plug choices, it's always a good figure to know. I hope you find the article useful.
Turning now to this month's engine article, it's been a while since I last covered a French engine, and I felt that it was about time to remedy that situation! Accordingly, this month's feature is an in-depth article on the excellent Bonnier 5 cc fixed compression diesel from Paris, France. This includes a test of the engine. If any reader has any serial numbers to add to my present somewhat meagre collection, I'll be happy to amend the article at any tme, with full acknowledgement.

In directing readers' attention to this article, I'd like to take this opportunity to express my very sincere thanhs to reader Michel Rosanoff of France, who very kindly set me straight on a few key matters on which I'd been led astray and also provided some relevant serial numbers. Help like this from a reader is more sincerely appreciated than you may guess. Merci beaucoup, mon ami Michel!!
When creating a series of articles of this kind, there's a bit of a temptation to go after the more obscure examples of the model engine manufacturer's contribution to our hobby. I'm as guilty as anyone - I've written about quite a few legendary, mega-rare or even one-off motors in the past, and there are more to come......... I personally find these untold stories to be quite fascinating, especially those that include information that was in incipient danger of being lost forever.

However, while it's undoubtedly important to record the history of these obscure products, their relevance to most folks may be somewhat limited by the fact that few people will ever be lucky enough to own or even encounter one. Guys like me have to remember that the really rare and more or less unobtainable stuff isn't what most modellers have experienced in the past or are still using today. It's at least equally important to pay tribute to the common-or-garden familiar "workhorse" ranges as well. After all, it's engines in that category that most people either remember or are still flying.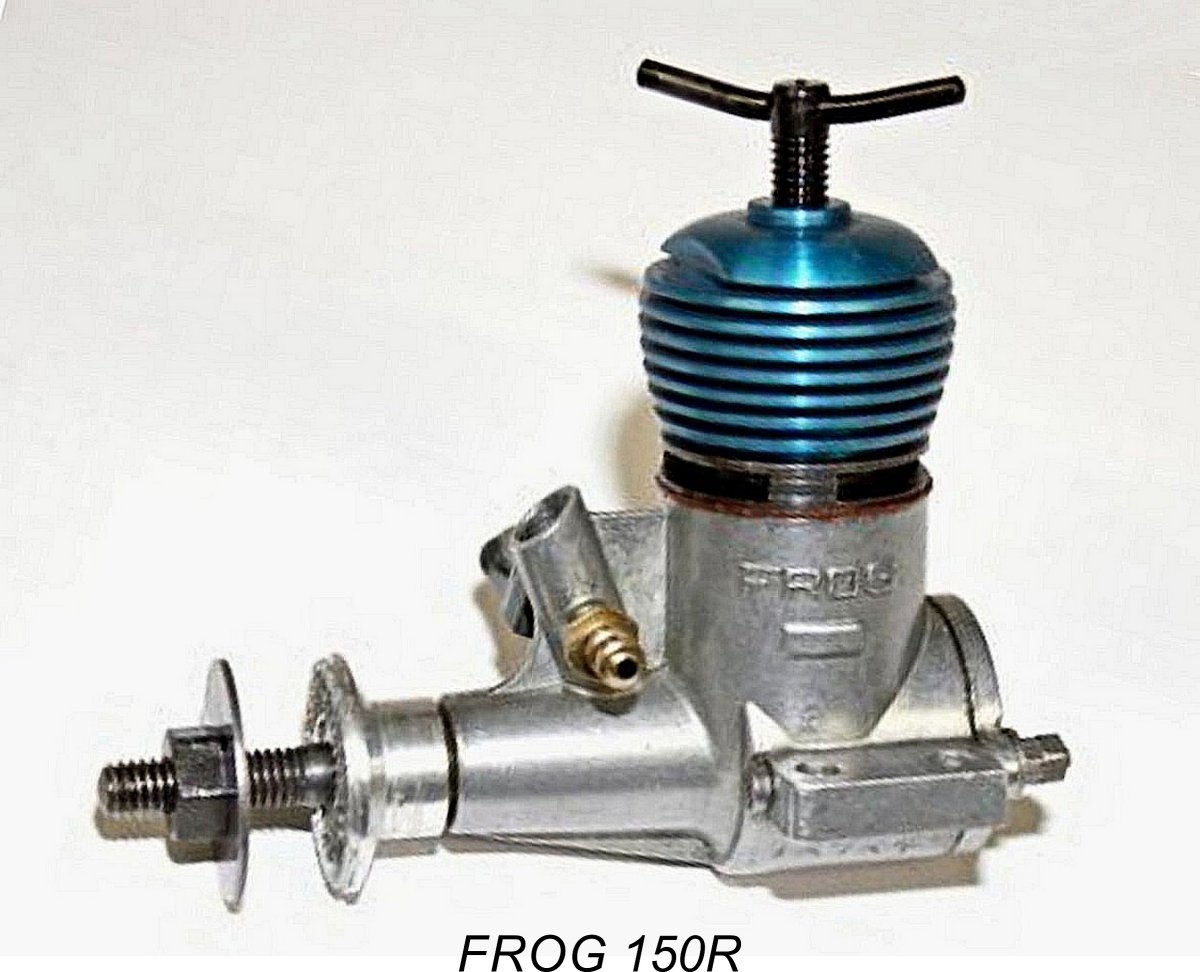 In that vein, I've previously dealt with the E.D., Davies-Charlton, AMCO, Mills, Allbon and Elfin ranges, among others. I've also covered a number of the engines produced by International Model Aircraft (IMA) under their FROG banner. These articles and others may easily be accessed through the Gallery section of this web-site.
My good mate Derek Butler recently reminded me that one of the mainstay series of model engines manufactured in Britain during the 1950's and early 1960's was the series of engines in the 1 cc to 1.5 cc displacement category manufactured by IMA as part of their FROG range. Like Derek, I have very fond personal memories of these very useful little engines. Time to give them their due!
Accordingly, next month will feature an in-depth history of the FROG 1.5 cc series from 1951 through to 1966, with a side-trip to look at the related 1 cc FROG models of that era. Hope you enjoy it!
I think that's it for now. I'll be back to you with another issue on July 1st, 2017. Meanwhile, happy flicking, flying and finding, and may the heady aroma of diesel fumes or burning nitro assault your nostrils soon............... !
Cheers,
Adrian Duncan
Coquitlam, British Columbia, Canada
___________________________________
Note regarding material to be found on this site - unless specifically otherwise noted, all images and text which appear on this site are my own work, and I hereby assert my right to be recognized as the originator of this material. For the record, this material is made freely available to all upon two firm conditions:
No commercial use of any kind is to be made of any of the images or text posted on this site without my express written consent.
No use of

any

kind, commercial or otherwise, is to be made of any material published in any form on this site without full and open acknowledgement of the source.
Adrian C. Duncan
Coquitlam, BC, Canada