November 2016
From the Editor - November 1st , 2016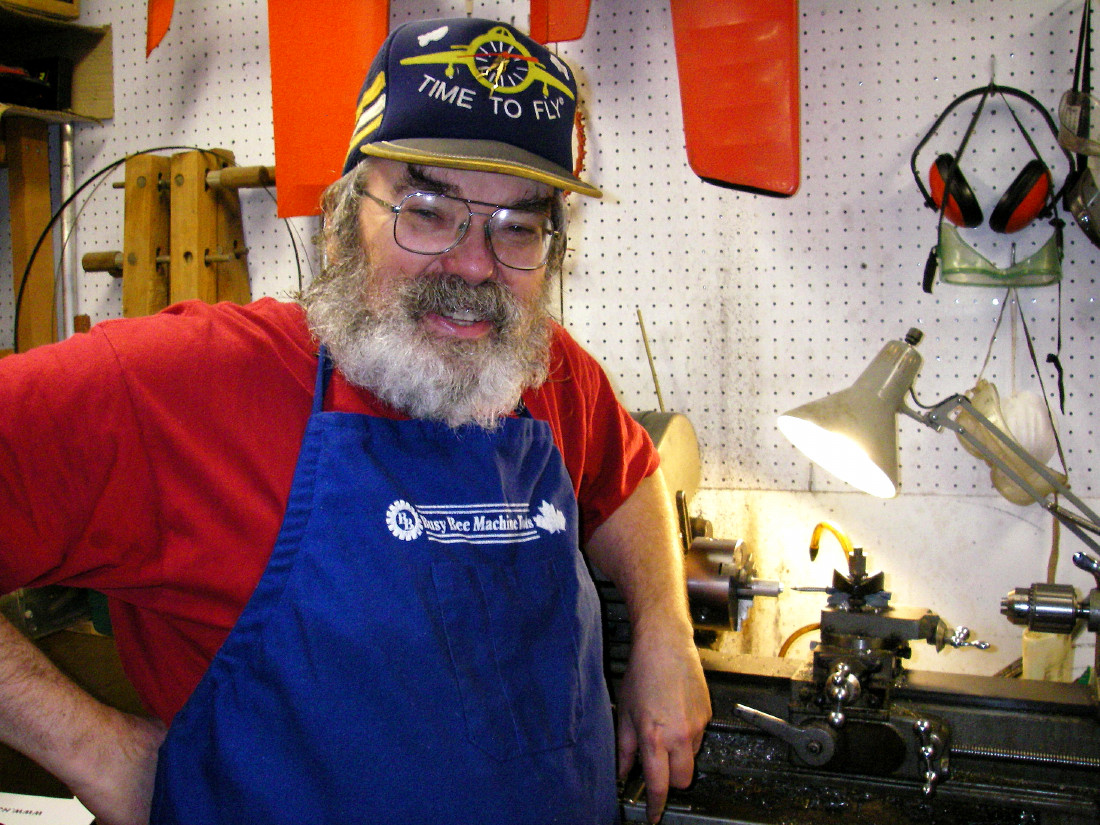 Greetings once more! By the time that most of you read this, I will be off on my next adventure which will take me out of town for a month. During that time I will be unable to access my emails, so there's little point in emailing me! All going well, I hope to return during the first week of December - I'll let you all know when I'm back.
As I mentioned last month, this absence will obviously leave me with zero time to generate a December issue. After much thought, I decided simply to accept this reality and the consequent fact that there will be no December 1st, 2016 issue. Apologies for this, but life sometimes gets in the way of our various projects! I have a compensation plan which I'll detail in its place below.
A lot has happened over the past month, so I'd better get right down to it! First off, an always-enjoyable bi-monthly treat is the receipt of the excellent and always-informative "Engine Collectors' Journal" produced by Tim Dannels with the assistance of his gracious and
extremely knowledgeable wife Betty. If you don't have a subscription, you're missing out! The October 2016 issue (Volume 41-#1, issue 235) includes an article by Paul Knapp on a real oddity - the remarkable one-off inverted piston 4.5 cc (0.28 cuin.) spark ignition engine designed and constructed by Robert J. Hetherington, manufacturer of the Hetherington engines between 1932 and 1950.
All I will say here is that the engine uses an inverted piston with the combustion taking place in the piston interior. Note the custom-made glass-insulated spark plug which Robert Hetherington produced for this engine. Have a think about how this idea could have been made to work, then go to Paul Knapp's ECJ article to see how close your guess was!!
One of the most rewarding outcomes of starting this website has been the amazing amount of communication with my fellow model engine aficionados that has resulted. Over the course of the past month I've had the pleasure of receiving contacts, both direct and through the blog site, with a significant number of my fellow enthusiasts worldwide, including Ferenc "Somi" Somogyi, Bjørn David-Andersen, Mike Conner, Nigel Tarvin, Ed Carlson, Paul Rossiter, Christian Farcy, Lars Gustafsson, Paul Venne, Steve Thomas, Derek Butler, David Burke, András Vella, Maris Dislers, Vivek Sharma, Bob Langelius, Rishi Kumar, Peter Valicek, Peter Kent, Luis Petersen and Jens Geschwendtner. Wow!! Thanks, guys, and sincere apologies to anyone whom I've inadvertently missed.
The contact from Steve Thomas was of a somewhat bittersweet nature, because Steve advised that he is beginning the sad process of selling off the large and diverse model engine collection of the late and much-missed David Owen of Woolongong, New South Wales, Australia. Steve will be selling these engines on eBay under his seller's I/D of "heave111". He is being assisted in this effort by Steve Rothwell and Stan Pilgrim. Steve Rothwell has already successfully arranged the sale of the bulk of David's major workshop equipment, and now it's the turn of the engine collection. Sad, but it has to be.
Readers wishing to follow the progress of this sale, which will feature many interesting items and will probably last a couple of years, are advised to add heave111 to their list of "saved sellers" on eBay.
Bob Langelius also had less than happy news. He reported the sudden passing
of Roger Whittingham of Great Britain, who was the designer and original constructor of the delightful little 0.44 cc "Pesky" sideport diesel which Bob has been selling through his PAL Model Products company located in White Plains, New York, USA. It was Roger's generosity in lending his original self-constructed Pesky to Bob and his associates for replication by TechnoHobby of the Ukraine that allowed this superb little barstock unit to be offered to the public in quantity. And it didn't stop there - Roger also served as the tank maker for the engines marketed by PAL. Although they never met face to face, he and Bob became very close friends. He will be missed.
On a happier note, Bob tells me that limited quantities of both the Pesky and its smaller radial mount companion, the 0.30 cc Lola, remain available as of this writing through the PAL website. If you act quickly, you can still obtain your own examples of these superb little engines. I did, and I wasn't in the least disappointed! Both models have been the subject of very positive tests conducted by my good mate Maris Dislers and published in "Aeromodeller" magazine.
The contact from French resident Christian Farcy was particularly welcome, since he was able to add a few details to last month's lead article on the R.E.A. engines as well as correct a few points on which I'd gone astray. I've subsequently worked all of his comments into the article. Merci beaucoup, mon ami Chris!! My valued Hungarian friend and colleague Ferenc "Somi" Somogyi was also able to provide some additional background information, for which I'm most grateful.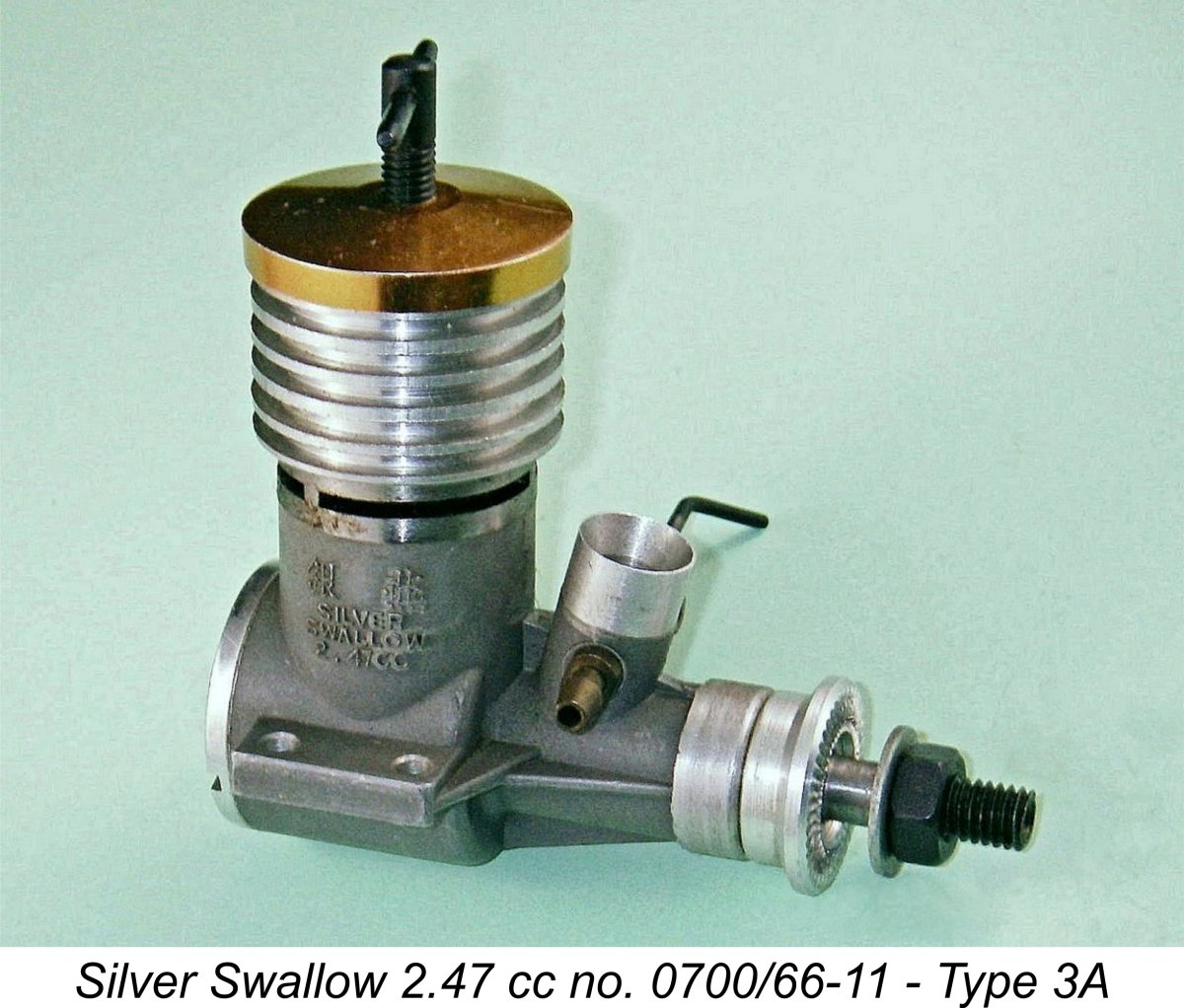 However, Chris's Farcy's contribution to The Cause didn't end there! Noting my intention to present an article on the Yin Yan/Silver Swallow engines this month, Chris was kind enough to supply details of the somewhat obscure and rarely-encountered water-cooled Silver Swallow diesel models. This clarified the basis for the existence of one of the more puzzling Silver Swallow variants - the one that I've called the Type 3A model. Full details in this month's lead article, with my very sincere thanks to Chris.
These contacts with Chris Farcy have reminded me once again of the fact that not all model engines are aero types! Most collectors seem to focus on air-cooled models, hence missing out on the fact that there are just as many interesting marine designs out there. Chris is an exception - he actually focuses his collecting activities upon marine engines. It's great that there are a few collectors like Chris who are able to remind us of our marine model engine heritage and to supply the related details that never come to the attention of most of us.
Another very welcome development during the month was the resumption of direct contact with an old friend, Ed Carlson of Carlson Engine Imports in Phoenix, Arizona. Ed started this company all the way back in 1983 and has remained open for business ever since. In addition to marketing the PAW range from England, Ed has made a speciality of supplying engines from exotic locations such as Russia (beginning during the Communist era), the Czech Republic, India and China. He has assisted me greatly during my research on a number of topics, including this month's lead article.
During an October 2016 telephone conversation with Ed, I was very glad to learn that he is still very much in business after 36 years. He retains a stock of many of the PAW models as well as a number of Russian and Czech Republic engines. Of potential interest to collectors, he still has a few New-in-Box examples of now-discontinued models from Aurora (India) and CS in China, both manufacturers which are no longer in production. Last chance to acquire new boxed examples! Call Ed at 602–863–1684 to find out what he has available at any given time.
It was also very pleasant to renew contact with Vivek Sharma of Sharma Model Aero Engines and Propellers of Jodhpur, India. The excellent Sharma diesel engines remain available direct from the company, and the firm is working on the development of some new product lines, of which more as details are released. Vivek tells me that certain modifications to the 15 and 19 diesels based upon some suggestions of mine are now being incorporated into the engines. This will enhance performance somewhat if my own tests of those modifications are anything to go by.
Vivek also put me in direct contact with Mr. Rishi Kumar, present owner of the Aurora Model Manufacturing Co. Pvt. Ltd. of Calcutta, India and the son of company founder Mr. Suresh Kumar. Mr. Kumar confirmed that Aurora had been making the odd batch of their Mills replicas up to June 2013, at which point all model engine production ceased. The only remaining engines are in the hands of Aurora's dealers in various locations. However, Aurora retains ownership of the Mills name and original tooling at present, although Mr. Kumar is apparently open to offers from others to acquire those assets.
When researching and writing the historical model engine articles which make up the bulk of the material to be found on this site, it's actually very uncommon indeed for me to end up in possession of the full recorded facts surrounding a given model engine marque - I invariably need help! However, there are other times when I somehow miss a crucial item to which I do have access. Such a case arose in connection with my recent article on Mills production history - I didn't accurately report the full facts surrounding the rumored Mills 5 cc model which never saw production. Contrary to my original statement concerning this model, it turns out that a prototype of this engine was in fact produced. The evidence was there all along on page 134 of Mike Clanford's well-known "A-Z" book - I just missed it. I've now corrected this omission.
The "Wotizit" page which was recently added to this web-site remains open for business. Although two of the posted engines have been identified, the rest remain a mystery. There have been two new additions from readers Paul Venne and András Vella, but there have been no new suggested identifications during the month. However, there was a likely reason for this! It turns out that I had omitted a letter in the Wotizit email address when creating the hyperlinks for that page. I've now corrected that error, so communication should be fully restored. My apologies for any inconvenience.
Now that things are functioning as they should, please have a look if you haven't done so already and see if you can shed any light on any of the elusive engines which appear on that page! Also, if there's an engine in your life that you can't put a name to, this is the place to send it...........
It bears repeating that the above-linked email address is set aside for the exclusive use of those wishing to make comments or post additional subjects relating to the Wotizit page. Please respect my wishes by refraining from using that address for any purpose other than the "Wotizit" effort - I will not respond in any way to messages received at that address on any other subject. For that, there's the blog site ...........
Speaking of the blog site, the use of that facility remains at a lower level than I was hoping for when I set it up. A few people are using the General Discussion post which was created as an ongoing open discussion forum, but that's about it. Suggestions for new stand-alone topics are thin on the ground. I've put up a couple myself, with relatively little response so far.
However, once in a while the site fully justifies its existence, since it was used in the past month by András Vella to contact me in regard to my article on the Vella Brothers' VT engines. It turns out that András is the son of the younger Vella brother Géza and hence the nephew of the older brother, his namesake uncle András. His father Géza is still ticking along and living in New Mexico at age 88, although Uncle András (always know as Andor) died in 1999. The younger András agreed to run my article past his father and elder brother to see if I've gone wrong at any point or am missing any important facts.
Needless to say, the possibility of gaining further insights from one who was directly involved is a huge bonus for an engine historian like me! I've now made a number of corrections on the basis of information supplied by András and the Vella family, most importantly in the section near the end about the cessation of VT production. Some of these corrections are extremely significant, to the point that I recommend that anyone having an interest in the Vella Brothers engines read the entire article again. I've also had to make a few changes to the articles on the FOK engines and the Alag range to keep things consistent.
For this month's lead article we head back to Asia once more for an in-depth look at the Yin Yan/Silver Swallow engines from Shanghai, China. Before anyone starts slagging me off for wasting everyone's time (presumably including my own!), let me assure you a) that many of these are far better engines than their reputation might suggest (as a long-time user, I'm well qualified to say that!), and b) that their story is considerably more interesting and convoluted than you might suppose. Well worth preserving in my book. Have a look and see if you agree!
As mentioned at the outset, there will be a bit of a hiccup next month! In fact, there won't be a December 1st issue at all this year. Instead, what I'll try to do is prepare a bumper issue which will nominally carry the January 1st, 2017 date but will actually appear on your screens on December 24th in time for a good read over the festive season. Hope that will compensate for the missing December issue!
At present, my plan is to present not one but three new articles on the Mills engines. Regular readers will recall my earlier summary of Mills production history which appeared here a few months ago. What's left, you might ask? Well, I came up with three things
that seemed to be well worth doing. The first of these is a comparative test of the four documented variants of the Mills 1.3 model which were described in the above referenced article on Mills production history. An interesting and informative exercise, as things turned out!
Secondly, I'll present a summary of the many and varied commercial Mills replicas which have appeared over the years in various countries. An issue which has often been debated is the legitimacy of these replicas given the fact that the Mills name remains a proprietary one even after all these years. I'll cover that matter in detail in the forthcoming summary. This article actually represents the completion of a project which the late David Owen and i had started but didn't get very far with. I'm very glad to have had the opportunity to bring David's work to fruition. I miss you, mate...........
The third planned article will be a comparative test of two of the more familiar and readily-available Mills replicas - the CS NAVO .75 and 1.3 models. Although all CS model engine manufacture has unfortunately now ceased, these engines remain readily available on eBay and elsewhere. Consequently, information on their characteristics may well be helpful to some of you who might be considering using them for flying purposes. Hope so, anyway!
I think that's it for now - more as always (well, mostly!) in late December. Meanwhile, happy flicking, flying and finding...............
Cheers,
Adrian Duncan
Coquitlam, British Columbia, Canada
___________________________________
Note regarding material to be found on this site - unless specifically otherwise noted, all images and text which appear on this site are my own work, and I hereby assert my right to be recognized as the originator of this material. For the record, this material is made freely available to all upon two firm conditions:
No commercial use of any kind is to be made of any of the images or text posted on this site without my express written consent.
No use of

any

kind, commercial or otherwise, is to be made of any material published in any form on this site without full and open acknowledgement of the source.
Adrian C. Duncan
Coquitlam, BC, Canada