February 2016
From the Editor - February 1st , 2016
February again .....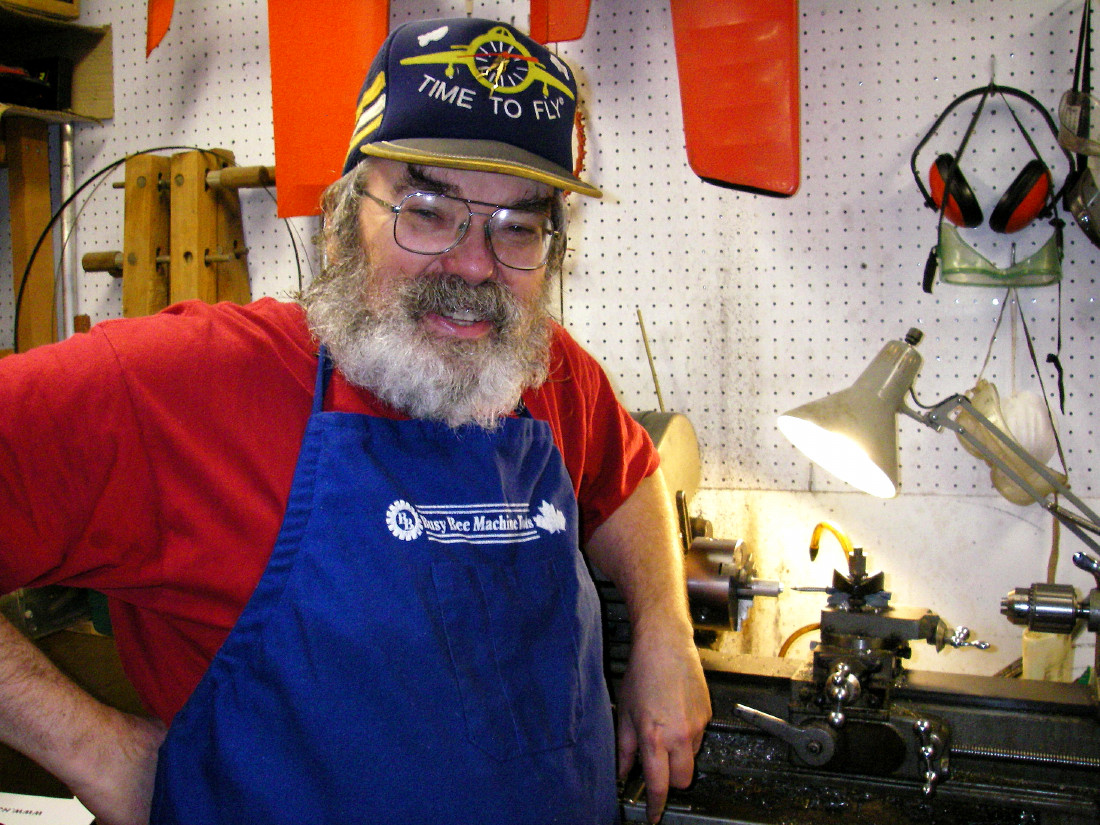 half-way through the cold, wet days of winter here on the West Coast of Canada. Don't feel too smug, all you guys living on the summery south side of the Equator - your turn is coming!
We've been experiencing quite a mix of weather lately, with a few very cold and clear snaps interspersed with lengthy rainy periods. Nothing really unusual for us out here on Canada's West Coast, apart from a lower-than-usual snowfall. However, the rest of Canada has been experiencing unusually warm conditions - the famous Rideau Canal in Ottawa didn't even begin to freeze over until very recently, to the great displeasure of the many skating enthusiasts who visit that city to skate the Canal. Climate change at work, it would appear ..........
In my November 2015 Editorial, I reported the completion of a series of tests on the Sharma .09 and .15 diesels from Jodhpur, India. The resulting test report appeared in the January 2016 issue of "AeroModeller" magazine. The same magazine will soon carry a report on my current testing of the
Sharma .19 models in both R/C and standard forms. If you haven't already done so, I strongly recommend that you take out a subscription to this fine magazine, which provides without doubt the finest regular media coverage of "traditional" aeromodelling available anywhere.
I've continued to hear from a number of readers on various matters. I had direct contact with Jim Woodside, Tim Dannels, Luis Petersen, Peter Rathke, Paul Rossitter, Neill McRae, Mike Conner, Vivek Sharma, David Owen, Mike Rehmus (Editor of the excellent "Model Engine Builder" magzine), Ingemar Larsson (Editor of the Swedish modelling magazine LINA), Con Verhulst (through my new blog site), Tom Pearson and Maris Dislers.
The contact from Tom Pearson was of special interest in that Tom invited me to be his guest at the 2016 AMCRA tether car Nationals to be held at Indianapolis on August 17th - 19th. Much appreciated, mate, and I'll see if I can squeeze that in ..............
Another matter which Tom raised was yet another reflection of the rapidly-changing times in which we live. Tom has been trying to down-size some of his surplus modelling equipment, including a number of fully flight-ready R/C models fitted with current (hence presently non-collectible) state-of-the-art I/C powerplants. Believe it or not, he has been literally unable even to give these away to current R/C fliers in his area - if it isn't electric, they're simply not interested! A sad reflection of the present-day realities which are driving so many respected model I/C engine manufacturers out of the business. We really do seem to be coming to the end of the mainstream I/C era of power modelling - I can forsee the day when eBay will be the main source of new engines. Sad ..... but what a great ride it's been over the past eighty years or so!! The push-button crowd will never know what they're missing .............
Con Verhulst very kindly offered to provide more images for the Gallery from his extensive collection. This drew my attention to the advisability of periodically reminding my readers of the purpose of the Gallery. This feature was never intended to expand into a comprehensive collection of images of every model engine that has ever been produced - such a collection would be completely unmanageable! Rather, it was intended from the outset to form what amounts to an illustrated index of model engines and manufacturers for which detailed information is available either here or on Ron Chernich's wonderful "Model Engine News" (MEN) web-site.
The Gallery provides a sample of images for each inclusion, with links to articles containing detailed information. It creates a browsing opportunity for those who don't require the full story but instead merely wish to see images of the engines in question and learn a few basic facts about them. Those whose interest is stimulated can learn much more through the links provided. It's the reader's choice ...........
This being the case, I'm not looking for images of engines in general, since the coverage of the Gallery is limited to those engines and manufacturers for which I and my immediate colleagues have provided detailed information which is available on line. However, I am always glad to receive additional images of engines and ranges which are already included, since I don't have images of anywhere near all the various models. Serial numbers are also of the very greatest interest, since they do much to improve the reliability of production figure estimates. So by all means review the Gallery and send along any images and data which relate to any of the included items! The new blog site provides a ready opportunity to do this. More of that below ...........
The contact from Maris Dislers was extremely valuable, since he was able to correct a few technical errors which had found their way into my recent article on breaking in an ABC model engine. Although I had the correct break-in approach pretty much covered, I was well off base in part of the technical discussion regarding the reasons for the suggested procedures. I've now corrected the offending portions of the article, with my very sincere thanks to Maris!
Maris also advised that the restoration and testing of the pioneering Winner 10 cc spark ignition motor from Australia is nearing completion. The restored engine looks fabulous, as the attached image will confirm. This turns out to be a really interesting story - look for Maris's article on the subject to appear on this website in the not-too-distant future!
Spending so much time researching the issue of model engine break-in reminded me that although I covered both glow-plug and diesel engines in my now-corrected ABC break-in piece, I didn't do the same in the earlier article on iron-and-steel engines, focusing entirely upon diesels. That has now been corrected
through the addition of a new section at the end of that earlier article on the subject of breaking in an iron-and-steel glow-plug engine of the "classic" type. The underlying principles are the same - the technique is just a little different.
Changing the subject completely, the new blog site which can be accessed through a button at the top of my home page has received a bit of use, although not nearly as much as I was hoping when I set it up. A number of my posts have so far gone unresponded. Nevertheless, some useful information has been shared. This is great, because that was my intention in setting it up!
The seeming reluctance to use this feature is almost certainly at least partially down to the fact that I haven't fully explained it to my readers. I'll freely admit that for a while there I was feeling my way into the blog site myself, finding out more about it as I did so. Now that I have it pretty well sorted, it's time to explain it to the rest of you so that a few more of you may hopefully feel confident in using it.
The basic use of the site seems to be very straightforward. Hit the button at the top of my home page on this site, and you are immediately sent to the blog site's Home page. That page is entirely separate from the Adrian's Model Aero Engines web-site on which you are reading this Editorial. Apart from the link mentioned above, the two sites are completely independent.
The blog site's Home page follows the standard blog format by featuring a listing of the various posts which have been put up, with the most recent at the top. To the right, you'll see an "Archives" listing which allows you to review all posts for a given month. Below that is a listing of "Recent Comments" so that you can see at a glance who's been commenting on which post(s).
If you want to respond to a particular post, there's a "Leave a comment" button below the post which allows you to do so when clicked. If someone else already commented on that post, the "leave a comment" button title changes to "View all (xx) comments", allowing you to see both the original post itself (at the top) and the subsequent comments which have been submitted and approved. Again, there's an opportunity at the bottom to add your own comment. Immediately under the original post in this view, there are a pair of arrows which allow you to scroll though the various posts in the order in which they appeared.
So far, it's all pretty much "paint by numbers" - just exercise the various on-screen options by clicking on the appropriate self-identifying button(s). However, there are a few additional points that need to be made. Firstly, when you add a comment, it will not immediately become visible to others visiting the blog site. This is because everything that appears there has to be either created or approved by me in my capacity as the site moderator - no exceptions! This turns out to be very necessary, since I've already blocked a surprising number of attempts to infiltrate commercial messages and links having nothing whatsoever to do with model engines. All of these have been trashed and their senders added to my Spam filter list so that no more will get through from those sources at least. Spammers, be warned - this is a zero tolerance site!
So what does happen when you submit a comment? Well, I immediately receive an email from the site (not from you!) telling me that you've done so, giving me your name as well as the text of your comment and asking me to approve or trash your comment. I'm also provided with an opportunity to spam your email address. Making this call takes only as long as I need to read the comment, because the approve/trash/spam buttons are right there below the text on the same screen. Hence this is pretty easy for me!
Once approved (and not before), your comment immediately goes live on the site under the post to which it relates. At that point, it's shared with anyone who accesses the blog site and reviews the activity relating to that particular post. However, your privacy is protected - no-one gets your email address unless you include it in your text.
Another key point worth noting is the fact that I'm the only one who can post a new topic. The rest of you are confined to posting comments on topics that I've put up. This may seem a bit inconvenient to some of you, but please remember that this is an individual blog, not specifically a forum! The way that it's set up is completely consistent with the idea that since it's my blog and I'm the moderator, I should be the one to decide upon content. In particular, I should have the right to decide upon topics which will be subject to dscussion on the blog site, otherwise it could degenerate into a free-for-all.
In any case, there's no problem - I've made provision to deal with this issue. If you check out the blog site, you'll find that there's a post entitled "Suggestions for New Postings". I'll renew that posting every month so that it will always appear in the blog site's Home page listing rather than falling off the table into the monthly Archives. All you have to do is submit a response to that post with your suggestion for a topic that you'd like to see discussed.
If I agree that yours is a valid request (and I will not be unreasonable or excessively narrow-minded in making such a decision), a new post will magically appear with your name attached as the initiator. After that the post is fair game, and everyone is free to comment as they see fit. In this way, the site can function perfectly as a moderated discussion forum. I hope very sincerely that it gets some use in this capacity!
Finally, I think it's worth repeating yet again that I will not guarantee to personally respond to all comments submitted, since there frankly aren't enough hours in the day! I've said this before elsewhere, and no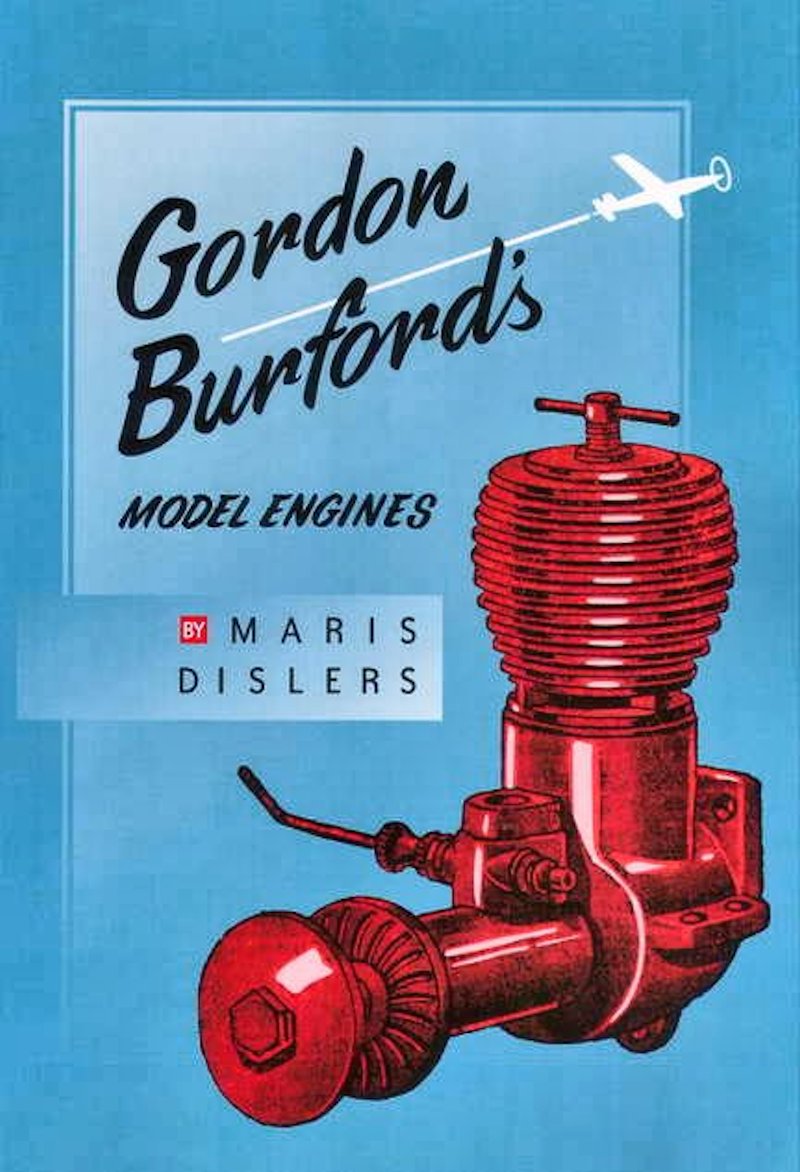 thing's changed. A lot will depend upon how much use the new blog site receives. What I will guarantee is that I will check regulary for new comments and will read all comments received. However, I will only respond personally if the comment warrants it and if time permits. I will guarantee that any comments which are factored into my articles are duly credited, with my very sincere thanks.
Changing the topic once more, a very welcome recent arrival was my copy of the revised second edition of Maris Dislers' book entitled "Gordon Burford's Model Engines". This is the definitive study of the model engines produced in Australia by the late Gordon Burford under a variety of different trade-names (Gee Bee, Sabre, Glo-Chief, Taipan, etc.) as well as a number of engines which he produced in collaboration with others. It stands as a fascinating account of the work of one of the world's greatest model engine enthusiasts and designers. No-one with a serious interest in model engines and their development should be without a copy! Contact Maris without delay to get your copy before they sell out once again!
One of the engines featured in the revised edition of Maris's book is the newly-released Owen T2.5 diesel made by my good friend David Owen of Woolongong, Australia. This engine is based upon the highly regarded 1958 Taipan Mk. III 2.5 cc diesel, albeit with a few detail changes to the original design which were approved by Taipan designer and manufacturer Gordon Burford before he passed away
in 2010. David enjoyed a long and very productive relationship with Gordon, both as a friend and as a colleague. Consequently, there could be no better qualified individual to bring this fine model back to life.
David has produced almost 200 examples of the Owen T2.5, which is now being distributed to those (like myself) who pre-ordered examples of the engine. The T2.5 is prmarily aimed at the Australian GB Old Timer event, but will doubtless find application in other similar classes wordwide. My own example arrived recently, and is a truly superb piece of work. Can't wait to give it a try! A more complete commentary will appear on this web-site in the near future.
Another very welcome arrival which I omitted to mention in my last Editorial was a pair of superb little miniature diesels from Bob Langelius Sr. of PAL Model Products, a speciality model engine supplier operating out of White Plains, New York, USA. In my November 2015 Editorial, I mentioned the LOLA .020 cuin. (0.3 cc) FRV diesel and the .024 cuin. (0.4 cc) Pesky sideport unit marketed by PAL. The examples of both of these engines which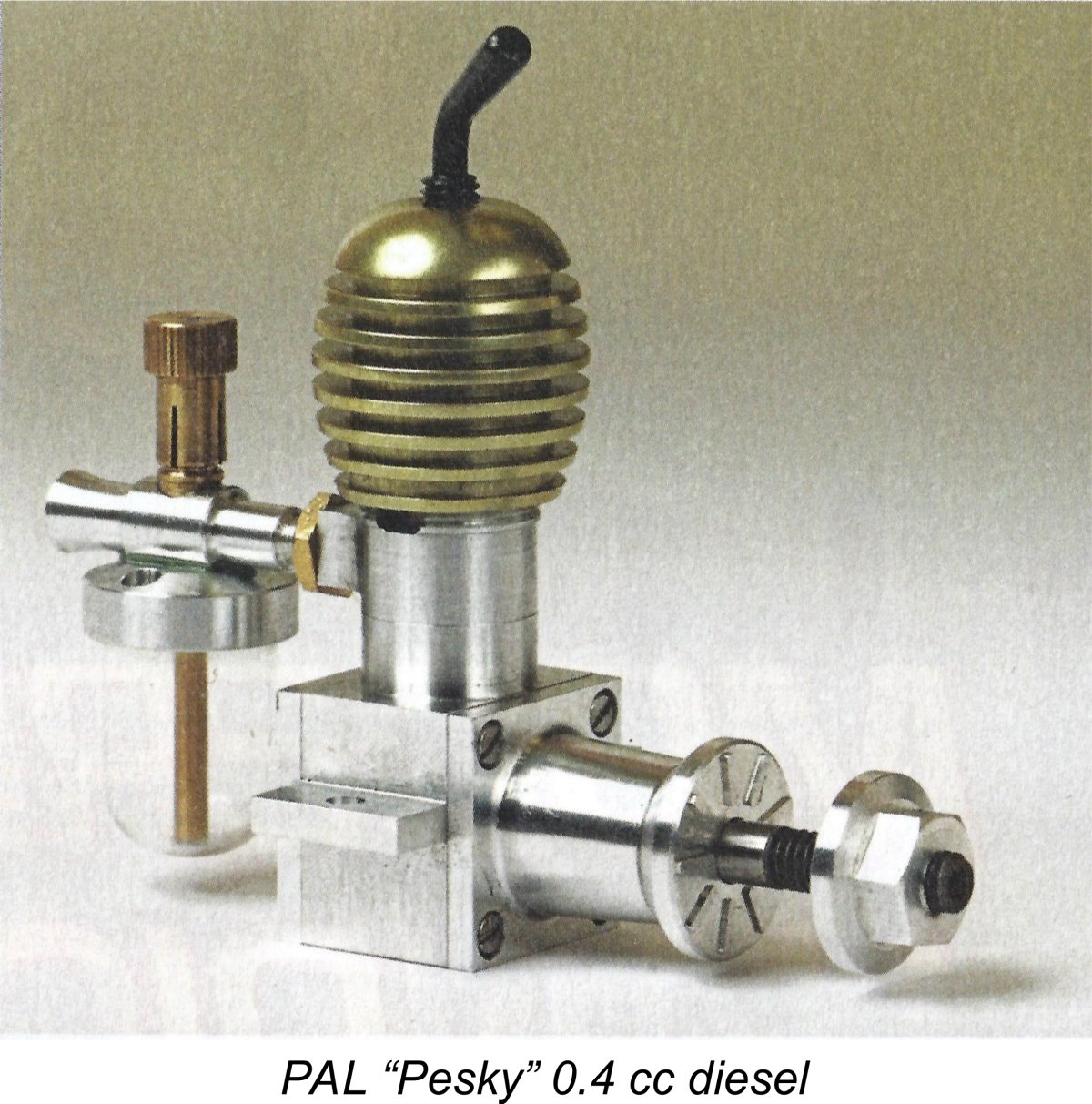 recently arrived by mail more than met all of my expectations!
The LOLA was the subject of a published test in the May 2015 issue of "Aeromodeller" magazine, and I understand that a similar test of the Pesky will appear in the same magazine in the not-too-distant future. I plan to publish my own commentary on these two engines and their manufacturer in due course as and when time permits. Meanwhile, I can quite conscientiously recommend both models to anyone having an interest either in collecting or using fine miniature diesels! Bob tells me that both models remain in stock at the present time.
This month's feature article focuses upon the pioneering H-P range of model engines which were manufactured in Leicester, England for a few years beginning in early 1947. This story is somewhat more convoluted than usual due to the fact that the H-P engines (not to be confused with the far later HP range from Austria) actually had their origins in the earlier Atlas series from Studham, near Dunstable in Bedfordshire. We're thus covering the stories of not one but two successive ranges. Hope you enjoy it!!
For next month, I plan to draw aside the curtain of obscurity that has
hitherto covered the little-known and quite rare Dyne engines, which were marketed through a retail outlet in Cardiff, South Wales from approximately mid 1946 through to mid 1949. Although I have been able to sort out the various models and their chronology pretty well, I have to admit that there's a great deal of information regarding this range that remains obscure despite my efforts to unravel it!
Accordingly, if anyone out there knows anything more of substance about these engines or has any relevant images or literature, please share that information either directly or through my blog site! Any such material which ends up being incorporated into the article will be fully credited.
Finally, a closing note. My wife and I will be making another trip to Hawai'i in late February. I'll get the material for the March issue all written up prior to leaving, but the appearance of that issue will be a day later than usual. Aplogies for this, but life runs on its own schedule!
I think that's enough for now - more as always next month. Meanwhile, happy flicking, flying and finding!!
Cheers,
Adrian Duncan
Coquitlam, British Columbia, Canada
___________________________________
Note regarding material to be found on this site - unless specifically otherwise noted, all images and text which appear on this site are my own work, and I hereby assert my right to be recognized as the originator of this material. For the record, this material is made freely available to all upon two firm conditions:
No commercial use of any kind is to be made of any of the images or text posted on this site without my express written consent.
No use of any kind, commercial or otherwise, is to be made of any material published in any form on this site without full and open acknowledgement of the source.
Adrian C. Duncan
Coquitlam, BC, Canada