From the Editor - December 1st , 2019
Ho! Ho! Ho! I know it's still a few weeks off, but Season's Greetings anyway to one and all from the red-clad Bearded One! It seems like only yesterday that I was writing up the Christmas 2018 Editorial, and here we are with another year in the books. Where did the last twelve months go?!? As I said last month, time unquestionably goes by faster as one gets older. Use your time wisely - each day is unique, and you only get it once!
Last time, I reported that October saw a continuation of the modest recovery in the level of interest in this site as reflected in the various statistics of which I keep track. I'm happy to report that things continued to take an upward turn in November.

To begin with, the 587,623 hits in November more or less maintained the figure of 595,061 hits in October. We seem to well back into the usual Fall and Winter mode, when an elevated level of usage may be expected after the distractions of Summer have run their course. It's clear that site visibility is being maintained at a high level.
Of course, hits are one thing - actual visits are quite another, since they reflect the level of interest aroused among those who happen to hit upon the site. The November total of 12,231 visits represented a substantial increase from the October total of 9,833 visits. Things definitely kept moving in the right direction.

As we would expect from the above figures, the visit/hit ratio for November (the proportion of hits which translated into visits) was 2.1%, a welcome increase from the October figure of 1.8%. A perfectly reasonable figure - one hit in 48 continued to result in an actual visit. Clearly the site still attracts its share of direct interest from among those who stumble across it!
However, the number of visits only tells part of the story - the number of pages accessed is a more representative indicator of the level of interest in the material on this site. Here the news was really encouraging - the number of pages accessed in November rose dramatically from the October figure of 101,520 pages to an astonishing total of 211,631 pages. Wow - not a new record, but close!! Since this massively increased figure resulted from only a relatively modest increase in the number of visits, the average number of pages accessed per visit also rose sharply to an amazing 17.3 pages per visit, which is a new reacord. This represents a dramatic increase from the already healthy October figure of 10.3 pages per visit, indicating that those who did visit found plenty to interest them. Good news - thanks for being a part of that!

Now a note which has unfortunately had to continue to be a regular feature of these Editorials. This one is mostly for new readers - old hands can skip to the following sections.
Despite my repeated admonitions not to do so, people are continuing to try to register on this website. The numbers have fallen, but it's still happening. As I've previously stated time and time again, this has absolutely no effect - it's simply an artefact left over from the generic platform's primary intended use as an on-line sales site. Since this is not a sales site, the registration feature is redundant and I make no use of it whatsoever.
So why is it still there?!? Well, before anyone else asks (and quite a few well-meaning souls already have!), I've thoroughly explored the possibility of removing or at least blocking this feature, but it can't be done without extensive (and very expensive) custom modification to the otherwise very useable generic platform which came as a ready-to-use over-the-counter package, thus keeping the costs and complexities manageable. So we're stuck with this feature.
The bottom line therefore remains - please don't bother trying to register! Doing so accomplishes nothing apart from creating unnecessary cyber-clutter, which I definitely don't need!
Along with the continued use of the website, the correspondence from my
valued
contacts around the world has continued to pour in unabated. During the past month I've heard (in no particular order) from
Maris Dislers, Derek Butler, Lars Gustafsson, Pierre Alberola, Hugh Blowers, Steve Webb, Luis Petersen,
Peter Valicek,
Mike Conner, Bill Wells, Ken Burdick, Miles Patience, Brian Vermaaten, Dave Zwolak, Peter Rathke, Suman Saripalli, Paul Venne, Kelley Crozier,
Tim
Dannels, Paul Allen, Malcolm Davis, Bob Allan, Paul Gibeault, Dennis Toth, Randy Ryan, Alistair Bostrom, Stewart Mclaren, Ingemar Larsson, Don DeMent, David Hill and Andrew Coholic
.

Sincere apologies to anyone whom I may have inadvertently missed in the crowd - it can be hard to keep track! The blog site has also continued to justify its existence by generating a fair amount of relevant traffic - thanks for that.
Ingemar Larsson of Sweden contacted me to let me know that the 2019-1 issue of the wonderful control line magazine LINA is now available. As Editor of this fine on-line publication, Ingemar dererves enormous credit for the quality of the magazine, which is chock full of lavishly-illustrated and well-written contest reports, technical information and personal interviews.
Ingemar tells me that credit for assembling this latest issue goes for the most part to his colleague Niklas Löfroth. Ingemar is currently working on issue no. 2019-2, which will be made available in due course. That issue will include another contribution from yours truly!

As usual, at least a third of the content is in English, while the balance is easily rendered into any language using readily-accessible on-line translation technology. This superb publication is essential reading for anyone retaining an interest in control line flying. Anyone wishing to gain access to this and future issues is advised to email Ingemar directly at ingemar.larsson.vis@telia.com

From time to time I'm asked about the availability of pubished tests of various model engines. In that context, an invaluable resource which is readily available to model engine enthusiasts is the collection of reproductions of model engine tests to be found on the wonderful Sceptre Flight website. This extremely useful site is maintained by Brian Hampton of Adelaide, South Australia (my own birthplace!).
Brian's collection of model engine tests is amazingly comprehensive, with more tests being added as time goes by. The contents appear at high resolution, hence being easily legible. If you're looking for a particular test, this is the place to go!! Big thanks to Brian for providing us with this wonderful resource!

Staying in Australia for the moment, my friend Derek Butler of Hervey Bay, Queensland, wrote in to let me know about a wonderful little diesel from his hometown that is currently available on eBay. This is a superbly constructed rendition of the well-known Clan 0.25 cc diesel which was first marketed in February 1992 by Mike Clanford, hence the name. The original batch of engines were made in England by a firm called Prototype and Precision Engineering. That batch sold out fairly quickly, leaving a considerable unfulfilled demand. Some years later, Mike arranged for the production of further examples by the CS company of Shanghai, China. An article by Maris Dislers about this engine may be found elsewhere on this website through the above link.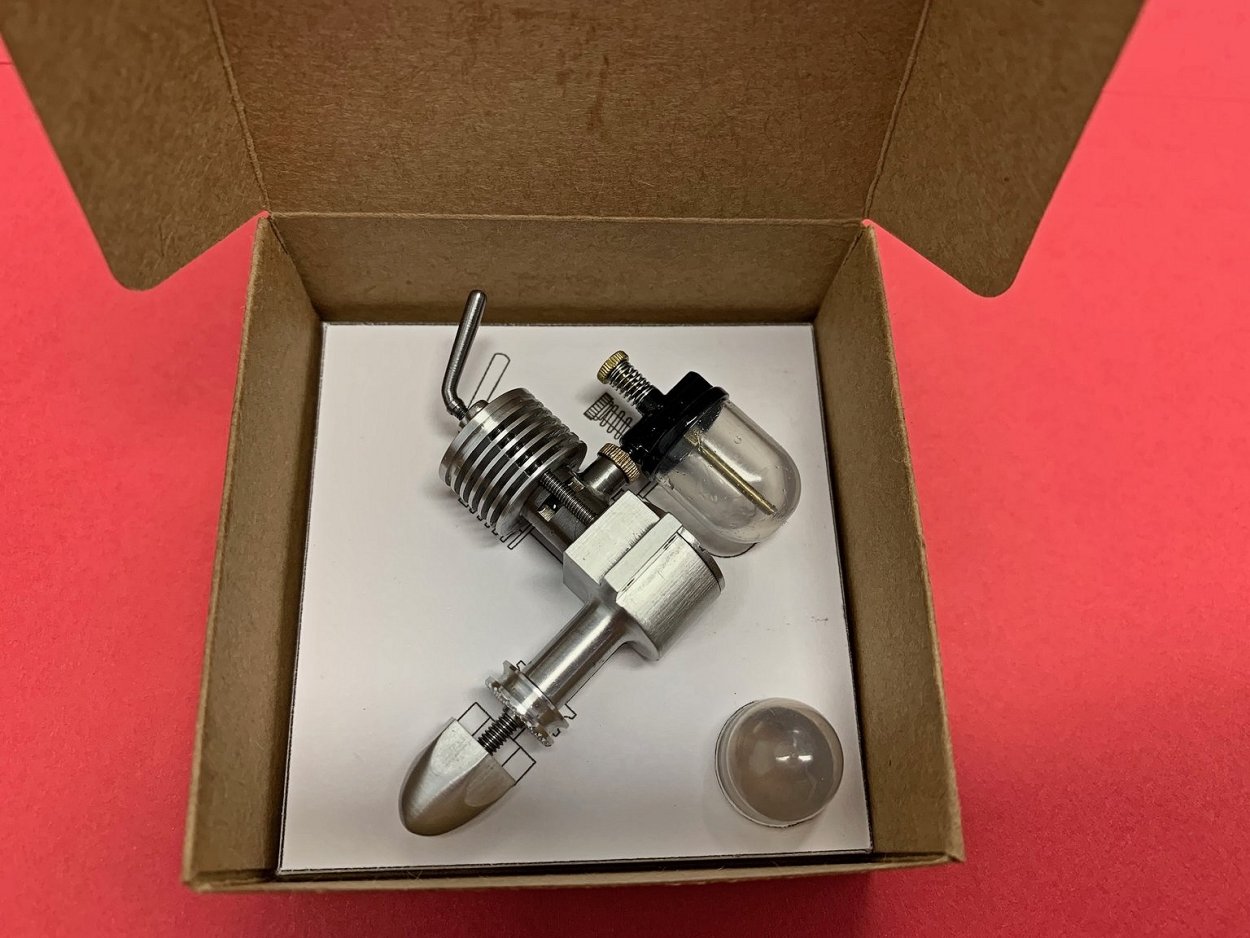 The earlier examples of the Clan 0.24 acquired a rather chequered reputation due to some design and manufacturing flaws whch affected their handling and performance. The same cannot be said of the offering reported by Derek Butler, an example of which is seen at the right. The new batch of engines has been constructed to very high standards by Dave Jones Model Engineering of Hervey Bay. Derek advises that fits and finish are first class in the best Australian tradition as established by the late Gordon Burford of Taipan fame. Only the very best materials have been used.
While not for beginners, the engine starts very readily and should delight the most demanding purchaser. Derek reports that the little motor typically reaches 8,000 rpm on a Cox 5 x 4 black nylon prop, with a 2½ min. run on the supplied hang tank.

An initial run of five examples has been completed, and five more slightly refined versions incorporating red anodised jackets and spinner nuts will also be made if the demand proves to be there. Each is serial numbered on the lug with the matching number appearing on box and papers. If a limited edition product of this quality sparks your interest, further details may be found here. Meanwhile, the first eBay offering, engine no. 3, may be accessed through this link. An oppotunity to acquire what will doubtless become a rare and sought-after collectible!
Last month I drew readers' attention to the current offering of engines from the collection of the late Paul Rossiter of England which may be found here on this website. Two of the originally listed engines (the D-C- Tornado and the Kemp K4 diesel) sold right away, but the others remain available at what I consider to be very fair prices. It's a chance for my valued readers to get in there ahead of the eBay crowd and avoid the eBay fees - take advantage of it! I've added a couple more engines to the list - take a look. If you're interested in any of these offerings, please contact me either directly or through the blog site.
Now on to the engine articles which constitute the core of the material to be found on this website. Generally speaking, once I've completed and published an engine review, that's it - on to the next topic! The odd update is required now and then as a snippet of new information becomes available, but those are usually fairly minor in scope. However, there's the occasional subject that simply refuses to lie down! A very good example of this refusal is the infamous Deezil from New York City. Every time I think that I've finally got to the bottom of the Deezil saga, a new wrinkle shows up to add to the tale!
Following my discovery of what I still believe to be the original pre-Gotham Deezil with its one-piece cylinder, one-piece counterbalanced shaft, forged steel conrod and well-fitted piston, I honestly thought that I was done with the engine in historical terms. However, I maintained a somewhat casual watch for Deezil offerings on eBay, albeit with little expectation of finding anything new. For quite a while, all that I saw was further offerings of the familiar Gotham Hobby rendition of the engine.

My somewhat desultory interest was sharply re-stimulated in September 2019 when I came across an offering of a Deezil which had been very competently converted to crankshaft front rotary valve (FRV) induction! This definitely warranted investigation, particularly since it featured the large-diameter tapered profile cooling jacket with two-piece comp screw, both of which are now well-established indicators of an early example. I was able to acquire this engine, which
certainly proved to have an interesting tale to tell! In fact, it fully merited a detailed review and test, both of which have now been added to my existing Deezil article about 2/3 of the way down. Have a look - you may be quite surprised!
Another update requirement arose from the arrival of a distinct variant of the pioneering Pinotti GP 1.5 diesel from 1944 Sweden, courtesy of my good friend Lars Gustafsson. This unit had a tale of its own to tell, fully warranting the update which may now be found in my original Pinotti article at the end of the dicussion of the GP 1.5 model. Re-reading the Pinotti article during the course of generating this update, I was reminded yet again of what a truly remarkable story this actually is! If you haven't read it, you've missed one of the great model engine sagas!! Of all the articles that I've written, this is among my favourites!
Turning now to this month's feature article, we
return to America to have a look at one of the more
infamous model engines ever to appear in that country - the

.
517 cuin.

(8.48 cc) G.H.Q. spark ignition model

from New
York, USA. This engine's reputation for uselesness as a model powerplant is matched only by that of the equally infamous Deezil, which has already been covered in these pages as noted earlier. It's probably no coincidence that the same people were involved with both engines. At least they displayed some consistency!
However, as you will learn, there's actually a bright side to this story, just as there was with the Deezil! It turns out that contrary to the G.H.Q.'s sorry reputation, the early examples made during the engine's introductory year of 1936 were considerably better-made than their later successors going up past the end of WW2. In fact, a good proportion of them actually ran, as witness the video of my own example which may be found here. So this was another case of a basically sound if somewhat rudimentary design being trashed down to a price by its rather unscrupulous promoters. This month's feature article will reveal all, including an actual bench test of my own operable example (they do exist!).

This month's issue being the December offering, I felt that it was only right to include a "Christmas Bonus" article for your reading pleasure over the holidays. This will see the commencement of a project which has long been on my "to do" list - a history of the iconic Enya marque from Japan, in which I've been greatly assisted by my friends and colleagues Alan Strutt, Bob Allan and Pat King.
The scope of this project is such that it has to be tackled in "chewable chunks" rather than all at once. This month's first segment covers the origins of the marque and carries the story up to 1953, when the range really began its major expansion into the world-class operation that it was to become. Other chapters dealing with specific displacement categories will follow in due course as and when time permits. Meanwhile, this month's bonus article will hopefully whet your appetite for more!
For next month, I plan a return to Germany to have a close-up look at a pioneering engine from that country - the 2.65 cc RGU Universa sideport diesel of 1950. This unusual engine was actually a predecessor of the far
better-known Jaguar range from the same designer. Although at first sight it may appear to be a relatively conventional sideport diesel of its day, it actually incorporates a few highly distinctive design features, including a massive tank along with a very oddly arranged bypass/transfer system. You'll learn all about it in next month's feature article, which will include a full test of the engine.

I think that's it for now. If I manage to survive the annual Christmas assault on my digestive system and liver function, I'll be back to you with another issue on or about January 1st, 2020. Meanwhile, have a safe and rewarding holiday season, with my best wishes for continued enjoyment of our shared addiction! Look after that flicking finger, and may the heady aroma of diesel fumes, sparkie smoke or burning nitro compete regularly with those of roast turkey, stuffing, mulled wine or whatever else you fancy at this time of year ..........
....
!

Cheers,
Adrian Duncan
Coquitlam, British Columbia, Canada
___________________________________
Note regarding material to be found on this site - unless specifically otherwise noted, all images and text which appear on this site are my own work, and I hereby assert my right to be recognized as the originator of this material. For the record, this material is made freely available to all upon two firm conditions:
No commercial use of any kind is to be made of any of the images or text posted on this site without my express written consent.
No use of

any

kind, commercial or otherwise, is to be made of any material published in any form on this site without full and open acknowledgement of the source.
Adrian C. Duncan
Coquitlam, British Columbia, Canada